Razorbacks get shot at revenge at No. 3 LSU
Published: Thursday, January 19, 2023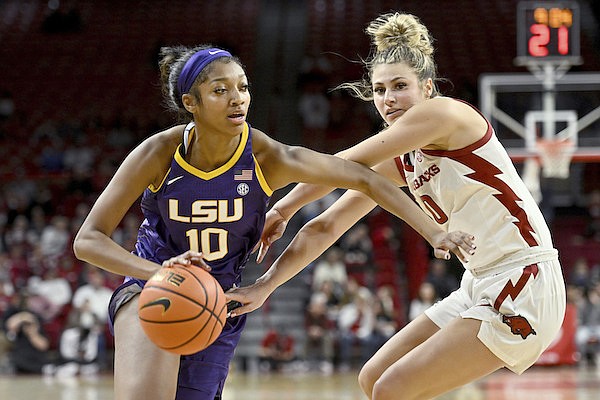 LSU forward Angel Reese (10) tries to drive past Arkansas guard Saylor Poffenbarger (0) during an NCAA basketball game on Thursday, Dec. 29, 2022, in Fayetteville. (AP Photo/Michael Woods)
FAYETTEVILLE — Sometimes it takes a resounding defeat to catch a team's attention and highlight areas which could afford improvement.
For the University of Arkansas' women's basketball team, that wake-up call was a 69-45 home loss to LSU on Dec. 29. Coach Mike Neighbors' squad was handed its third consecutive defeat after beginning the season 13-0.
The Razorbacks have since reeled off four straight victories, three of which came by 20-plus points.
Tonight will be a litmus test of how many steps forward Arkansas (17-3, 4-1 SEC) has taken since the humbling defeat three weeks ago. The Razorbacks face third-ranked LSU (18-0, 6-0) inside Maravich Assembly Center at 8 p.m. Central on SEC Network.
Kim Mulkey, the Tigers' second-year coach who led Baylor to three national championships before leaving for LSU, said she knows her team's 24-point win at Walton Arena may have rallied the Razorbacks.
"We've got to get in the film room," Mulkey said of assessing Arkansas. "We've got to watch their current games and see how much they've improved. Have they improved more than we have improved? That may be a good question. We'll see."
Whether his team has progressed is not a difficult question in the mind of Neighbors, who also credited LSU for gaining progress.
"I think we're taking better shots," he said. "I think we're sharing it more. I think we understood that if we will share it at the right time, the ball's going to end up finding me back. I think that's been why our assist totals are up. I think it's been why our percentages are up. I think it's why our scoring's up, all those things. And then you know, for us, I don't think it's a big secret out there that our defense improves when our offense is good. So yeah, I think we're a lot further along. I think they are too, though."
A specific area Neighbors said he hopes his team will take a stride forward against the Tigers with is defensive rebounding. LSU dominated the glass against Arkansas in the previous meeting, 62-30, and scored 22 second-chance points. The Tigers lead NCAA Division I with a plus-22.5 rebound margin.
Difficulty keeping LSU off the glass is largely due to the stellar play of Angel Reese, who leads the nation with 6.1 offensive rebounds per game. She has emerged as a frontrunner for national player of the year honors, posting a double-double in every game this season. Reese's 23.9 points per game average tops the SEC and is sixth in the nation.
"I think we learned the importance against LSU that nothing else matters if you don't rebound," Neighbors said. "I mean, we held them to under 20% on their first shot attempts of their possessions, yet they beat us handily. So, we've got to really make sure that we've learned our lessons from that."
The Razorbacks most recently survived a scare from Vanderbilt. Arkansas won with a last-second heave from Makayla Daniels that banked in and left the Commodores stunned. It kept the team's confidence intact.
"I think having gone 4-0, you know, our shoulders are back, our chin's up," Neighbors said. "We understand the big picture of the 16-game SEC schedule."
Discussion
Have a comment on this story? Join the discussion or start a new one on the Forums.