Top-ranked Gamecocks next for UA women
Published: Sunday, January 22, 2023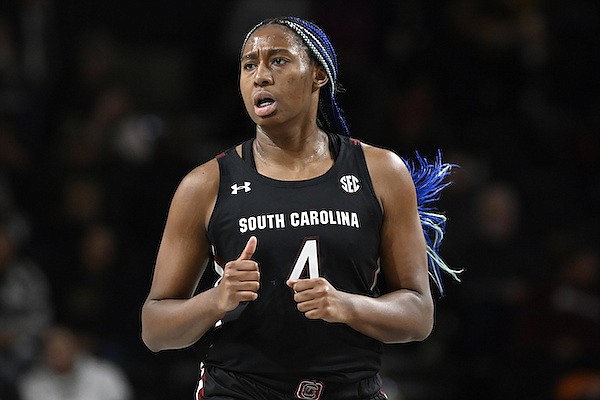 South Carolina forward Aliyah Boston (4) plays against Vanderbilt during the second half of an NCAA college basketball game Thursday, Jan. 19, 2023, in Nashville, Tenn. Boston had 16 points and 10 rebounds matching a South Carolina program record with her 72nd double-double. (AP Photo/Mark Zaleski)
A 16-game schedule in the Southeastern Conference is never easy.
For the University of Arkansas women's basketball team, it's a reality that has come to life this week.
Following a buzzer-beater win over a Vanderbilt team which shot lights out Monday, the Razorbacks nearly upset third-ranked LSU three days later, but lost in gut-wrenching fashion. Mike Neighbors' team had no time to dwell on either result for too long with larger challenges looming ahead, including one of the nation's marquee games today.
Arkansas (17-4, 4-2 SEC) will play the role of underdog again as it travels to face defending national champion and top-ranked South Carolina at 2 p.m. inside Colonial Life Arena. The game will be televised on ESPN2.
It marks the Razorbacks' third game in six days, and the first time in program history Arkansas will play top-three teams in consecutive games.
Thursday's near upset of LSU saw the Razorbacks climb out of a 14-point hole and take a lead late in the fourth quarter, but ultimately fall short of the win. Despite the loss, Neighbors commended the Razorbacks' fight, saying it showed the character of his team.
"If we keep doing that, if we can do this on the road, in this environment, this is a team that we'll all be proud of regardless of how the results continue to take care of themselves," Neighbors said. "If we keep playing this hard, the good things will keep happening for us."
It was a rowdy Maravich Assembly Center environment the Razorbacks played in Thursday, but are bracing for an even larger stage today. South Carolina (19-0, 7-0 SEC) leads the nation with an average home attendance of 12,358.
"That's why we continue to challenge them with tough stuff in the nonconference, so we would be ready for that," Neighbors said of LSU's crowd after the loss. "Because we've got to go from this place to South Carolina on Sunday and it's just going to be more people and louder."
South Carolina forward Aliyah Boston highlights the Gamecocks' roster, scoring 12.7 points per game while also averaging 9.5 rebounds and 2 blocks. She is the defending national player of the year, an award she has won twice in her career. Guard Zia Cooke compliments Boston on the perimeter, scoring 15.4 points per game which is seventh in the SEC.
Dawn Staley, who has led the Gamecocks to two national championships during her 15 seasons at South Carolina, said one Razorback has caught her eye this season. Senior forward Erynn Barnum is averaging 16 points and 7 rebounds, while leading the SEC with a 61.1% field goal percentage.
"She's healthy," Staley said of Barnum. "If you've been around our league, she's been in our league. This is probably the healthiest she's been, and you can see why she's such a great player. It seems like she's been there forever, though. She'll be one that we definitely have to concentrate on and make sure she doesn't have a huge performance."
Arkansas has averaged 8.5 three-pointers made in conference games, which leads the SEC. Guards Chrissy Carr, Makayla Daniels and Samara Spencer all sit in the SEC's top-10 for three-pointers made this season.
"We definitely have got to control and limit the amount of three-point baskets that they make," Staley said. "And the way you do that is you limit how many they take. We've been pretty good running people off the three-point line and making them 'two' us rather than 'three' us. But they've got guards that can fill it up. They can get streaky and hot and knock down threes. They stay in basketball games, and they win basketball games."
Discussion
Have a comment on this story? Join the discussion or start a new one on the Forums.