Gamecocks dominate glass in win over Arkansas
Published: Monday, January 23, 2023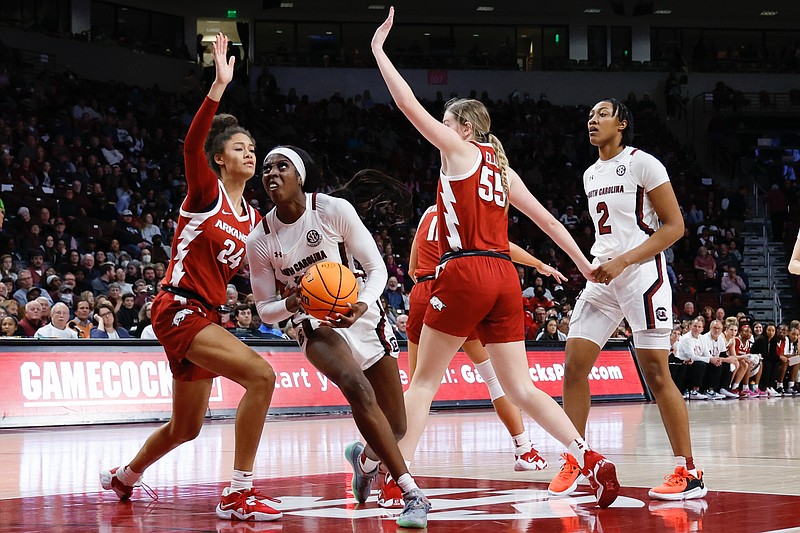 South Carolina forward Laeticia Amihere, second from left, drives to the basket between Arkansas guard Jersey Wolfenbarger (24) and Arkansas forward Emrie Ellis (55) as South Carolina forward Ashlyn Watkins (2) looks on during the second half of an NCAA college basketball game in Columbia, S.C., Sunday, Jan. 22, 2023. (AP Photo/Nell Redmond)
Top-ranked South Carolina dominated on the glass in historic fashion and beat Arkansas' women's basketball team 92-46 on Sunday inside Colonial Life Arena.
The Gamecocks held Arkansas (17-5, 4-3 SEC) to 17 rebounds, its fewest ever in an SEC game. South Carolina had 74 rebounds, the most in SEC history against another league opponent.
"They're impossible to prepare for," Arkansas coach Mike Neighbors said. "You can't find enough men's practice players on your campus to simulate a roster this deep, this talented and this cohesive."
South Carolina (20-0, 8-0 SEC) had a plus-57 rebound margin, the largest of any women's Division I team in the past 20 seasons. The Razorbacks allowed 32 offensive rebounds and were outscored 37-0 in second-chance points.
"All credit to [Gamecocks coach] Dawn [Staley], her staff and their players, but that's not the team we've been being the last couple weeks either," Neighbors said. "We've got another gear than what we showed in the second, third and fourth quarters."
More from WholeHogSports: Pinion helped Arkansas flip the game against Ole Miss
After Arkansas pulled within 21-17 late in the first quarter, the Gamecocks went on a 25-2 run and closed the door on the Razorbacks before halftime. South Carolina led by 29 at the break.
"We hit a wall that became obvious," Neighbors said. "When you're going up against a team like South Carolina at home, playing really, really good, they just frustrate you. You can do a lot of right things and then they make you wrong at the end of it.
"We've had a really tough week."
South Carolina was helped during the run by its dominance on the glass coupled with senior guard Zia Cooke's hot hand. She torched the Razorbacks for 19 points in the first half en route to a game-high 24.
"When Zia's doing what she's doing, we're a totally different basketball team," Staley said. "She makes us a much better basketball team."
Cooke went 4 of 5 from three on the day, while Arkansas as a team shot 5 of 30 from deep.
"I was having fun out there," Cooke said. "I just try my best to play like that every time I step onto the floor."
Staley's team continued forcing its will during the second half, winning the third quarter 24-10 and the fourth quarter 15-12. South Carolina led by as many as 48 points and easily claimed its 36th consecutive home win in front of an announced crowd of 13,349.
Aliyah Boston, the Gamecocks' star forward and defending national player of the year, secured her 73rd career double-double with 13 points and 14 rebounds. It moved her atop South Carolina's record book in double-doubles.
More from WholeHogSports: Missouri transfer DL Trajan Jeffcoat commits to Hogs
Kamilla Cardoso also was in double figures with 12 points and 16 boards, nearly out-rebounding the Razorbacks by herself. Samara Spencer led Arkansas with 15 points and Erynn Barnum chipped in 11.
It was an exhausting week for the Razorbacks, who played three games in six days on top of travel issues. After the loss to LSU, plane troubles late Thursday night caused Neighbors' team to stay in Baton Rouge, La.
His team did not leave for Fayetteville until mid-day Friday, then had to leave Saturday for Columbia, S.C.
"It was emotionally draining," Neighbors said.
Arkansas is scheduled to host Alabama on Thursday at 6 p.m. inside Bud Walton Arena.
Discussion
Have a comment on this story? Join the discussion or start a new one on the Forums.