Familiar faces coming to town as Arkansas looks to end 3-game skid
Published: Sunday, January 29, 2023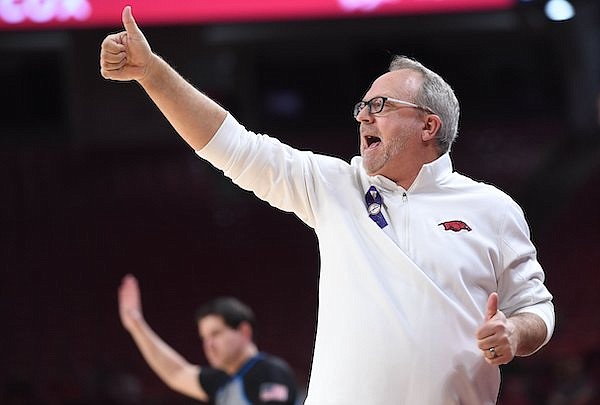 (
Andy Shupe
)
Arkansas coach Mike Neighbors directs his players Thursday, Jan. 26, 2023, during the second half of the Razorbacks' 69-66 loss to Alabama in Bud Walton Arena in Fayetteville.
FAYETTEVILLE— The University of Arkansas women's basketball team will look to end a three-game losing streak and knock off a projected NCAA Tournament team when it hosts Ole Miss at 4 p.m. today.
Arkansas (17-6, 4-4 SEC) is on the heels of a three-point home loss to Alabama on Thursday. It was a game in which the Razorbacks committed 20 turnovers and shot 37% from the floor.
"They're going to try to take it from us," Arkansas Coach Mike Neighbors said of the Rebels. "If we play with that looseness tonight, I may be looking for 20 [turnovers] to be the low end of it. That's why I think it's so important that we get better at that area because they're going to come in and try to take it from us. They are actively trying to steal it from you."
The Rebels sit alone at fourth place in the SEC standings through eight games. Ole Miss (17-4, 6-2) most recently defeated Mississippi State 78-63, notching its first season sweep over its in-state rival since 2004.
"They're ahead of us in the standings," Neighbors said. "It's a team that we haven't beaten the last two times we've played them. They've kind of had our number."
The Razorbacks' loss to Alabama followed back-to-back defeats in a span of three days at the hands of No. 4 LSU and top-ranked South Carolina. Arkansas senior forward Erynn Barnum, who leads the team in scoring and posted 20 points and nine rebounds against the Crimson Tide, said the tough stretch of games wore on the Razorbacks.
"Speaking on behalf of my whole team, we feel that way," Barnum said. "But it's no excuse to just come out here and play bad. I think we're going to clean it up within the next couple of games."
Angel Baker leads Ole Miss scoring with 15.3 points per game, while Madison Scott adds 11.9 points and a team-high 8.8 rebounds. Baker transferred to Ole Miss from Wright State, where she scored 26 points during the 2021 NCAA Tournament opening-round upset of the Razorbacks.
Scott has been a mainstay in the Rebels' lineup since her freshman season and is 2-1 against Arkansas.
"Madison Scott has been one of the better players in our league ever since she got on campus," Neighbors said. "She continues to do that. Angel Baker, who we're familiar with at two schools, you know, she hurt us in the NCAA Tournament when she was at Wright State, and she's been a good player for them against us the last couple years. So it will be a good matchup, but if we play like we did [against Alabama], it won't be a good matchup."
Two familiar faces will be returning to Walton Arena, as the Rebels' Marquesha Davis and Elauna Eaton both transferred to Ole Miss from Arkansas. The two were part of the Razorbacks' opening day roster for the 2021-22 season. Davis played seven games in 2021 before entering the transfer portal, while Eaton transferred during the offseason.
"I think it's kind of commonplace now with the transfer portal like it is," Neighbors said. "Playing against kids that you know well and were a teammate [of] and you know, [they are] not going to need directions getting around the building. You know, they're going to know. So I hope it focuses our kids."
It's a crucial game for both teams for SEC Tournament positioning. The top four conference finishers earn a double bye in the bracket, something Arkansas has never done. The Razorbacks enter today's game tied with Mississippi State for sixth in the standings.
Discussion
Have a comment on this story? Join the discussion or start a new one on the Forums.