2 Razorbacks named All-SEC
Published: Wednesday, March 1, 2023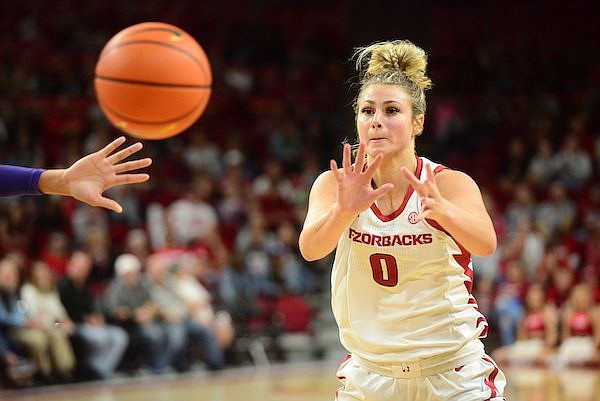 (
J.T. Wampler
)
Arkansas' Saylor Poffenbarger is shown during a game against LSU on Thursday, Dec. 29, 2022, in Fayetteville.
Two University of Arkansas women's basketball players earned SEC awards, the league office announced Tuesday.
Senior forward Erynn Barnum was named All-SEC second team and freshman guard Saylor Poffenbarger was selected to the All-Freshman Team.
"There were a lot of nominees," Arkansas Coach Mike Neighbors said. "There were a lot of people that were worthy of it, and to be one of the 16 kids recognized is a good thing for Erynn. We're all proud of her and for her.
"And then with Saylor on the All-Freshman Team…it's hard to be a freshman, period, in this league. And to establish yourself in that category…it's an honor."
Barnum led Arkansas in scoring at 16.3 points per game. The Little Rock native scored 37 points against Ole Miss in January and has scored at least 20 points in 9 games this year.
She was named a Katrina McClain Midseason Top 10 finalist, the award given to the best power forward in Division I.
Poffenbarger transferred to Arkansas from Connecticut and has started every game for the Razorbacks. She was named the SEC Freshman of the Week five times this season, a school record.
Her presence has been felt on both ends of the court. She is averaging 8.7 points and 6.6 rebounds.
Poffenbarger has hauled in 180 defensive rebounds, the second most by a Razorback in a single season. She is 11 rebounds away from matching the record.
The Razorbacks begin postseason play Thursday in Greenville, S.C, with an 11 a.m. game against Missouri at the SEC Tournament.
Discussion
Have a comment on this story? Join the discussion or start a new one on the Forums.