Arkansas, Mizzou meet again in SEC Tournament
Published: Thursday, March 2, 2023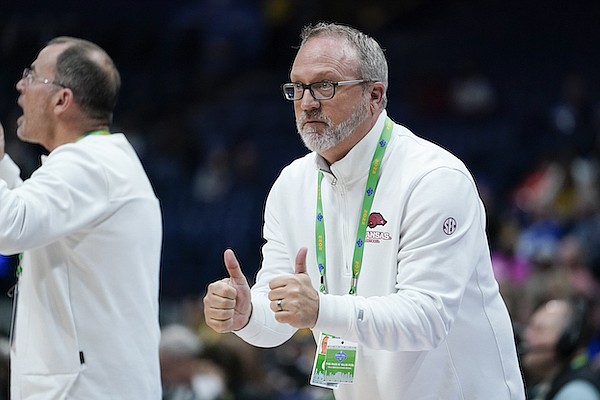 Arkansas head coach Mike Neighbors, right, watches from the sideline in the first half of an NCAA college basketball game against Missouri at the women's Southeastern Conference tournament Thursday, March 3, 2022, in Nashville, Tenn. (AP Photo/Mark Humphrey)
GREENVILLE, S.C. — There is no shortage of familiarity between the Arkansas women's basketball team and Missouri.
The teams have faced each other five times in the past two seasons. Their sixth meeting takes place today.
In a duplicate situation from last year, Arkansas (20-11, 9-7-9 SEC) will tangle with the Tigers in an 8/9-seed matchup at the SEC Tournament. The border rivals will tip off inside Bon Secours Wellness Arena at 11 a.m. Central.
"The similarities between this year and last, there are a lot of them," Arkansas coach Mike Neighbors said. "Same record, same opponent, same [that] we've beaten them twice in the regular season – same type of deal. We had to go to overtime to beat them [last year], so almost everybody on the team can remember that one.
"I think this group will remember back to what it meant last year and how you have to play well in that environment."
Missouri (17-12, 6-10 SEC) has not beaten the Razorbacks since February 2019, dropping the last nine matchups. None of Arkansas' players have been active on a roster and lost to the Tigers.
"We're going to have to, in a very short time, turn around and get an Arkansas team that we've struggled with over the last couple times," Missouri coach Robyn Pingeton said following the Tigers' loss to Florida on Sunday. "They've had our numbers, and if we don't want that feeling, we're going to have to get our minds right and figure out how to attack it."
The Razorbacks won the teams' two matchups this season by an average of 25 points. In the most recent meeting, Arkansas held the Tigers to 33 points, the fewest ever allowed against an SEC opponent.
"We've really guarded them," Neighbors said. "We've held them well below their individual scoring averages and their team scoring averages. It's a good matchup player-for-player with us. There's a natural matchup."
Arkansas enters the tournament firmly on the NCAA Tournament bubble after hitting some late-season bumps and losing eight of its last 11 games. The Razorbacks will look to bolster their shot an earning at at-large bid with a strong showing in the league tournament.
"The SEC is 16 games, and when you're done with those 16 games, you can reflect back on all of them," Neighbors said. "If you look back and say, 'You know, we won seven games in a really competitive league [and] we had four other games that were literally one possession into the last two minutes of the game,' you can either reflect on that as a, 'What could have been,' or a, 'What was.'
"We did our reflecting, and now we've moved on to Missouri first, and then see what happens from that point."
ESPN's latest bracket projection has Arkansas listed among the first four teams left out of the field, but multiple other outlets forecast the Razorbacks sneaking in.
"I track it," Neighbors said of the bracket projections. "I'm not going to all of a sudden flip script on y'all and tell y'all I don't look at that stuff. I do. I can tell you this: we've just got to keep giving people reasons to talk about us in a good way. That's by winning and playing well in your wins.
"[We] get a chance to play against Missouri, who's in the top 50 in the NET, and then get the unanimous No. 1 team in the country (if we win), see how you play against them."
The Missouri-Arkansas winner will play top-ranked South Carolina in the quarterfinals, which also happened in the 2022 SEC Tournament.
WHEN 11 a.m., Thursday
WHERE Bon Secours Wellness Arena, Greenville, S.C.
RECORDS Missouri 17-12 (6-10 SEC), Arkansas 20-11 (7-9 SEC)
SERIES Arkansas leads 20-12
TV SEC Network
RADIO Razorback Sports Network
INTERNET WatchESPN.com and the ESPN app
NOTABLE Arkansas' Erynn Barnum (second team) and Saylor Poffenbarger (All-Freshman) earned All-SEC honors this week. … With the win over Texas A&M, the Razorbacks notched their third 20-win season under Mike Neighbors. … Missouri shoots three-pointers at the fourth-best clip (35.2%) in the conference. … The Tigers are 17-4 this season when they score over 60 points. … Arkansas is 7-5 in SEC Tournament games under Neighbors.
MISSOURI PROBABLE STARTING LINEUP
POS. NAME, HT., YR.; PPG; RPG
G Lauren Hansen, 5-8, Sr.; 13.1; 2.9
G Haley Troup, 5-10, Sr.; 8.1; 2.9
G Mama Dembele, 5-6, Jr.; 4.0; 2.8
F Hayley Frank, 6-1, Sr.; 15.4; 4.1
C Jayla Kelly, 6-3, Jr.; 3.3; 3.0
COACH Robin Pingeton – 224-179 in 13th season at Missouri and 559-336 in 28th season overall
ARKANSAS PROBABLE STARTING LINEUP
POS. NAME, HT., YR.; PPG; RPG
G Makayla Daniels, 5-8, Sr.; 12.9; 4.0
G Samara Spencer, 5-7, So.; 14.0; 3.8
G Saylor Poffenbarger, 6-2, R-Fr.; 8.7; 6.6
G Chrissy Carr, 6-1, Sr.; 11.4; 3.6
F Erynn Barnum, 6-2, Sr.; 16.3; 6.6
COACH Mike Neighbors – 116-75 in sixth season at Arkansas and 214-116 in 10th season overall
TEAM COMPARISON
Missouri – Arkansas
65.0 Points for 72.8
61.4 Points against 65.6
-0.1 Rebound margin -3.2
-0.4 Turnover margin 3.0
43.6 FG pct. 40.4
35.2 3FG pct. 29.9
73.2 FT pct. 66.3
Discussion
Have a comment on this story? Join the discussion or start a new one on the Forums.