Razorbacks roll past Mizzou with big 4th quarter
Published: Thursday, March 2, 2023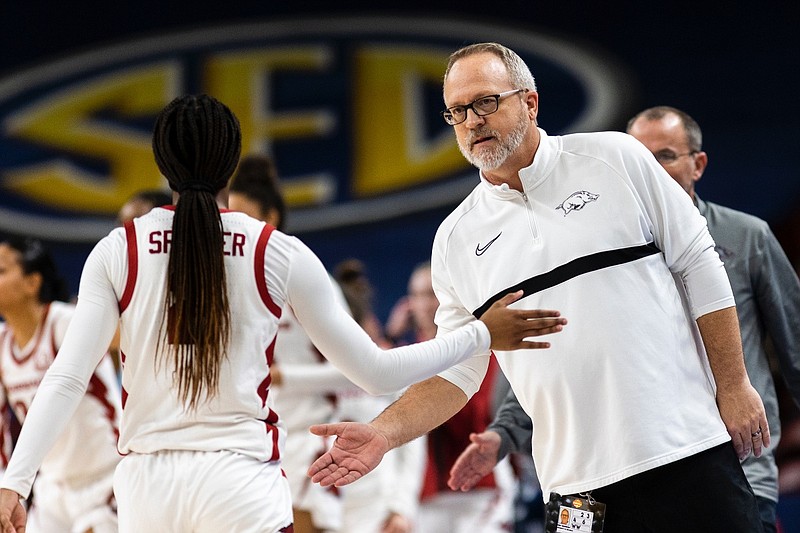 Arkansas head coach Mike Neighbors congratulates player Samara Spencer (2) after an NCAA college basketball game against Missouri in the Southeastern Conference women's tournament in Greenville, S.C., Thursday, March 2, 2023. (AP Photo/Mic Smith)
GREENVILLE, S.C. — With its NCAA Tournament hopes on the line, Arkansas' women's basketball team overcame an 11-point deficit and defeated Missouri 85-74 in the SEC Tournament on Thursday inside Bon Secours Wellness Arena.
Arkansas (21-11) outscored the Tigers 29-10 in the fourth quarter to erase the Tigers' lead and add to its postseason resume. It was a rally sparked by a 16-0 run after trailing 67-61 with 5:42 remaining.
"We waited until the fourth quarter to play our best," Arkansas coach Mike Neighbors said. "I don't know what happened, so don't ask me any specific questions. I will tell you that I remember Rylee Langerman hitting a huge three and Mak[ayla] Daniels having a very positive comment, which we'll keep to ourselves and share only with our team.
"But (Daniels) had a very positive moment in a timeout that I'll remember for the rest of my life as a coach."
Arkansas traded leads with Missouri (17-13) 16 times, but after Samara Spencer hit a driving layup with 3:06 to play, the Razorbacks never surrendered the lead again. The victory advanced Arkansas to a SEC Tournament second-round date with top-ranked South Carolina.
"We have never really peaked at the right time, and I think we are starting to do that," Neighbors said. "We will find out for sure tomorrow because we're playing the best team in the country."
Chrissy Carr scored a career-high 34 points on 11-of-14 shooting, including a 6-of-8 clip from deep. She was one of three Razorbacks to score in double figures, joined by Spencer (19) and Daniels (17). All three played while battling injuries suffered during the game.
"These girls, I have not played with a more tough group of girls in my five years of college," Carr said. "People falling down, dang near in tears, but getting up and ready to continue to play because they want to, not because anybody is forcing them to."
The graduate transfer has not been to an NCAA Tournament since her freshman season at Kansas State. She believes her team deserves a spot in the tournament field.
"I think it rewards us for all the close games that we have not had go our way," Carr said of winning a tight game. "And it proves that we are a team with fight and we deserve to be in the NCAA Tournament, because we have some great players and we are a great team."
Daniels rolled her ankle early in the second quarter and stayed in the locker room through halftime. She re-entered to begin the third quarter and never sat again. Daniels played the final 20 minutes while favoring her right ankle and matched Carr's team-high 12 second-half points.
"I think it's that time of year," Daniels said. "Everyone is beat up on every team, so it's kind of like it's your decision whether you go out there and play hard. If you're going to say, 'This hurts so bad I can't play,' sit out.
"But I think all of us wanted to be out there on the court and weren't worried about what was hurting."
Spencer (leg) and Carr (wrist) both sat for extended minutes after injuries, but played down the stretch.
"It goes back to how they've been raised and brought up," Neighbors said. "We have tried to keep going everything their parents have started."
It was an offensive clinic in the first half, with Missouri shooting 47% and Arkansas 52% from the floor. Spencer made a driving layup with seven seconds before halftime to put the Razorbacks ahead 41-40.
Missouri came out hot in the third quarter, quickly taking a lead. The Tigers outscored Arkansas by nine points in the period after shooting 70% from the floor.
Hayley Frank made one of her team-high 4 three-pointers with 4:08 left in the third quarter to begin an 11-3 run to close the period.
"I think early my mindset was to be the willing screener and create for my teammates," Frank said. "And then once they were getting looks, they had to play me a little different and I was able to free up myself."
After trailing 64-53 with 51 seconds left in the third quarter, the Razorbacks regrouped and powered past the Tigers.
Daniels showed her veteran experience playing in big moments and scored 10 points in the final quarter. The senior guard made 2 of 3 three-pointers and went 4 of 4 from the foul line.
As a team, Arkansas shot 23 of 27 (85.2%) from the foul line, which played a large role in the Razorbacks preserving the lead.
"When we make 12 out of 29 from the three and 23 for 27 from the free throw line, it makes a lot of stuff look good and look right," Neighbors said. "That fourth quarter, again, I can't wait to get to the bus and watch it."
Arkansas-South Carolina (29-0) is scheduled to tip off Friday at 11 a.m. Central on SEC Network.
Discussion
Have a comment on this story? Join the discussion or start a new one on the Forums.