SEC Tournament report: Carr carves up Tigers
Published: Thursday, March 2, 2023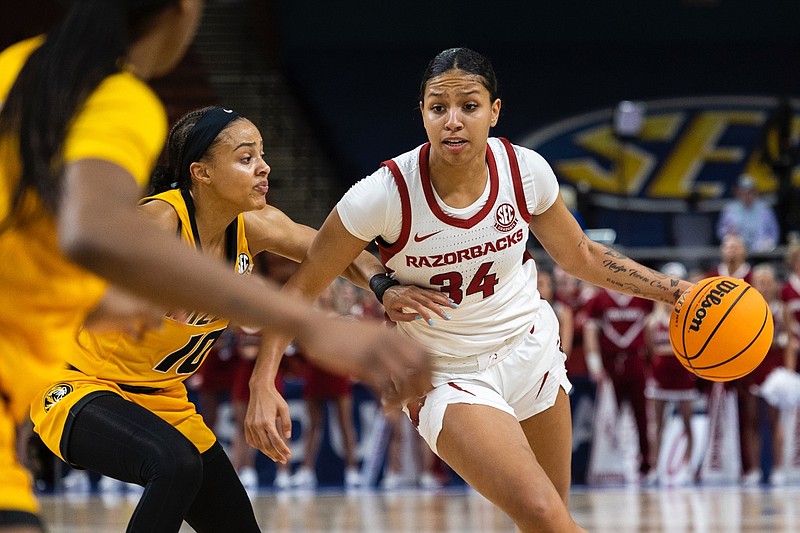 Arkansas' Chrissy Carr (34) drives the ball up the court against Missouri's Katlyn Gilbert (10) in the first half of an NCAA college basketball game during the Southeastern Conference women's tournament in Greenville, S.C., on Thursday, March 2, 2023. (AP Photo/Mic Smith)
GREENVILLE, S.C. — Chrissy Carr had scored more than 30 points one time in her five-year college career entering Arkansas' opener at the SEC Tournament against Missouri on Thursday.
The graduate transfer from Eden Prairie, Minn., now has two such games.
With Arkansas (21-11) firmly on the bubble, Carr delivered a spectacular performance, scoring a career-best 34 points to power the Razorbacks past the Tigers 85-74. Carr, who has averaged 17.4 points over the Razorbacks' last 7 games, went 11 of 14 from the floor and made 6 of 8 three-pointers.
"When I came to Arkansas, coach [Mike Neighbors] told me, 'You don't have to be the type of player to press to get shots. We have good guards that will find you,'" Carr said after the win. "My job is to run my butt down the court as fast as I can and wait until they get it to me, and if I don't I will hear from Mak[ayla Daniels] and Sam[ara Spencer] that I need to shoot it.
"It takes the pressure off of me, feeling the need to score, just being shot-ready, and know when it's my time I need to be ready to go."
Guards Saylor Poffenbarger, Daniels and Spencer combined for 12 assists, five of which were to Carr. The Razorbacks' ball movement led to 46.3% shooting, their highest clip since shooting 46.4% against Vanderbilt on Jan. 16.
"Whenever you're making shots like that, the thing that was going through my head is I don't want to take bad shots," Carr said. "Just continuing to let them find me and continuing to stay in rhythm, because a lot of people can shoot their way out of it. That's what I didn't want to do today."
Neighbors, who in the postgame news conference said, "Hashtag 34 for 34," referencing Carr's uniform number, said he hopes Carr earns her first NCAA Tournament trip since 2018-19, when she was a freshman at Kansas State.
"I just hope she gets rewarded with it," Neighbors said. "She is a great kid. She has fit perfectly into the maturity that we needed, the way she has been coachable…To hear her say the words she said [in the players' interview prior], those are things I said to her earlier in the year and she is repeating them. That means she heard them and she's tried to do them.
"I think her teammates realized that. She made a lot of changes and she earned her teammates' respect by making some changes."
Closing time
When Arkansas and Missouri met in the 2022 SEC Tournament, the Razorbacks pulled away with a 14-3 advantage in overtime.
Though the 2023 postseason meeting didn't require extra time, Arkansas owned the final period. Outscoring the Tigers by 19 in the fourth quarter, the Razorbacks once again saved their best for last.
"Definitely," Spencer said when asked if last year's experience helped the team's confidence playing in a tight postseason game. "I mean, a lot of the people that were here last year are here this year. We have some newcomers, but they were still kind of around.
"I feel like just having that experience and knowing that we weren't going to let it come down to [overtime] because we were going to be locked in at the end of the game."
Playing hurt
Arkansas' three leading scorers in the contest – Carr (34), Spencer (19), and Daniels (17) – all played hurt.
Daniels rolled her ankle in the second quarter and was in the Razorbacks' locker room for the remainder of the half. Carr (wrist) and Spencer (leg) both were banged up in the second half, but recovered on the bench for a short period of time.
The trio, all knowing Arkansas needed a win to keep its NCAA Tournament aspirations alive, wanted to push through the pain.
"At this point in the season it can't hurt too bad because it's win or go home," Daniels said. "It's like I really didn't have a choice, and no one was putting pressure on me but myself. I didn't give it a choice."
Clutch from the stripe
An Achilles' heel for Arkansas much of the season has been poor free throw shooting. When it mattered most Thursday, the Razorbacks came through.
Arkansas shot 23 of 27 on free throws, including 10 of 13 in the fourth quarter. The 85.2% foul shooting was well above the Razorbacks' 67% season average.
Sorry, Mom
Poffenbarger's mother, Amy, was a standout player for Missouri from 1990-94. She has the Tigers' third-most career assists in program history.
In the three games against Mizzou this season, Poffenbarger was assigned to guard All-SEC second-team selection Hayley Frank. Though Frank had a 14-point showing Thursday, Poffenbarger held Franks to an average of nine points in the teams' three meetings.
The strong defensive presence helped power Arkansas to a 3-0 record over her mother's alma mater.
Discussion
Have a comment on this story? Join the discussion or start a new one on the Forums.