Arkansas in wait-and-see mode after SEC Tournament exit
Published: Friday, March 3, 2023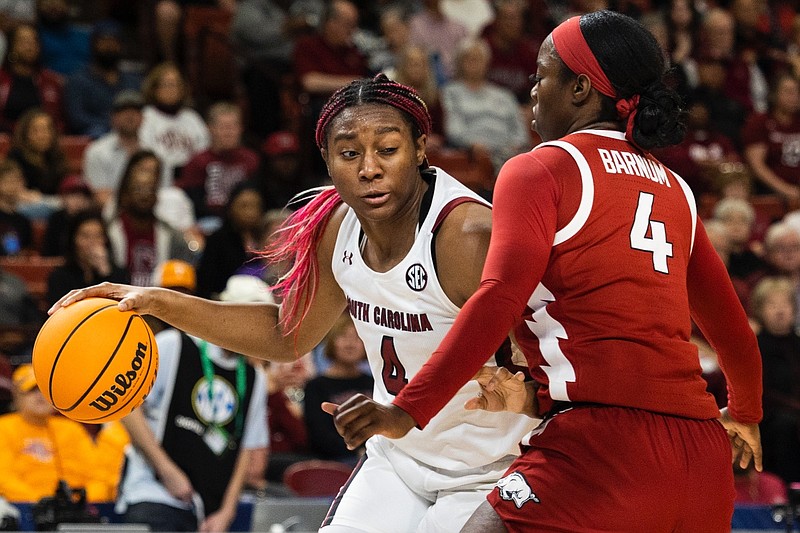 South Carolina's Aliyah Boston (4) dribbles past Arkansas' Erynn Barnum (4) in the first half of an NCAA college basketball game during the Southeastern Conference women's tournament in Greenville, S.C., Friday, March 3, 2023. (AP Photo/Mic Smith)
GREENVILLE, S.C. — The Arkansas women's basketball team is now in wait-and-see mode in regards to the NCAA Tournament.
The Razorbacks (21-12) were eliminated from the SEC Tournament on Friday by top-ranked South Carolina, falling 93-66 in the quarterfinals inside Bon Secours Wellness Arena.
The Gamecocks (30-0) advanced to play Ole Miss in Saturday's semifinals, and Arkansas' resume for the Big Dance is now finalized. All Mike Neighbors' team can do is wait for the NCAA Tournament Selection Show next Sunday.
"I follow it really, really closely and have historically," Neighbors said. "I know it's going to be tight, and I think it's going to come down to little things. Regardless of which way it goes, if it's the NCAA Tournament or the NIT Tournament, let's use it as an opportunity to grow and learn."
It was a comfortable win for South Carolina (30-0), but the Gamecocks got a better effort from the Razorbacks than in the 92-46 beatdown in Columbia, S.C. on Jan. 22. Arkansas drew within 13 points late in the third quarter, but South Carolina ended the final 10:15 by outscoring the Razorbacks 33-19.
Gamecocks coach Dawn Staley said she has no doubt that the Razorbacks should be in the 68-team field.
"Without a doubt," Staley said. "They're in. The schedule that they played, they finished strong in our league. They're in. They play in the SEC, and with that type of record and that non-conference schedule, I would be shocked.
"I have been shocked before, but I think they're in."
South Carolina scored 60 points in the paint, led by a 19-point performance from forward Victaria Saxton. Staley's team was also boosted by an 11-point, 10-rebound day from Aliyah Boston, the SEC player of the year.
"I will tell you this: Victaria Saxton has been an All-American against the Arkansas Razorbacks for five years," Neighbors said. "She is getting a graduation card from us. I think their team is impossible to prepare for. They're impossible to scout.
"I don't care what anybody says: Aliyah Boston is the most impactful player in college basketball."
The Razorbacks tied the game 7-7 early on a three-pointer from Erynn Barnum, but the defending national champions answered with a 10-0 run. Back-to-back threes from Makayla Daniels pulled Arkansas within 17-13, but that was as close as the Razorbacks got.
South Carolina led 24-17 at the end of the first quarter then outscored Arkansas by eight points in the second to claim a 45-30 halftime lead. Saxton had 12 points in the first half, shooting an efficient 5 of 6 from the floor.
"I just do my job every game and do what I'm here to do and play my role," Saxton said.
Arkansas held even (17-17) with the Gamecocks in the third quarter, sparked by confident shooting from Saylor Poffenbarger and Samara Spencer. The two combined for 16 points in the quarter.
Poffenbarger had her second-best scoring performance of the season, pouring in 22 points. The SEC all-freshman selection went 7 of 11 from the floor and knocked down 3 threes.
"I think with the team that we have it's kind of hit or miss," Poffenbarger said. "I think everyone comes to play, and it's easy to play when you have good people around you. I think that's one thing that we're blessed with, is we have a lot of really talented players.
"When one is not having their best game, another one has to pick them up, and I think that's been our mentality all year."
South Carolina scored 31 points in the fourth quarter to shut the door on Arkansas. Neighbors said the Gamecocks have one of the best teams he's seen in his coaching career.
"You've got to put them in the conversation with the great UConn teams," Neighbors said. "I didn't get to see the great Coach [Pat] Summitt teams, so I can't speak to those, but I would certainly put them in the same line.
"Their depth is demoralizing. You can do everything right and they still get it [done]."
Spencer and Daniels added 16 and 12 points for the Razorbacks, respectively, while Rylee Langerman led the team with seven rebounds.
Arkansas was beat 74-17 on the glass in the teams' previous meeting — the largest rebound margin in any Division-I game in the past 20 seasons. The Razorbacks reduced the gap to 51-26 on Friday.
In the teams' previous matchup, the Gamecocks outscored Arkansas 37-0 in second-chance points. It was 16-12 in South Carolina's favor on Friday.
"I think rebounding against these guys is a mindset," Poffenbarger, who notched a single-season program record 193 defensive rebounds, said. "I think you have to kind of go in telling yourself and coming together as a team and committing to at least trying to rebound. I think that's one thing we did.
"We tried as hard as we could, and I think we did everything we could and fought hard against the rebounds. I think that's what you have to do to keep it even."
The selection show is set for March 12 at 7 p.m. on ESPN.
Discussion
Have a comment on this story? Join the discussion or start a new one on the Forums.