Herron dominates Iowa State from the circle
By: Katie Parker, Special to the Democrat-Gazette
Published: Friday, March 3, 2023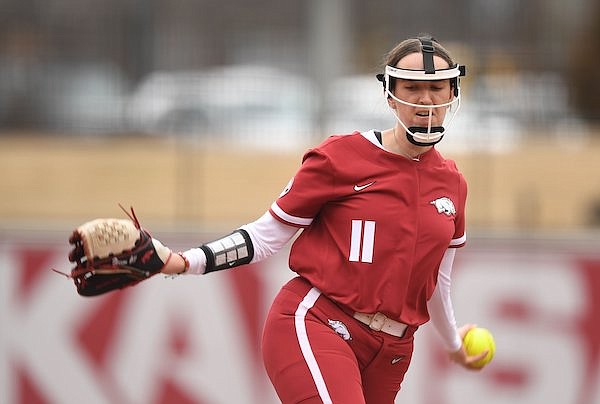 Arkansas starter Robyn Herron delivers a pitch Thursday, March 2, 2023, during the second inning of the Razorbacks' 4-0 win over Iowa State at Bogle Park in Fayetteville. Herron threw a one-hit shutout in the win.
FAYETTEVILLE— A gloomy day on The Hill failed to rain on the University of Arkansas' softball team's parade.
Sixth-ranked Arkansas (14-3) kicked off a dreary first day of the Wooo Pig Classic on Thursday with a 4-0 win over Iowa State at Bogle Park.
The Razorbacks were powered by a dominant pitching performance from freshman Robyn Herron. The Tampa, Fla., native pitched a complete game, allowing just one hit to go along with 12 strikeouts.
"I thought it was a really good game," Arkansas Coach Courtney Deifel said. "Pretty complete game. I thought Robyn did an exceptional job in the circle. [She] grinded through some tough spots and just really stayed the course to keep a good offensive team at bay."
Herron (4-1) faced 26 batters in the Razorbacks' first of six games in the tournament.
"I'm really excited to get in the circle again," Herron said. "I just want to continue what I did this game, but I'm also excited to see what the whole team does."
The left-hander picked up where she left off in last week's victory over Drake when she struck out 14 batters. She has fanned 27 opposing batters over her last 13 2/3 innings.
Arkansas' offense was led by freshman lead-off batter Reagan Johnson, who etched a personal-best four hits.
"I thought we saw good production," Deifel said. "I thought Reagan did a great job of setting the table in the lead-off spot."
The Razorbacks began the scoring with Lauren Camenzind's RBI double to left center, which scored Raigan Kramer to put Arkansas ahead 1-0.
In the third inning, Arkansas' bats came through again. Rylin Hedgecock blistered a home run to left field, a two-run shot that drove in Johnson. It boosted Arkansas to a 3-0 lead, which Herron continued to protect.
Hedgecock continued her hot day, threading a double straight down the left-field line to the wall in her next at-bat. The redshirt-junior utility player went 2 for 3.
"I was seeing the ball really well," Hedgecock said. "I was really trying to let it get deep because last week I was out in front of a lot of the stuff, so I feel like I achieved that in this game."
Iowa State (6-8) spoiled Herron's no-hit bid in the fifth inning with a single to third base for the Cyclones' lone hit.
Neither team scored over the next two innings, but Kramer got the Razorbacks back on the board in the sixth. when the sophomore outfielder hit hit a solo homer, stretching Arkansas' lead to 4-0. Herron preserved the advantage and closed the door on the Cyclones in the final two innings, picking up four of the final six outs on strikeouts.
While pleased with her team's strong start to the tournament, Deifel's judgment wasn't clouded when it comes to the weekend competition.
"It's a really strong field," Deifel said of the stretch of games. "We did that by design. So hopefully we play better every day, because we're going to have a lot of challenges ahead of us."
Arkansas will face Texas A&M-Corpus Christi today at 3 p.m., followed by a matchup against North Texas at 5:30 p.m. The games will stream on SEC Network-Plus.
Discussion
Have a comment on this story? Join the discussion or start a new one on the Forums.