Razorbacks sweep doubleheader at Bogle
By: Katie Parker, Special to the Democrat-Gazette
Published: Saturday, March 4, 2023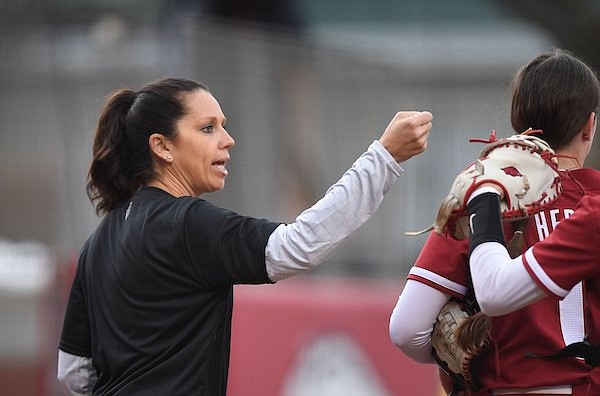 (
Andy Shupe
)
Arkansas coach Courtney Deifel encourages her team Thursday, March 2, 2023, during the Razorbacks' 4-0 win over Iowa State at Bogle Park in Fayetteville.
FAYETTEVILLE — The University of Arkansas' softball team remained undefeated in the Wooo Pig Classic following Friday's victories against Texas A&M-Corpus Christi (11-0) and North Texas (6-2).
"I thought we played really well today," Arkansas Coach Courtney Deifel said. "From start to finish it's probably our best day that we've played since the start of the season."
No. 6 Arkansas (16-3) dusted Texas A&M-CC in the opener behind strong hitting and a one-hit combined shutout.
Callie Turner earned the start, allowing one hit in four innings. She walked one batter and had four strikeouts. The redshirt junior from Land O'Lakes, Fla. moved to 4-0 on the season.
"It [being undefeated] feels good," Turner said. "All the hard work from the offseason seems to be paying off."
Rylin Hedgecock got things started in her first at-bat of the game. She nailed her ninth home run of the season with a three-run blast to left center, which scored Reagan Johnson and Hannah Gammill.
After Atalyia Rijo hit a solo home run, Hedgecock went deep again to put Arkanas ahead 5-0.
"She just has so much power in her swing," Deifel said of Hedgecock. "She's seeing the ball really well and so I'm not surprised by it one bit. We see her do that on a daily basis."
The bats stayed hot for Arkansas in the third, as a Kristina Foreman double to right center put the Razorbacks in scoring position. Raigan Kramer hit a sacrifice fly to score Cylie Halvorson and extend Arkansas' lead to 6-0.
Lauren Camenzid then singled to right field, scoring Foreman to stretch the Razorbacks' lead to 7-0.
Arkansas pieced together a four-run fourth inning. The scoring started with an RBI single from Gammill, followed two batters later with an RBI double from Halvorson. Back-to-back ground outs by Kacie Hoffmann and Foreman managed to score two more runs, putting Arkansas up 11-0 entering the fifth.
Reliever Hannah Camenzid closed the game for Arkansas in the fifth, allowing no hits. The freshman shut the door on the Islanders allowing no hits.
The Razorbacks scored the final three runs of the second game to pull away after the Mean Green pulled within 3-2 run in the fifth inning.
"That last game was probably the best game that we've played," Deifel said. "Just from start to finish, our intensity, and our focus, and our fight. They're a really tough team, they're really well coached and it's a big win."
Chenise Delce pitched for the first time in the tournament and threw a complete game. She fanned 11 batters, walked 4 and allowed 2 hits.
Arkansas' defensive strides from the first game carried over into the second just as strong. Delce hit a few rough patches, but the rest of the team came through.
"We have an exceptional defense," Deifel said. "They did a great job. They had Chenise's back. There's just so much to said for that. To be a pitcher and to just know that your whole team has your back, that's what they do."
Arkansas has a rematch today against Iowa State at 3 p.m. followed by another round against Texas A&M-Corpus Christi at 5:30 p.m. The games can be streamed on SEC Network-Plus.
Discussion
Have a comment on this story? Join the discussion or start a new one on the Forums.