Razorbacks beat Iowa State, Corpus Christi
By: Katie Parker, Special to the Democrat-Gazette
Published: Sunday, March 5, 2023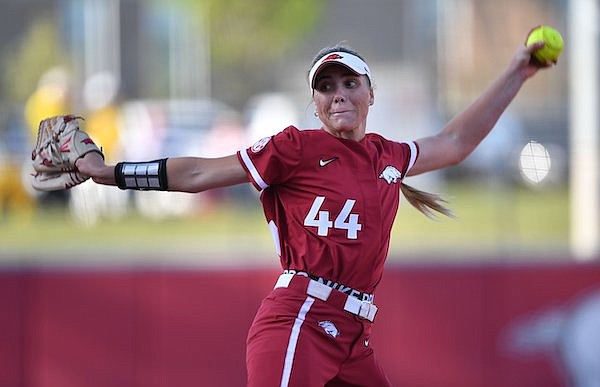 (
Andy Shupe
)
Arkansas starter Callie Turner delivers a pitch to the plate Tuesday, April 26, 2022, during the first inning of the Razorbacks' 3-2 win over Central Arkansas at Bogle Park in Fayetteville.
FAYETTEVILLE— A beautiful day in Northwest Arkansas brought the largest crowd to Bogle Park since opening day for the third day of the Wooo Pig Classic.
The sixth-ranked University of Arkansas softball team rewarded the 2,929 in attendance with a doubleheader sweep over Iowa State (7-4) and Texas A&M-Corpus Christi (12-0). It extended Arkansas' win streak to eight games, and improved the Razorbacks to 4-0 in the tournament.
Callie Turner (5-0) was the starting pitcher for Arkansas (18-3) against Iowa State. She walked 2, allowed 4 runs and 1 hit, and fanned 5 batters over 7 ⅓ innings.
"I felt like we controlled the game," Arkansas Coach Courtney Deifel said. "They obviously got a little that first inning, I think we grabbed the momentum right back and never gave it up."
In her first at bat, Kristina Foreman singled to third base for an RBI to score Reagan Johnson. A wild pitch in the second with the bases loaded paved the way for Atalyia Rijo to cross the plate, putting the Razorbacks up 3-1.
In the fourth, Raigan Kramer hit a three-run home run over center field to give Arkansas a 6-1 lead.
Rylin Hedgecock's first hit of the game was a solo home run in the sixth, which was her fourth homer of the weekend at that point. Heading into the seventh, the Razorbacks led 7-1.
The seventh inning got sticky for Arkansas. A thread of fielding errors and unearned runs put the Cyclones behind 7-4.
Hannah Camenzid closed the door for the Hogs, facing three batters and allowing no hits.
"Fortunately we had the cushion," Deifel said."We were wanting Callie to roll and try to finish that out, and then we just got a little sloppy. I thought Hannah came in and did what we really needed her to do which was to continue to deal ground balls and get us out of it."
Arkansas then run-ruled Texas A&M-Corpus Christi in the second game in five innings.
"I thought we did really well," Deifel said. "I thought we jumped on them early, I thought we kept pressure on them. It was one of those games where we put up a lot of runs, but not a lot of hits. We just took what they gave us."
The Razorbacks wasted no time scoring early thanks to a grand slam from Hedgecock in the second inning to put them ahead 7-0.
Robyn Herron capitalized with a no-hitter. The left-handed pitcher faced 17 batters over 5 ⅓ innings and locked down 11 strikeouts.
"I'm really proud of it [my pitching]," Herron said afterward, "I'm glad of how I developed throughout the game. At first, I didn't feel as hot, but I just got better as the game went on."
In the second, Rijo singled to right field and advanced to second on the throw, the New Yorker's hit was strong enough for an RBI. A confused fielder's choice hiccup from Texas A&M CC's third baseman kept the inning alive for the Hogs. Lauren Camenzid reached home, the Arkansas score grew 3-0.
With the bases loaded in the second with no outs, Hedgecock battled at the plate with two outs but turned the at-bat around with a grand slam to left field, to balloon the lead to 7-0.
"That's Rylin," Deifel said. "She has so much power. She's seeing the ball really well. I think even on her grand slam it was a two strike count that didn't really go her way, and I think she just has a ton of confidence."
For her third hit of the night, Kramer doubled to left field. The sophomore tacked on an RBI when Foreman came home from second.
The Hogs broke double digits in the fourth when Madi Conklin bashed a double to center, driving in two runs.
Up 11-0, the Razorbacks rode a two-out rally. Johnson reached first on an error from Islander second baseman, as Conklin touched home to stamp the score 12-0 headed into the fifth.
Freshman Nikki McGaffin closed the victory for the Razorbacks
The Hogs complete the tournament with one final matchup against North Texas at 12:15 p.m. today.
"It's gonna be a big one," Deifel said. "North Texas is really tough. They gave us a good game yesterday and then they dropped one today and I feel like they're only gonna be fired up to get back on the field. We're looking forward to it."
The game will be streamed on SEC Network-Plus.
Discussion
Have a comment on this story? Join the discussion or start a new one on the Forums.