Razorbacks finish Wooo Pig Classic unbeaten
By: Katie Parker
Published: Monday, March 6, 2023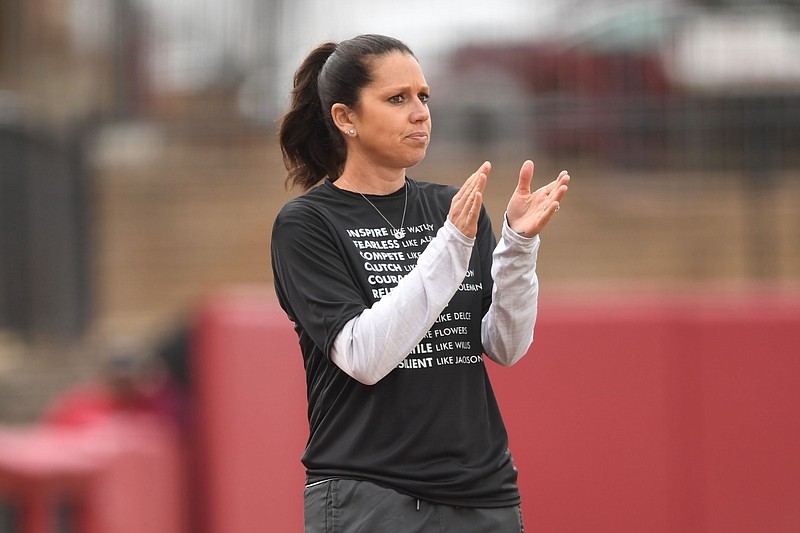 Arkansas coach Courtney Deifel directs her team Thursday, March 2, 2023, during the Razorbacks' 4-0 win over Iowa State at Bogle Park in Fayetteville.
FAYETTEVILLE — Arkansas defeated North Texas 11-1 on Sunday and completed the Wooo Pig Classic unbeaten, winning all six games over the weekend.
"I thought we were relentless offensively," Arkansas coach Courtney Deifel said. "I thought that our pitchers and defense did a really good job of controlling our side. I just thought it was a really complete game. They're a really tough team."
Robyn Herron (6-1) started in the circle for her third tournament appearance. The lefty faced 13 batters over 3 innings and allowed 1 hit, 0 runs and struck out 3.
The bats were hot for Arkansas in the second. Raigan Kramer doubled up the middle and two at-bats later Lauren Camenzind hit her first college home run.
The freshman had an additional RBI for the first two runs of the game.
"There's really no way to describe your first home run," Camenzind said. "Everyone has your back here, so when you do good everyone loves to celebrate each other."
Kramer came back hungry to the batter's box the following inning. The Kansan smacked a three-run home run to center field, her fourth of the season, to put the Razorbacks ahead 5-0.
"As soon as I hit it, I knew it was gone," Kramer said. "I knew I could produce some more for my team, so it feels good to be able to come out and do that this weekend."
Chenise Delce took over pitching in the fourth. The senior allowed one hit and no runs.
The electricity surged for Arkansas' bats in the fourth. Rylin Hedgecock singled to left field with the bases loaded, good for an RBI. Cylie Halvorson then doubled to left to tally two more RBI.
The Razorbacks rode a two-out rally with the bases loaded. A walk from the Mean Green added another run for Arkansas.
For her second at-bat of the season, Delce stepped up to the plate with the bases loaded and singled up the middle to plate two. The Arkansas lead blossomed to 11-0.
"(Delce) swings it really well," Deifel said. "It was fun because everyone was excited, like it's not something that she does, but that's something that she does every day and she did a really good job."
Hannah Camenzind stepped into the circle in the fifth to close the game for Arkansas. Pitching to her twin Lauren Camenzind behind the plate, the freshman allowed two hits and one run.
"More than anything we are progressing really well as a group," Deifel said. "I think that we're playing a little better each day. I like where we're at."
Rolling on a 10-game win streak, Arkansas will prepare for its first in-state matchup of the season. On Monday, the Razorbacks will host Central Arkansas at 6 p.m. in Bogle Park.
"It's always a tough game," Deifel said of UCA. "They pitch the heck out of it. They're always really well coached and prepared and fired up to play us. So it'll be a really great game."
The game will be available for streaming on SEC Network-Plus.
Discussion
Have a comment on this story? Join the discussion or start a new one on the Forums.