Razorbacks begin run at 3-peat
Published: Friday, March 10, 2023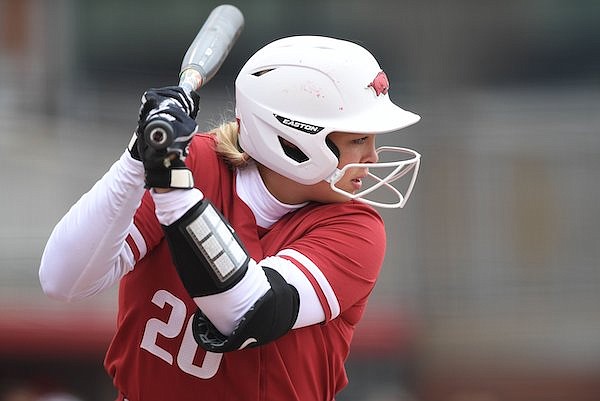 (
Andy Shupe
)
Arkansas third baseman Hannah Gammill hits Thursday, March 2, 2023, during the fourth inning of the Razorbacks' 4-0 win over Iowa State at Bogle Park in Fayetteville.
FAYETTEVILLE — It's been since 2014 that the University of Arkansas softball team has hosted an SEC-opening series at Bogle Park.
After nine years of hitting the road to start conference play, sixth-ranked Arkansas (19-4) will see those fortunes change tonight when it welcomes Texas A&M to town.
Texas A&M (14-6) was Arkansas' final conference series last year and begins the Razorbacks' gauntlet of an SEC schedule tonight at 6 p.m.
Six of Arkansas' eight league opponents this year are ranked in the latest USA Today/NFCA Division I Coaches Top 25, the poll of record for the Arkansas Democrat-Gazette. Texas A&M and Mississippi State, the other two teams, are both receiving votes.
Arkansas aims to defend its back-to-back SEC regular-season crowns but has its hands full with four other teams ranked inside the top 15.
"It's always strong," Arkansas Coach Courtney Deifel said of the SEC. "I think that every year we prove that we're the strongest [conference] from top to bottom. I think that just continues. The play continues to elevate. This year is no different. … I'm really curious to see how it plays out. It's always interesting to see the weekend matchups and it's just such a high level of softball. Pretty fun."
It will be the first time Arkansas has ever played the Aggies without Hall of Fame Coach Jo Evans in the opposing dugout. Evans, who has the 11th-most wins in Division I history, became Texas A&M's coach in 1997, the inaugural season of Arkansas softball.
Texas A&M parted ways with Evans following the 2022 season which ended with an NCAA regionals loss to Oklahoma, with Aggies Athletic Director Ross Bjork citing the program's expectation to be "competing for championships every year in Oklahoma City." The Aggies have not been to the Women's College World Series since 2017.
The university replaced her with Trisha Ford, who coached at Fresno State and Arizona State previously. Ford led Arizona State to a Pac-12 title and NCAA Super Regionals appearance last season.
Deifel said she expects a dogfight with the Aggies.
"They're incredibly athletic," Deifel said of Texas A&M. "They always have been. They have a new staff that is interesting to see how [they've] shifted and transitioned from an outsider's perspective. I think they continue to get better every weekend as they probably get used to each other and kind of the new system.
"We always have a tough battle with A&M, and I expect nothing different this weekend."
The Razorbacks are 4-20 all-time against Texas A&M, and picked up their first-ever series win over the Aggies last season. Arkansas won the series 2-1 in College Station, Texas, and clinched an outright SEC title in the process.
Sophomore outfielder Raigan Kramer, who was named the SEC Player of the Week following a monster performance during the Wooo Pig Classic, said the team is prepared for the SEC grind.
"I think we know that every SEC game is going to be most likely a top-20 matchup [or] top 25 matchup, so we're ready for that," Kramer said. "We know the competition is going to be there each game. We can't come slacking at all, in any aspect of the game, and we know that. So we've got to take advantage of if we see the other team slacking and we have to keep our mental game strong and stay strong through all of our games."
Deifel is hoping to see a "mindset of being relentless" from the Razorbacks as conference play starts.
"I think that we've showed that more often than we haven't," Deifel said. "I think that we have times where we don't get the timely hitting — that's softball, so. "But just having more of a relentless mindset, of just continuing to put the pressure on, even if they get us out, make sure that they feel our outs and feel our presence."
Discussion
Have a comment on this story? Join the discussion or start a new one on the Forums.