League softball play more of same for Razorbacks
Published: Saturday, March 11, 2023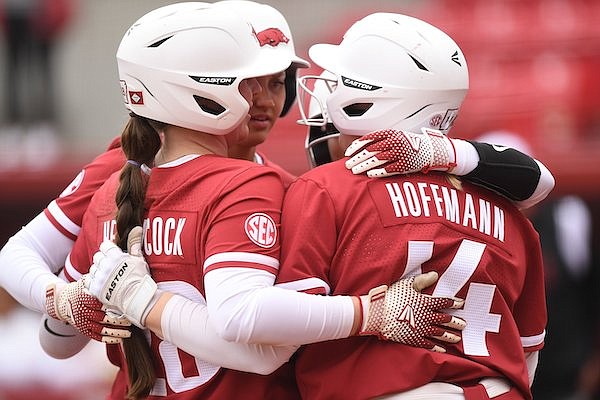 (
Andy Shupe
)
Arkansas designated player Rylin Hedgecock (left) celebrates Thursday, March 2, 2023, with Reagan Johnson, Kacie Hoffmann and Cylie Halvorson after hitting a two-run home run scoring Johnson during the third inning of the Razorbacks' 4-0 win over Iowa State at Bogle Park in Fayetteville.
FAYETTEVILLE — In its first SEC game of the season, the University of Arkansas softball team picked up right where it left off from its dominant run through the conference in 2022.
Sixth-ranked Arkansas (20-4, 1-0 SEC) barraged Texas A&M with a slew of early home runs, and Chenise Delce dealt a three-hit shutout to lead the Razorbacks to a 8-0 run-rule win Friday night in front of 2,827 at Bogle Park.
The "Bogle Bombers" sent three home runs into a busy home berm before Texas A&M (14-7, 0-1) could record its second out of the game.
"It was really exciting," Arkansas Coach Courtney Deifel said of the fast start. "Obviously to go three up, three down on the defensive side and come out and just be really aggressive. And just obviously making a big statement in the first inning was really huge. We were excited for SEC play and we were excited to respond from [a loss] Monday. It was a really great game."
Rylin Hedgecock, who entered the evening tied for second-most home runs in the nation, blasted her 11th of the season in her first plate appearance. The no-doubter to left-center field also scored Hannah Gammill, putting Arkansas up 2-0.
In the next at-bat, Cylie Halvorson manufactured some power of her own. The first baseman went deep to center field with a solo shot to stretch the Razorback lead to three runs.
After reigning SEC Player of the Week Raigan Kramer singled up the middle, Kristina Foreman joined the home run party. Foreman parked a two-run shot just over the wall in right center, the first homer inside Bogle Park for the Duke transfer.
It capped an electric five-run first inning for the Razorbacks, with all runs scored by virtue of the long ball.
"I knew it was coming," Foreman said of her home run. "I knew it was due, so just glad I could produce for my team. Just happy it happened."
Rounding the bases energized by an ecstatic home crowd was a moment Foreman said was special.
"It's unreal," she said of the feeling playing at home. "I mean, we have so many cool fans here and invested fans. So it's just awesome to see them just as hyped as we are on the field. It's like they're with us, so it's awesome."
Delce (9-2) went the distance for Arkansas and allowed no runs on three hits. She struck out four without any walks. In the fifth inning, Delce and the Razorbacks' defense worked its way out of a no outs, bases-loaded jam to secure the run-rule victory.
"You know, she didn't have her best stuff tonight," Deifel said of Delce. "She just really competed really hard. The defense had her back tonight. And you know, that's Chenise. She digs in when things are tough and she made some really great pitches, dealt up some great balls for our defense, and they made really great plays. So, they have each other's backs. It's really fun as a coach to see that play out."
Lauren Camenzind extended the Razorbacks' lead to 7-0 in the third inning when she delivered a bases-loaded single through the left side, which scored Kramer and Halvorson. A deep sacrifice fly from Halvorson in the fourth scored Gammill, who doubled, giving Arkansas its final run.
The shutout performance was a sight welcomed by Deifel, who said her team had a bitter taste in its mouth from Monday's 2-1 loss to Central Arkansas.
"They were mad and they should be," Deifel said. "And so what they've done all year is respond. You know, we're not going to be perfect, but when things don't go our way, we have to respond and be better and they've done that every time we've challenged them. And we challenged them this week."
Due to inclement weather in the forecast, today's game has been moved to 1 p.m instead of the original 7 p.m. start time. The game will stream on SEC Network-Plus.
Discussion
Have a comment on this story? Join the discussion or start a new one on the Forums.