Aggies even series at Bogle with shutout
Published: Sunday, March 12, 2023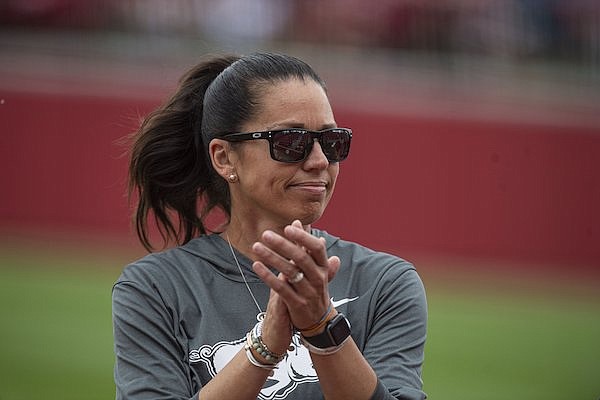 ( Hank Layton, NWA Democrat-Gazette )
Arkansas coach Courtney Deifel is shown during an NCAA Tournament game against Texas on Saturday, May 28, 2022, in Fayetteville.
FAYETTEVILLE — Texas A&M broke a scoreless game in the fourth inning and the sixth-ranked University of Arkansas softball team couldn't manufacture any runs in response, falling 2-0 on a dreary Saturday afternoon at Bogle Park.
Arkansas (20-5, 1-1 SEC) struggled offensively, piecing together just three hits while stranding five runners. Three different innings ended for the Razorbacks with the Aggies turning a double play.
"I just didn't think we were the aggressor," Arkansas Coach Courtney Deifel said. "So, any game that we aren't the aggressor, I'm disappointed. And it's not result based, it's just in our approach. But, you know, they executed better today, and they deserved the win."
The Razorbacks put together their only serious scoring threat in the first inning when they loaded the bases with a hit by pitch, a walk and an error against Texas A&M (15-7, 1-1 SEC). A fielder's choice with two outs allowed the Aggies to escape the threat.
Freshman pitcher Robyn Herron got the start for Arkansas and pitched 32/3 scoreless innings before the Aggies got to her. With two outs in the fourth inning, Texas A&M grabbed its first lead of the series when Riley Valentine crushed a solo home run to left field.
After Herron issued a walk in the next at-bat, Deifel went to the bullpen and inserted Callie Turner.
Turner got the Razorbacks out of the inning with a groundout on her first pitch, but then ran into trouble in the fifth inning. Morgan Smith lined an RBI double off Turner with two outs to score Trinity Cannon and give the Aggies a 2-0 lead.
Texas A&M loaded the bases in the sixth inning with one out, so Deifel once again went to the bullpen. She replaced Turner with Hannah Camenzind, the twin sister of catcher Lauren Camenzind. It took just one pitch for the sibling connection to shine, as the Camenzinds turned a pitcher-to-catcher-to first base double play to end the threat.
"It was huge," Deifel said of the play. "You know, obviously with the first pitch when your back's against the wall, it's the toughest position to be in. But she's a competitor and she's a gamer, and she executed a great pitch and then filled her position really nicely. That was one I was like, 'Oh, maybe the momentum's going to shift and we're going to get it going.'"
It looked for a moment as if the energy had carried over to the Razorbacks' bats when Reagan Johnson led the bottom of the sixth inning off with a single. Texas A&M then made a pitching change, replacing Shaylee Ackerman with Emily Leavitt.
Leavitt made her impact felt by getting three consecutive outs to strand Johnson at first. Kristina Foreman got Arkansas another baserunner in the seventh inning with a one-out single, but Leavitt once again shut the door with a pair of strikeouts to earn the save.
Ackerman picked up her fourth victory of the year, tossing five scoreless innings with two hits allowed.
"They did a really great job of keeping us off balance and we just never could apply pressure," Deifel said of the Texas A&M pitchers.
Arkansas will look to win its 10th consecutive SEC series today with the rubber match scheduled for 1 p.m.
Discussion
Have a comment on this story? Join the discussion or start a new one on the Forums.