Razorbacks dominate, win 2 NCAA titles in Albuquerque
Published: Sunday, March 12, 2023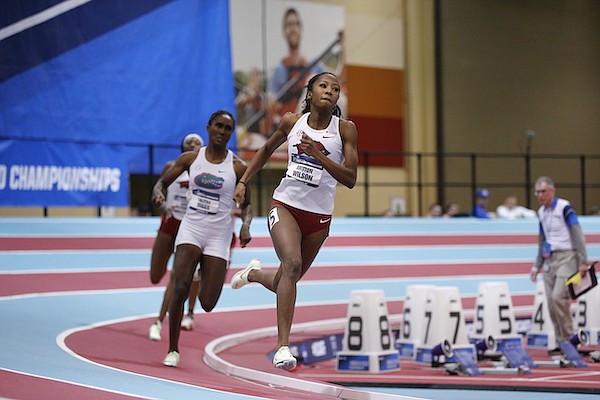 ( Robert Black, via Arkansas Athletics )
Arkansas' Britton Wilson leads the pack during the 400 meters at the NCAA Indoor Track and Field Championships on Saturday, March 11, 2023, in Albuquerque, N.M.
The University of Arkansas women's track and field team captured a national championship and did it with a world-record finish.
The team of Amber Anning, Joanne Reid, Rosey Effiong and Britton Wilson didn't give favored Texas a chance to complete its comeback attempt as the Razorbacks smashed world, meet and collegiate records in the 1,600-meter relay to cap Saturday's competition at the Albuquerque Convention Center in Albuquerque, N.M.
Arkansas defeated Texas by a 64-60 margin, while Florida finished third with 45 points. Stanford (33) and Georgia (31) rounded out the top five.
The Razorbacks then made it a sweep of the team titles, but in less dramatic fashion as the Arkansas men claimed the program's 21st national championship with 63 points, followed by Georgia with 38, Florida with 33, Washington with 31 and Texas Tech with 29.
"Every morning, we met as a team and we talked about the possibilities," Arkansas women's Coach Lance Harter said. "If everybody takes care of their responsibility and lines up and competes, then anything is possible."
The Arkansas women held a 54-52 advantage over Texas as they entered the final event, then the relay team — consisting of three runners who had earlier competed in the 400 final — made it stand. The Razorbacks, with Wilson running a blistering anchor leg in 49.19 seconds, finished in 3 minutes, 21.75 seconds, almost 4 seconds faster than the Longhorns and breaking the previous world record of 3:23.37 set by Russia in 2006.
That time also broke the previous meet record of 3:26.68 set by Texas A&M in 2021, as well the collegiate mark of 3:24.09 that Arkansas established last year.
"Track and field, we always compete as an individual," Harter said. "But when you add a team, the momentum just escalates dramatically. I think this is the result of that. Each and every one of our athletes rose to a level that no one expected but themselves."
The UA women started Saturday's events trailing Florida 21-18, but senior Lauren Gregory's second-place finish in the mile gave the Razorbacks a lead they never relinquished. Arkansas then made its biggest move in the 400 and picked up 18 points for a 44-30 cushion.
Wilson's decision to opt for the 400 instead of the 800 was a perfect choice as the sophomore broke facility, meet, collegiate and American records with her time of 49.48 seconds. Effiong ran a personal-best 50.54 to take fourth, while Anning took sixth at 51.22 and gave the Razorbacks 18 points in the event.
"Somebody came up to me and said, 'You know what's going to happen in the quarter if they are running that fast in the earlier section? Somebody might break 50," Harter said. "I don't think they named names, but we knew Britton would rise to the challenge — no doubt about it."
Sophomore Ackera Nugent, who set the meet and collegiate records Friday when she finished the 60-meter hurdles prelims in 7.72 seconds, almost duplicated that feat with her winning time of 7.73 in the final. That gave Arkansas a 54-33 lead over Stanford and Texas with five events left to be scored.
The Razorbacks, however, didn't have anybody left to compete except their relay team. That allowed Texas to make things interesting as the Longhorns picked up 13 points in the 200 and 6 more points in the triple jump, setting the stage for the final event.
Meanwhile, Arkansas' men used a collegiate record in the triple jump to clinch its championship. Freshman Jayden Hibbert went 57 feet, 6 1/2 inches on his first attempt to break the previous meet record of 57-0 by Florida's Marquis Dendy in 2015 and the previous collegiate record of 57-5 by Charlie Simkins of Charleston Southern in 1986.
Carey McLeod, whose victory in the long jump helped Arkansas claim the early lead Friday, gave the Razorbacks some insurance when he finished sixth at 53-7 3/4.
"We were happy to be in this position," Arkansas men's Coach Chris Bucknam said. "We lived to be in this position again. We just took advantage of it.
"Our guys did a phenomenal job; our coaches did a phenomenal job. We just try to embrace it and loved it."
Arkansas' men started the day with a 20-14 lead over second-place Ole Miss, then added to that with 11 points in the heptathlon. Junior Ayden Owens-Delerme compiled 6,518 over the seven events and finished behind a record performance by Georgia senior Kyle Garland, who had 6,639, while junior Yariel Soto Torrado was sixth at 6,047.
Washington gave Arkansas its most serious threat when the Huskies used a 1-4-5-8 finish in the mile to score 20 points, cutting the Razorbacks' lead to a 31-30 margin.
Arkansas, however, picked up fifth-place finishes from Christopher Bailey in the 400 (45.32) and Jordan West in the shot put (66-2), and an eighth from Lance Lang in the 200 before its big score in the triple jump.
Arkansas capped its title with a victory in the 1,600 relay as the team of Connor Washington, James Benson, Owens-Delerme and Bailey turned in a time of 3:02.09.
Discussion
Have a comment on this story? Join the discussion or start a new one on the Forums.