Hog Calls:
Two titles twice as nice for Arkansas track
Published: Tuesday, March 14, 2023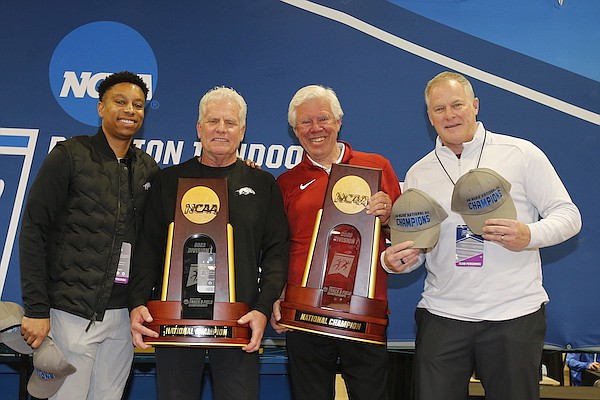 ( Robert Black, via Arkansas Athletics )
From left to right, Arkansas senior associate athletics director Terry Prentice, men's coach Chris Bucknam, women's coach Lance Harter and athletics director Hunter Yurachek are shown after the Razorbacks won team titles at the NCAA Indoor Track and Field Championships on Saturday, March 11, 2023, in Albuquerque, N.M.
FAYETTEVILLE — The Arkansas Razorbacks' first men's and women's national championship sweep came together because the teams came together, assert those head coaching them.
Winning the last event, the 1,600-meter relay, to clinch, Coach Lance Harter's third-ranked women outpointed No. 1 Texas in Albuquerque, N.M.
Coach Chris Bucknam's men overwhelmed 63-40, surprising runner-up and No. 8 Georgia on Friday and Saturday nights.
Arkansas won 47 previous national championships for indoor and outdoor track, and cross country. The late Hall of Fame men's coach John McDonnell officially won 40, Harter 6 and Bucknam 1.
These now 49-time national champions have separate programs with separate staffs, but do train simultaneously.
"Our teams are pretty close-knit," said Bucknam, Arkansas' men's coach since 2008. "So it was a great precursor knowing the women had won. Beating Texas when Texas was favored, they set the bar for us."
Harter, Arkansas' Hall of Fame women's coach since 1990 who is retiring after June's NCAA Outdoor, said Bucknam's men set the bar.
"I think it was the women's team having to keep up with the men," Harter said. "We knew the men would be simply outstanding. A 25-point win, that's hard to come by. It motivated each other, men and women, to step up and do the best we possibly could do."
Both teams scored in every event they qualified.
"That's rarefied stuff," Bucknam said. "I'm sure John (McDonnell) had some teams do that, but there aren't many."
Arkansas national women's champions include Britton Wilson, an American and collegiate record 49.48-second 400 meters, and a 49.2 anchor leg on the meet clinching relay.
Ackera Nugent's 7.73 60-meter hurdles after a 7.72 collegiate record prelim, and pole vaulter Amanda Fassold, 14-5 1/4 following a do-or-die third vault clearing a lower bar.
Senior Lauren Gregory, her ailing foot in a walking boot post meet, anchored the distance relay to second Friday and ran second in Saturday's mile.
For the men, second-place Ayden Owens-Delerme (6,518 points) and Georgia winner Kyle Garland (6,639) both broke the previous collegiate heptathlon record. Owens-Delerme then ran a 45.6 third leg on the winning 1,600 relay, which was anchored by 400-meter All-American Chris Bailey in 44.14.
Patrick Kiproc, rated 12th, scored sixth in Friday's 5,000. Shotputter Jordan West advanced eighth to fifth with a final throw school record 67-2.
Friday's final long jumps ranged from Arkansas' Wayne Pinnock's fourth-place 27-4 to Razorback Carey McLeod's winning 27-6 3/4, edging Mississippi State SEC champion Cameron Crump's 27-6 1/2.
Freshman triple jumper Jaydon Hibbert set a collegiate record 57-6 1/2, surpassing the Razorbacks 57-1 record by 1992 Olympic gold medalist and nine-time NCAA champion Mike Conley.
"He broke Mike Conley's record and Mike Conley is the Mount Rushmore of Arkansas athletes in any sport," Bucknam said.
Seems Razorbacks Rushmores abounded in Albuquerque.
Discussion
Have a comment on this story? Join the discussion or start a new one on the Forums.