Hog Calls:
Defense has always been key to NCAA success
Published: Saturday, March 18, 2023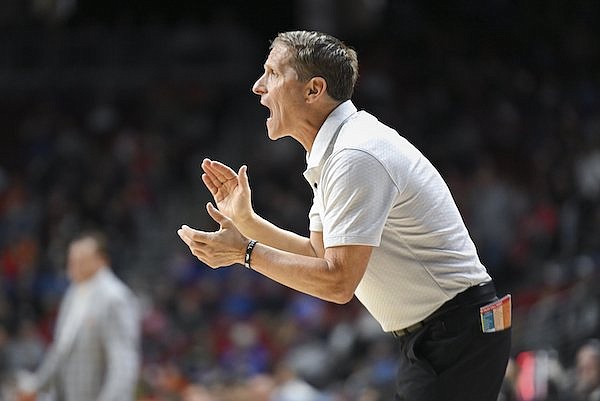 (
Charlie Kaijo
)
Arkansas coach Eric Musselman is shown during an NCAA Tournament game against Illinois on Thursday, March 16, 2023, in Des Moines, Iowa.
FAYETTEVILLE — The great Eddie Sutton and Nolan Richardson teams at Arkansas sported some great offensive players.
But their teams delving deepest into the NCAA Tournament most delivered defensively.
Defense trademarked Sutton's Final Four, Elite Eight and Sweet 16 teams.
Defense trademarked Richardson's "40 Minutes of Hell" Razorbacks with 3 Final Fours, including a national championship and national runner-up, 1 Elite Eight and 2 Sweet Sixteens.
Ditto for Eric Musselman's Elite Eight Razorbacks in 2021 and 2022. Ditto for Musselman's Razorbacks opening the NCAA Tourney's West Regional defeating Illinois 73-63 on Thursday afternoon in Des Moines, Iowa.
Asked postgame by the TBS sideline reporter what has sustained these offensively inconsistent Razorbacks, guard Devo Davis replied "Defense, defense, defense."
"That's our team," Davis said. "Just getting stops and getting on a run with our fast break game. I think we did that."
Devo should know. As the lone Razorback playing for all three Musselman NCAA Tournament teams, the 6-4 junior from Jacksonville again played a major part.
"My hat's off to Arkansas," Illinois Coach Brad Underwood said. "I thought early their defense was the difference. We had a hard time getting into offense."
Davis made four steals and grabbed six rebounds. He also played key offense, too, scoring 16 points. On both ends he steadied a listing Arkansas ship as Illinois cut a 17-point deficit to 5 with 10:45 left.
"Man, Devo is March Madness!" Arkansas freshman guard Nick Smith said. "He does a lot of stuff."
Smith, the pro experts' predicted one-and-done NBA lottery pick, impressed just like he impressed at the season's outset.
Impressed? Scoring a meager 6 points on 2 of 10 shots, 0 rebounds and yanked during some second-half crunch time?
And how could Smith impress early season idled by an injured knee?
That's the point. The post-game locker room video showed Smith smiling like a guy who had scored 30 instead of six while candidly answering a reporter's question about his performance.
"I played terrible but we at the end of the day won the game," Smith said. "So I can't feel too messed up."
It reminded of the injury absence amid social media conjecturing Smith's knee merely was a pretext saving himself for the draft.
Ears heard rumors but these eyes saw the Jacksonville native and North Little Rock High alum risk aggravating the injury so enthusiastically cheering on his teammates while in street clothes.
He vowed to return, and obviously did.
Smith missed 19 games but these 21-13 Hogs would not be dancing in Des Moines minus their second-leading scorer (13.5 average overall and 14.6 in the SEC).
He critiqued himself candidly but with confidence to resurge at 4:15 p.m today on CBS in Des Moines vs. West top seed Kansas.
"I wasn't making a lot of shots and gave up a few points," Smith said. "But I'll be able to fix that. I've got to be more prepared to play."
Discussion
Have a comment on this story? Join the discussion or start a new one on the Forums.