Razorbacks look for softball first at Bogle
By:
Ethan Westerman

Published: Friday, March 24, 2023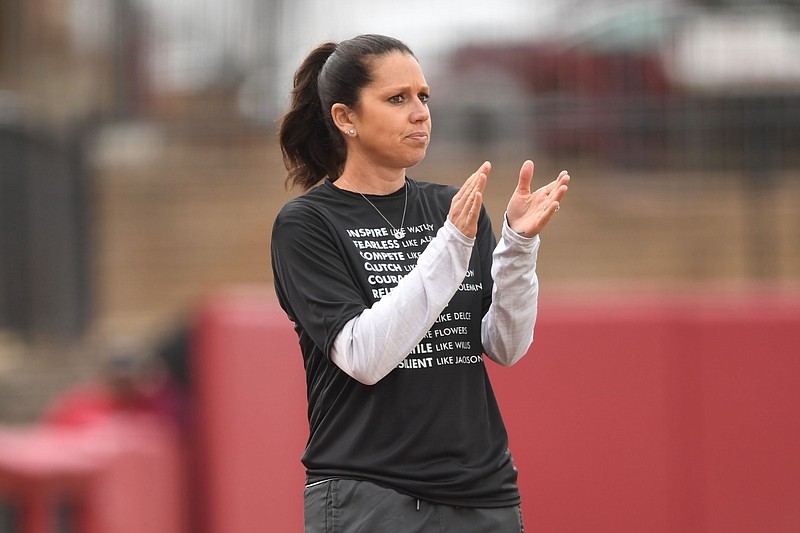 Arkansas coach Courtney Deifel directs her team Thursday, March 2, 2023, during the Razorbacks' 4-0 win over Iowa State at Bogle Park in Fayetteville.
FAYETTEVILLE — Two of the SEC's top three teams in the latest NFCA softball coaches poll will meet in a conference showdown this weekend in Fayetteville.
The 12th-ranked Arkansas Razorbacks (22-8, 3-3 SEC) and eighth-ranked Florida (23-5, 2-1 SEC) are set to meet at 6 p.m. today at Bogle Park.
The Gators have never lost at the venue, owning a 15-0 record at the Razorbacks' home ballpark. It has been 20 years since the Razorbacks defeated Florida in a home game, last doing so in March 2003 when the team hosted its games at Lady'Back Yard.
Arkansas hopes to change that this weekend, rolling out a slew of promotional activities in attempt to pack Bogle Park. A bobblehead of Coach Courtney Deifel will be given to the first 500 fans in attendance tonight, a post-game fireworks show will accompany a "red-out" Saturday, and "Bark in the Park" will allow pets to roam the berm Sunday.
Luckily for the Razorbacks, they have grown accustomed to crossing "firsts" off the list under Deifel, the winningest coach in program history, including a first-ever series win at Alabama earlier this week.
Arkansas won a 10-inning rubber match Monday over the 16th-ranked Crimson Tide, a thrilling pitchers duel with the Razorbacks' Chenise Delce came out on top.
Delce, the reigning SEC pitcher of the year, had a 172-pitch complete game, which included escaping a bases-loaded jam with a pair of strikeouts in the final inning. It was a career-high innings pitched by Delce, who walked off the field in exhaustion after the final strike, which cemented a 2-1 win.
"There's a lot to be said for a pitcher that's really, really consistent," Deifel said. "Consistent in their approach, but consistent in who they are through the highs and lows. … Her poise, her composure, the confidence that she has, it's really huge. But that's Chenise on a good day. That's Chenise on a bad day. And that consistency is one of the most undervalued things that you can say about a pitcher."
The Razorbacks were on a three-game skid entering the Alabama series, and Deifel said she was more concerned with her team getting back to playing its brand of softball than she was scoreboard results. To her delight, she received both.
"We went in just wanting to compete in every pitch, focus on every pitch, and just kind of play better softball — compete better," Deifel said. "And I thought we did that across the board. I felt like we did that in the first game, and it didn't go our way. I felt like they just continued to push forward, they continued to fight. … It's a really tough place to win a series and so I was just really, really proud of the guts they showed."
Arkansas was on a 30-game losing streak to Florida entering the teams' series last season. That mark was snapped emphatically at Gainesville, Fla.
The Razorbacks swept the Gators, winning the three-game series by a combined 16-5 score. The teams met again in the 2022 SEC Tournament, which was hosted at Florida. Arkansas claimed a 4-1 win in the semifinals en route to claiming the program's first tournament title.
Florida has some of the hottest bats in the country this season, boasting a .355 team batting average, which tops the SEC. Three players who have started each game are hitting at least .400, with junior Skylar Wallace's .441 average leading the way.
"They're swinging it really well," Deifel said. "I mean, I watched the game the other day against Missouri, and you have a player like Skylar Wallace who just decided they weren't going to lose that day. … So they have a really gritty mentality. [Coach] Tim [Walton] always has his teams really well prepared, so you know that you're going to get a really clean version of softball."
The game today will be on SEC Network-Plus, as will Sunday's series finale at noon. Saturday's 8 p.m. game will be on ESPN2.
Discussion
Have a comment on this story? Join the discussion or start a new one on the Forums.