UA women happy to keep season alive
By:
Ethan Westerman

Published: Friday, March 24, 2023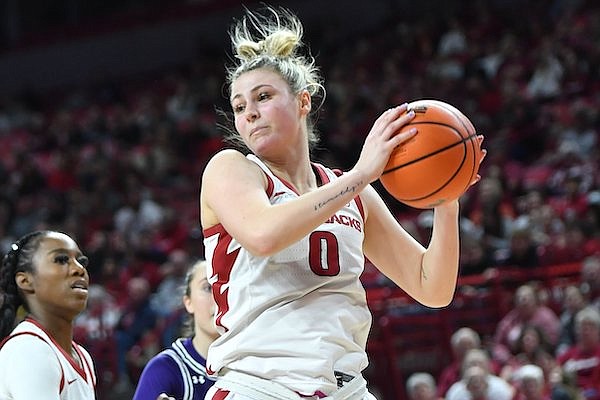 (
Andy Shupe
)
Arkansas forward Saylor Poffenbarger rebounds during a WNIT game against Stephen F. Austin on Monday, March 20, 2023, in Fayetteville.
FAYETTEVILLE — Only 27 Division I women's college basketball teams are still suiting up for games, and the University of Arkansas is happy to be among the number.
Though the Razorbacks (23-12) didn't reach their goal of dancing in the NCAA Tournament, the team has shown in the Women's National Invitation Tournament it has no intention of hitting the offseason yet. Arkansas won each of its first two games in the tournament — home matchups against Louisiana Tech and Stephen F. Austin — by at least 22 points.
The two victories set up a WNIT Super 16 clash with old Southwest Conference foe Texas Tech (20-14) at 7 p.m. tonight inside Walton Arena.
"They've answered that question," Arkansas Coach Mike Neighbors said of his team proving it wants to keep competing. "And I'm proud of them for doing it, because not every team has. [If you] look across the WNIT bracket, there were some teams that didn't have what our team has, and that's a desire to keep playing."
More from WholeHogSports: Razorbacks planning trip to Croatia, Greece
The Lady Raiders went 6-12 in Big 12 play, while the Razorbacks were 7-9 in the SEC. While both teams took their fair share of difficult losses down the stretch in the regular season, each has looked determined to respond with strong postseason play.
"You see a team that I think resembles us a lot," Neighbors said of Texas Tech. "You see a team that went through a rugged league, you know, went through the Big 12. Now that they're not playing Big 12 opponents, they're gaining some confidence. … You've got a talented team, veteran team. They've got a lot of kids with a lot of experience."
There will be a miniature Little Rock Central High School reunion in Fayetteville. The top scorer for each team hails from Central.
Erynn Barnum leads Arkansas scoring 15.3 points per game, while Bre'Amber Scott paces Texas Tech with a 16.7-point scoring average.
Scott began her college career at Mississippi State under former Arkansas assistant coach Vic Schaefer, helping the Bulldogs to a combined 70-5 record in her two seasons. Scott then transferred to the University of Arkansas-Little Rock for her junior season before arriving at Texas Tech in 2021.
"We're very familiar with her," Neighbors said, noting how talented of a player he thinks Scott is. "I do think familiarity with one of their top players is good for us. I think it allows us to focus, and those kids usually come in here and they either play great or not great. … They're either so jacked up high excited to play, or it's a little overwhelming.
"I think Bre'Amber, she'll treat it like every other game with just a few more fans there — a few more family members, you know? She'll get a little louder ovation, even from our fans. Our fans are respectful. They know who these kids are, so they'll give her a little extra cheer. But then when the ball goes up, teammates or friends, it's got to go out the door. We've got to guard her. She's a huge key to what they do."
With it being spring break at the University of Arkansas, Neighbors has made it a goal to reward his team for its dedication, spending some of the free time together.
"They've given us plenty of evidence that they're not worried about being on spring break," Neighbors said. "We had a fun day [Tuesday]. We went and had lunch together at Walk-Ons and went and saw the new Woody Harrelson movie, 'Champions.' So we're trying to do as many spring break things as we can."
The winner will face Kansas, which defeated Nebraska 64-55 on Thursday night in Lawrence, Kan.
The game time and location will be determined at the conclusion of the Arkansas-Texas Tech game.
Discussion
Have a comment on this story? Join the discussion or start a new one on the Forums.