Bill aims to stop UAMS endorsement deals for Razorback athletes
Published: Saturday, March 25, 2023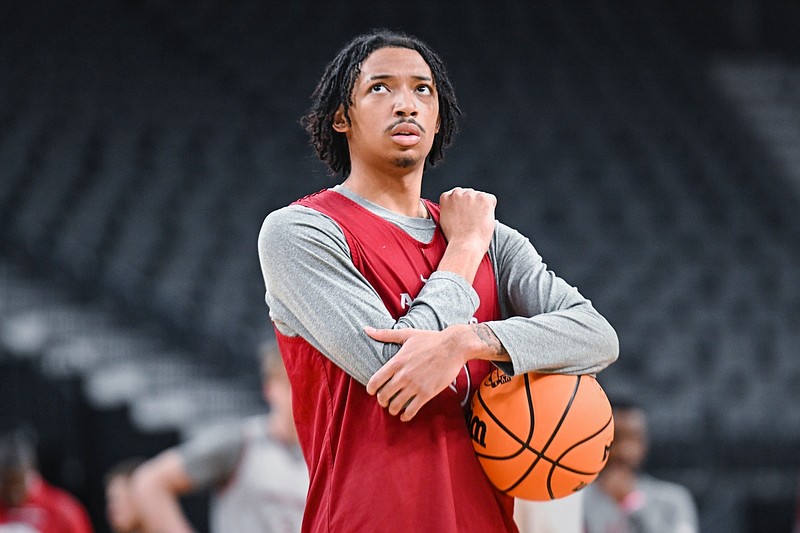 (
Charlie Kaijo
)
Arkansas guard Nick Smith is shown during a practice Wednesday, March 22, 2023, in Las Vegas.
LITTLE ROCK — An Arkansas lawmaker has filed a bill to prohibit state-funded medical schools from entering into paid sponsorship deals with student athletes.
The bill's sponsor, Sen. Ricky Hill, R-Cabot, said the legislation is targeted at the University of Arkansas for Medical Sciences, the state's only public medical school, which has used Razorback athletes in commercials.
"UAMS needs to be in the business of training our health care professionals and not involved in the political aspect of paying athletes," Hill said.
Senate Bill 456, filed Wednesday, targets the name, image and likeness deals, also known as NIL, that student-athletes have been able to sign since the NCAA reversed its policy banning the practice in June 2021. If passed, student-athletes would still be able to sign paid sponsorship deals, just not with UAMS.
UAMS Health, the medical school's health care division, has since featured commercials with Hog standouts such as basketball star Nick Smith Jr. and former Razorbacks football player Jalen Catalon. In separate commercials for UAMS Health, both athletes praised the school for helping them to recover from injuries.
Leslie Taylor, vice chancellor for communications and marketing for UAMS, defended the school's use of Razorback athletes as paid spokespeople, saying taxpayer dollars are not being used for the commercials. Taylor said UAMS Health has spent $31,750 with 12 athletes.
"UAMS has not utilized NIL contracts for our College of Medicine. However, Razorback athletes have been featured in advertising for our health system, UAMS Health, which is proud to be the official orthopedics and sports medicine provider for Razorback athletics," Taylor said in a statement. "The athletes featured in advertising are just a few of those who have been cared for by UAMS orthopedic surgeons and sports medicine specialists who attend games, practices and work with the athletes throughout the year."
In contrast to Hill's legislation, lawmakers last week filed a bill to expand the state' name, image and likeness law for student athletes. A bill sponsored by House Speaker Matthew Shepherd, a Republican from El Dorado, would allow high school athletes who have been accepted to a college or have signed a written agreement to attend one, be eligible to profit off their name, image and likeness.
Shepherd said House Bill 1649 is an effort to keep Arkansas competitive in the highly competitive world of college recruiting. Twenty-six others states, including the District of Columbia, allow high school students the right to enter into sponsorship deals, according to the Business of College Sports.
State Rep. R.J. Hawk, R-Bryant, also filed a bill last week to study the feasibility of changing the rules around amateurism in high school sports to allow high school athletes to profit from their likeness.
Discussion
Have a comment on this story? Join the discussion or start a new one on the Forums.