Gammill homers twice, Razorbacks beat No. 8 Gators
By: Katie Parker, Special to the Democrat-Gazette
Published: Saturday, March 25, 2023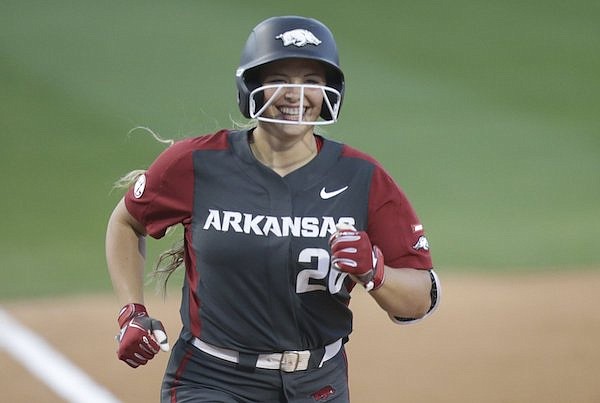 (
Charlie Kaijo
)
Arkansas' Hannah Gammill runs the bases after hitting a home run during an NCAA super regional game against Arizona on Friday, May 28, 2021, in Fayetteville.
FAYETTEVILLE — Hannah Gammill's two home runs and solid defense were big factors in No. 12 University of Arkansas' 6-2 win over No. 8 Florida on Friday.
It was the Razorbacks' first win against the Gators at Bogle park.
"I'm happy that we got the win to start off the series," Arkansas Coach Courtney Deifel said. "I thought our team played really well and got better as the game went, which I really liked. … So I was just really pleased with the collective effort tonight."
Arkansas' Chenise Delce (12-4) pitched a complete game four days after a 10-inning complete-game performance at Alabama on Monday. The Tulsa native had a tougher start in the circle against the Gators.
"[Delce] has a lot of guts," Deifel said. "I honestly felt at the start of the game she didn't have her great stuff and she looked like she was moving a little slower. … I kind of challenged her after that first inning and she kind of kicked it into gear. She's just a competitor. She's doing really well."
The senior faced 31 batters, gave up 2 earned runs, 5 hits, 4 walks and finished with 6 strikeouts.
It took the Razorbacks four innings to put things in motion. Gammill smacked a homer over the left-field fence on the first pitch as the inning's lead-off batter. It was the Beebe native's second home run of the season and tied the game at 1-1.
"We were down 1-0," Gammill said. "Tied it up. I think that was a big game-changer and it's just fun to hit home runs."
Cylie Halvorson singled down the left-field line and took two more bases on a passed ball and wild pitch. Kacie Hoffmann drove in Halvorson after a close call at the plate to make the score 2-1 with no outs.
After working around the bases, Hoffman scored on a sacrifice fly by Atalyia Rijo to make the score 3-1.
In the fifth inning, Gammill hit her second home run to make the score 4-2. She had been in a season-long hitting slump, but Deifel said the junior's hard work has started to pay off.
"I would be surprised if it wasn't Hannah Gammill," Deifel said. "We knew at some point it was going to happen. She's been grinding. … It just felt like she was getting a little closer to getting back to Hannah, and then we got to see that tonight. So just really happy for her more than anything. She's been working her tail off."
In the following inning, Rijo singled up the middle to drive in Lauren Camenzind from third.
With the bases loaded, Raigan Kramer grounded out to the pitcher, driving in a run to make it 6-2 in favor of the Razorbacks.
Delce put the finishing stamp on the game with a swinging strikeout, her 95th of the season.
"[I know] my teammates got my back," Delce said. "And knew that the offense was going to have my back, too. Just [tried] not to put too much pressure on anything."
Arkansas won its fifth consecutive game.
"We just want to get better," Deifel said. "We just want to compete and focus on our process and focus on being better Razorback Softball every day. I think we did that today, too, after coming off [Monday's game]."
Game 2 of the series is at 8 p.m. today. The game will televised on ESPN2.
"[Winning Friday's game] is very important," Delce said. "It kind of sets the tone for the rest of the weekend."
Discussion
Have a comment on this story? Join the discussion or start a new one on the Forums.