Arkansas' season ends at hands of KU
By:
Ethan Westerman

Published: Sunday, March 26, 2023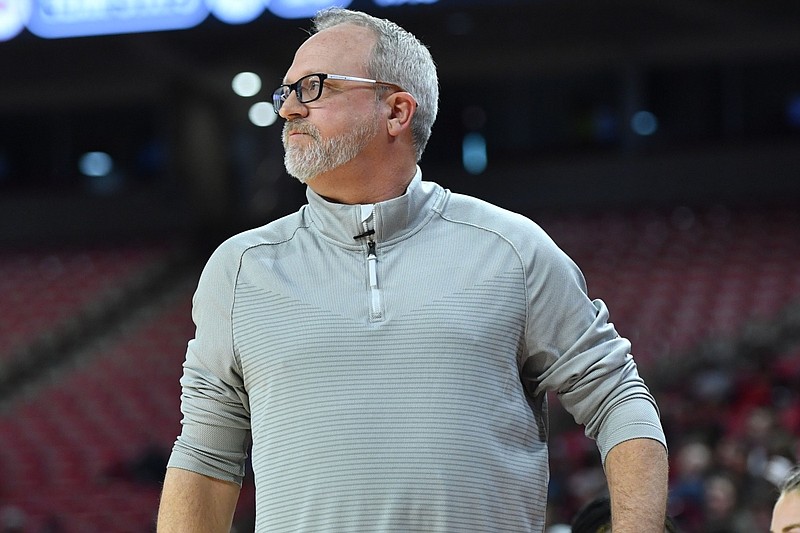 (
Andy Shupe
)
Arkansas coach Mike Neighbors is shown on Monday, March 20, 2023, during a game against Stephen F. Austin in Bud Walton Arena in Fayetteville.
LAWRENCE, Kan. — Kansas zapped the Arkansas women's basketball team with a quick start Sunday and the Razorbacks could never catch back up, falling 78-64 in the WNIT Great 8 at historic Allen Fieldhouse.
The loss ended the 2022-23 campaign for Arkansas (24-13) after a 139-day season, the longest in program history.
"It was hard sometimes," Arkansas coach Mike Neighbors said reflecting on the year. "We had our battles together and with each other. But we finished together, and that's what I'll remember. I'll also look down and see 24 at the beginning of that record.
"Not all records are created equal. We played a lot of really good teams."
Kansas (23-11) wasted no time setting the game's tone, jumping out to a 15-2 lead before the first media timeout behind 10 early points from Taiyanna Jackson. It was just the beginning of a big day for the 6-6 center, who finished with 22 points and 11 rebounds.
"Kansas showed what I've known all along," Neighbors said. "They should have been playing in the NCAA Tournament. I talked to [Kansas coach] Brandon [Schneider] when it came out [and] I felt like they were a lock.
More from WholeHogSports: Black a constant for Razorbacks during up-and-down 2022-23 season
"They're obviously going out to prove that. I think the start that they got off to is evident of that."
Makayla Daniels found the first hot hand for Arkansas, scoring 10 points in the final 2 minutes, 18 seconds of the first quarter to help the Razorbacks pull within 20-12.
Kansas began the second quarter much like it did the first, scorching the Razorbacks with 10 unanswered points. Arkansas didn't get back on the scoreboard until Jersey Wolfenbarger made a layup over six minutes into the period, but the Jayhawks' lead had ballooned to 30-14 by that point.
A pair of three-point makes from Kansas guard Holly Kersgieter, who had a game-high 25 points, grew her team's lead to 38-19 by halftime.
"I thought we played a great first half and Arkansas probably missed some shots that they normally make," Schneider said.
Arkansas found its touch offensively in the second half and made things interesting. The Razorbacks shot a sizzling 77% in the third quarter and scored 31 points. Neighbors' team drew within 58-50 when Samara Spencer drilled a deep three with 39 seconds left.
More from WholeHogSports: Arkansas softball clinches series win vs. Florida with run-rule win
"We scrimmaged these guys back in October," Schneider said. "Even the scrimmage was kind of a tale of two halves. They've got great players and they're super hard to guard. I think I was most pleased with how we just kind of withstood the third quarter, because Arkansas was great in the third quarter."
The Jayhawks once again used a burst at the onset of a quarter, a 7-0 run to begin the fourth. Arkansas tried to rally and pulled back within 10 points when Daniels hit her fourth three-pointer of the game with 4:23 remaining.
But Kansas closed the game by allowing only two more points.
Daniels led Arkansas for a second straight game, finishing with 21 points and 5 rebounds, and Erynn Barnum added 13 points and 8 rebounds for the Razorbacks. Spencer (12 points) and Chrissy Carr (10) also got into double figures.
Neighbors and Arkansas will take a break before preparing for next season, which will be preceded by summer exhibition games in Croatia and Greece.
"The NCAA has you take a couple weeks off, which we'll take, then we'll start in slowly," Neighbors said. "And we've got a big summer planed with our foreign trip and four freshmen coming in pretty soon."
Discussion
Have a comment on this story? Join the discussion or start a new one on the Forums.