Razorbacks familiar with next WNIT opponent
By:
Ethan Westerman

Published: Sunday, March 26, 2023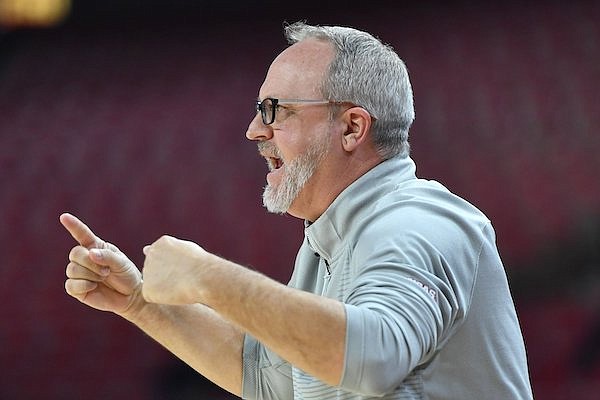 (
Andy Shupe
)
Arkansas coach Mike Neighbors directs his team Monday, March 20, 2023, Stephen F. Austin during the second half of the Razorbacks' 60-37 win in Bud Walton Arena in Fayetteville.
FAYETTEVILLE — Following a five-point win over Texas Tech in the WNIT Super 16 on Friday, the Arkansas women's basketball team didn't have much time to dwell on it.
The Razorbacks (24-12) got one night of sleep then hit the road for historic Allen Fieldhouse to face Kansas at 2 p.m. today. A Fab 4 berth is on the line.
"We're going to get up [Saturday] morning, rehab and then get on the bus and go up there and practice," Arkansas coach Mike Neighbors said following the Texas Tech game. "It's one of the iconic road trips. When you get a chance to see the original rules of basketball, you take that chance.
"You know, the ones that [James] Naismith sat there and wrote, trying to find something to do for his PE class. We'll go see all that. We'll enjoy it."
Kansas (22-11) advanced through its opening three rounds of the tournament with wins over Western Kentucky, Missouri and Nebraska. The Jayhawks were among the four teams revealed to be among the "first four out" group when NCAA Tournament decisions were made Selection Sunday.
"You know, I think knowing what we know now, they probably should have been in the NCAA tournament," Neighbors said. "I don't think there's any question. They have a good team. I think they should have been in the NCAA Tournament.
"And I probably think we should have been, too, so maybe that's kind of that matchup."
Arkansas will have its hands full with 6-6 Kansas senior center Taiyanna Jackson, who averages a double-double at 15 points and 12.5 rebounds. She was an All-Big 12 first-team selection.
Jackson is second in the nation with 168 offensive rebounds, and her total rebounding average ranks third. She has more offensive rebounds on the season than all but two Razorbacks (Saylor Poffenbarger and Erynn Barnum) have total rebounds.
Jayhawks senior guard Zakiyah Franklin (15.8 points) and Jackson rank fourth and sixth among Big 12 players in scoring, respectively.
"I know a lot about them," Neighbors said of Kansas. "We watch them extensively. They're talented, they're big. Jackson's a double-double machine, they've got good size at the 4 (and) their guards are big."
The teams are well acquainted with each other. Kansas coach Brandon Schneider is friends with Neighbors, and the two have organized multiple closed-door scrimmages in recent years, including one in Fayetteville last fall.
"I think any time you closed-door scrimmage, I think that tells you how close we are," Neighbors said. "Like, I wouldn't closed-door scrimmage somebody I didn't respect and like. We make each other better. We don't keep score.
"It's not about who won or lost, it is about, 'Hey, what can we do to make you better' and vice versa. I think it's fitting that one of us will get to move on."
The matchup will mark the third time a Razorbacks team has faced Kansas in the postseason recently. Arkansas football (Liberty Bowl) and men's basketball (NCAA Tournament second round) earned their final victory of the season against the Jayhawks.
Chrissy Carr, who scored 17 points in the win over Texas Tech, has a history against Kansas. She graduated from Manhattan (Kan.) High School then played her first three seasons of college basketball at Kansas State, the Jayhawks' rival.
"Ever since I stepped foot in Kansas, I have been like, 'I do not like KU,'" Carr said. "It's great to be able to go back to where I lived and things like that, but, you know, I think it means something more to us.
"Like the guys did whenever they went [to Des Moines, Iowa,] and played them in the NCAA Tournament, you know, when seasons are on the line, you never know what's going to happen. I have a good feeling that we're going to rally up just like we did tonight and finish it off."
The winner will advance to play Oregon or Washington in the WNIT Fab 4.
Discussion
Have a comment on this story? Join the discussion or start a new one on the Forums.