Run-rule win clinches series for UA softball
By: Katie Parker
Published: Sunday, March 26, 2023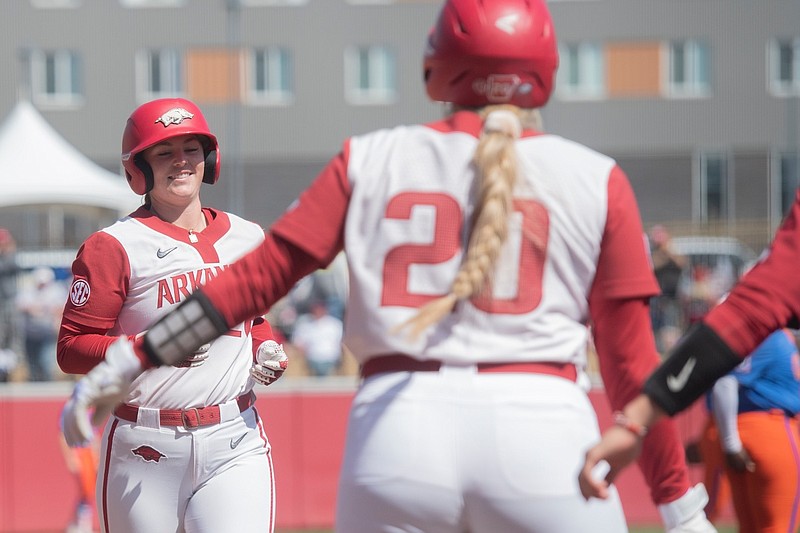 (
J.T. Wampler
)
Arkansas' Rylin Hedgecock (left) is greeted at home plate by Hannah Gammill (20) after scoring in the first inning against Florida on Sunday, March 26, 2023, at Bogle Park in Fayetteville.
FAYETTEVILLE — Ideal weather drew a third straight crowd of 3,000-plus to Bogle Park on Sunday for No. 12 Arkansas' rubber match against eighth-ranked Florida, and the Razorbacks rewarded their fans.
Highlighted by a pair of three-run home runs from redshirt junior Rylin Hedgecock, the high-powered Arkansas (24-9, 5-4 SEC) bats lit up the scoreboard and run-ruled the Gators 14-1 in 5 innings.
"It was an outstanding game," Arkansas coach Courtney Deifel said. "To jump on them early and then just be relentless as we went, just really, really pleased with the collective effort today. Obviously, if you put up 14 on a team like Florida you're going to be pleased with the effort."
Hedgecock had a monster day at the plate, tacking on a single to go with two home runs, and had a team-best seven RBI. The big performance came in wake of an 0-for-6 stretch at the plate in the last two games.
"It feels really good," Hedgecock said. "My main goal today was to just hit the ball. Yesterday, I didn't really hit the ball, so I was just trying to get a good pitch and put a good swing on it."
More from WholeHogSports: Black was a constant for Razorbacks in up-and-down 2022-23 season
Chenise Delce (13-4) returned to the circle for the series finale after earning a win Friday. The senior faced 18 batters, struck out 7 and gave up 1 run on 2 hits.
"This series I really just focused on spinning," Delce said. "Me and Coach Deifel have worked the whole week and that was something we kind of wanted to get back to doing a lot. This was the series to do that and I'm pretty happy about it."
Arkansas' bats wasted no time heating up. Hedgecock's homer to left field in her first at-bat gave the Razorbacks a 3-0 lead in the first inning.
In the second inning, shortstop Atalyia Rijo blasted a line-drive double to deep right field, scoring Kristina Foreman from first base, and Rijo used alert base running to slide into third on the throw.
The hit chased Florida starter Elizabeth Hightower. The adjustment didn't slow Arkansas down.
Reagan Johnson singled down the left-field line to drive in a run, and in the following at-bat Raigan Kramer brought her home with a triple.
In her second hit in as many at-bats, Hedgecock knocked an RBI single down the right-field line to cap a 5-hit, 4-run second-inning that ballooned the Razorbacks' lead to 7-0.
"One of the best hitting games we've had all around as a team," Hedgecock said. "I just feel like we all let the balls go by and got our pitch. We drove (our hits) deep into the outfield."
Delce continued to keep the Gators off the scoreboard, then the Arkansas offense picked up right where it left off.
After catcher Lauren Camenzind led off the Razorbacks' third inning with a single and Foreman reached via wild pitch, Johnson singled to the pitcher for her second RBI of the game. Kramer then drove a run across with a single to right field, bringing Hedgecock up with two runners on.
More from WholeHogSports: UA women see season come to end at hands of Kansas
She smashed her 14th home run of the season to right center, bringing the score to 12-0.
"I was just happy for her," Deifel said of Hedgecock. "I don't think she was in a great place mentally, and we just have been continuing to teach them through that and coach them through that. It's like, 'Hey, don't carry it with you, and be in the moment.' And she did a really great job of that today."
Foreman, a Tampa, Fla., native, cranked her fifth home run of the season in the fourth inning, a two-run shot to center field which nabbed Arkansas its final runs of the game.
Delce surrendered one run on a fourth-inning solo home run by Gators star junior Skylar Wallace.
"She has been really consistent for us and really steady in her poise and her demeanor," Deifel said of Delce.
The Razorbacks will next face Mississippi State in a three-game road series beginning Friday at 4 p.m. Each game will be available for streaming on SEC Network-Plus.
Discussion
Have a comment on this story? Join the discussion or start a new one on the Forums.