Hog Calls:
Hogs, Zags know pain of UConn buzzsaw
Published: Tuesday, March 28, 2023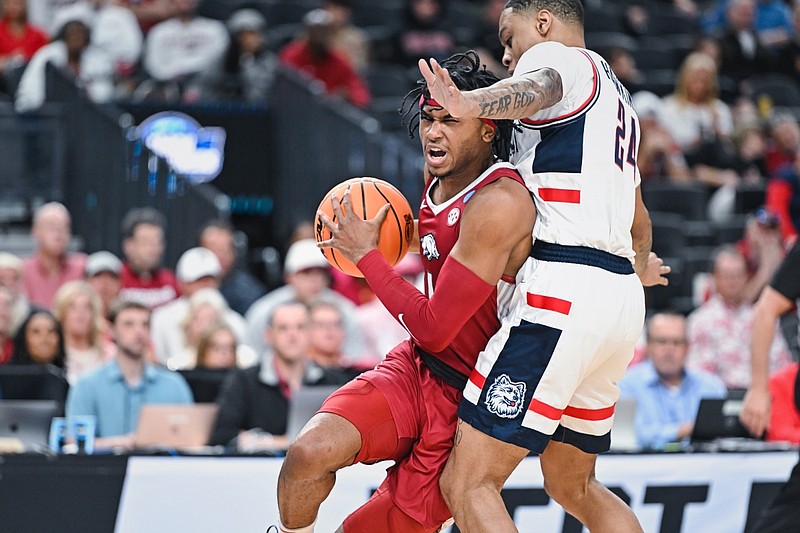 (
Charlie Kaijo
)
Arkansas guard Ricky Council IV (1) drives past Connecticut guard Jordan Hawkins (24), Thursday, March 23, 2023 during the second half of the NCAA Division I Basketball Championship Sweet 16 Round at T-Mobile Arena in Las Vegas, Nev. Visit nwaonline.com/photos for the photo gallery.
FAYETTEVILLE — If misery indeed loves company then Arkansas and Gonzaga can commiserate.
In their storied basketball histories, the Arkansas Razorbacks and Gonzaga Bulldogs previously played close to their most thrilling ever NCAA Tournament games only to be avalanched by the Connecticut Huskies.
The eighth-seeded Razorbacks, 73-63 first-round victors over ninth-seeded Illinois, in their West Subregional, in the second round March 18 in Des Moines, Iowa overcame, 72-71 the No. 1 seeded Kansas Jayhawks advancing to the West Regional's Sweet Sixteen portion in Las Vegas.
Fourth-seeded UConn clobbered them, 88-65 in the Sweet Sixteen semifinal peak-leading by 29.
Meanwhile, West Coast Conference champion Gonzaga of Spokane, Wash., won 82-70 and 84-81 its West Subregional games in Denver over Grand Canyon University and TCU. Tied, 73-73 with 3.3 seconds left by Pac 12 power UCLA, Gonzaga miraculously won its Sweet Sixteen in Las Vegas 73-70 on Jalen Suggs' 3-point buzzer beater launched from just beyond midcourt.
More from WholeHogSports: Pittman, Razorbacks return to practice field post-spring break
Then the Zags zigged instead of Zagging into UConn for the West's Elite Eight final. The Huskies humiliated them, 82-54.
No doubt in Spokane, like the previous week in Arkansas, postmortems abound about the flaws the Huskies exposed in the carcasses while mushing from Las Vegas to Saturday's Final Four in Houston.
Certainly the 22-14 Razorbacks were flawed. Otherwise they would have fared better than 8-10 in the SEC.
Despite the flaws, and the season-ending December knee injury to versatile big man Trevon Brazile, and the season-long knee problem limiting 5-star heralded freshman Nick Smith to off again-on again status throughout, Eric Musselman's Razorbacks accomplished admirably.
An 11-2 non-conference schedule including defeating Final Four-bound San Diego State, narrowly losing to Elite Eight elitist Creighton, and NCAA Tournament qualifier Baylor and defeating NCAA Tourney qualifier North Carolina-Asheville plus an SEC schedule splitting two games with NCAA Tourney entrants, Auburn, Kentucky, Missouri and Texas A&M and narrowly losing at pre-NCAA Tournament SEC champion Alabama comprised plenty of feathers in the Hog hat.
More from WholeHogSports: Diamond Hogs look to get back to winning ways vs. Nebraska-Omaha
And that preceded Arkansas' epic come-from-behind stunner over No. 1 West seed Kansas.
As for UConn, Arkansas and 31-6 Gonzaga of course will ruminate what went wrong. Ultimately, though, they must admit they simply ran into a bigger, better team on a roll.
Coach Dan Hurley's Huskies' of the Big East open Saturday in Houston as heavy favorites over Miami of the ACC. If successful Saturday they will be heavy favorites Monday night over Saturday's winner between surprising Conference USA champion Florida Atlantic and Mountain West champion San Diego State.
The Huskies obviously have the skills to romp, but don't count that a given. As Musselman says of each contest, particularly rematches following lopsided outcomes, every game is its own entity.
As this tournament's four No. 1 seeds never advancing to the Elite Eight can attest, games can disregard big names, rankings and "experts."
Discussion
Have a comment on this story? Join the discussion or start a new one on the Forums.