Erynn Barnum transferring within the SEC
By:
Ethan Westerman

Published: Saturday, May 6, 2023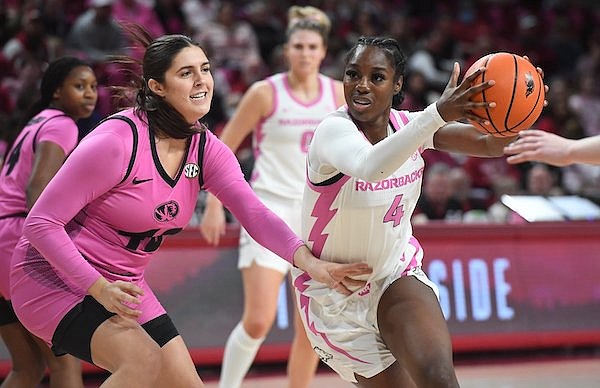 (
J.T. Wampler
)
Arkansas' Erynn Barnum (4) drives to the basket during a game against Missouri on Sunday, Feb. 12, 2023, in Fayetteville.
FAYETTEVILLE — Former Arkansas women's basketball forward Erynn Barnum has committed to Mississippi State, she announced on social media Saturday.
Barnum entered the NCAA transfer portal March 31 after an All-SEC second-team season with the Razorbacks. She has one season of eligibility remaining.
She led Arkansas in scoring at 15 points per game and was second on the team in rebounding at 6.5 per game.
Barnum joins the roster of Sam Purcell, who is entering his second season leading the Bulldogs. They finished 22-11 overall and 9-7 in SEC play in 2022-23.
Mississippi State made a second-round appearance in the 2023 NCAA Tournament. The No. 11 seed Bulldogs defeated Illinois in a play-in game before upsetting No. 6 Creighton.
Their season ended with a five-point loss to No. 3 seed Notre Dame.
Discussion
Have a comment on this story? Join the discussion or start a new one on the Forums.