Delce gets first team All-SEC nod
By:
Ethan Westerman

Published: Friday, May 12, 2023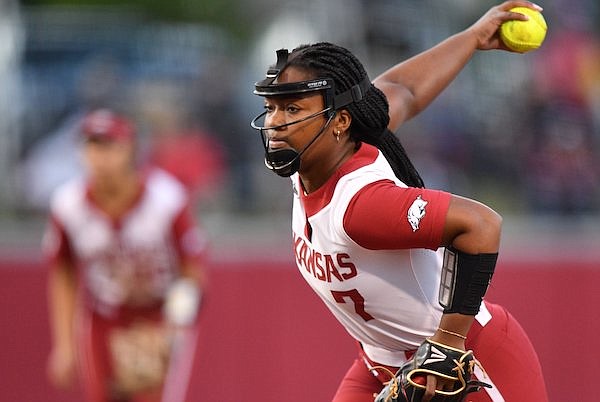 (
Andy Shupe
)
Arkansas reliever Chenise Delce delivers to the plate Monday, May 1, 2023, during the seventh inning of the Razorbacks' 2-0 win over Tennessee at Bogle Park in Fayetteville.
FAYETTEVILLE — Arkansas redshirt senior pitcher Chenise Delce on Friday earned All-SEC first-team honors, the league announced.
It is her second consecutive season as a first-team selection. Delce was the SEC pitcher of the year in 2022.
The Oklahoma City, Okla., native transferred to Arkansas prior to the 2022 season after three years at Tulsa. With the Razorbacks, Delce developed a drop ball that elevated her play and cemented her as an ace.
She and Mary Haff were considered "co-aces" by Arkansas coach Courtney Deifel in 2022, but this season Delce has taken on a larger role.
Delce (20-9) has a 1.82 ERA this season and is third in the SEC with 183 strikeouts. She has posted 4 double-digit strikeout games, 4 saves and 5 shutouts.
Delce is third in the league with 20 wins, 10 of which have come against top-25 opponents.
Delce is the second player in program history, joining Haff, to earn two All-SEC first-team honors.
Discussion
Have a comment on this story? Join the discussion or start a new one on the Forums.