SEC Tournament was a hit at Bogle Park
By:
Ethan Westerman

Published: Saturday, May 13, 2023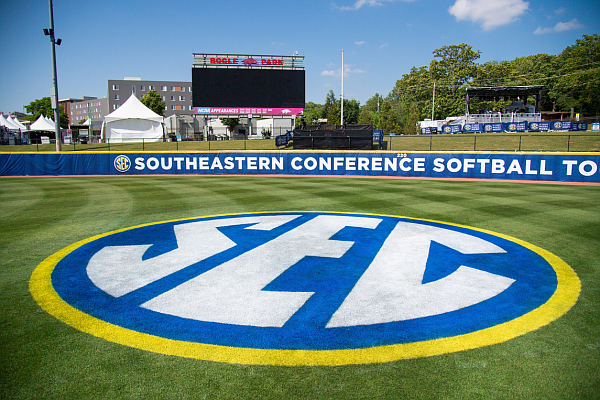 ( Arkansas Athletics / Walt Beazley )
A view of Bogle Park in Fayetteville prior to hosting the 2023 SEC Softball Tournament.
FAYETTEVILLE — After 5 days, 12 games and 3 weather delays, the 2023 SEC Softball Tournament came to a close Saturday at Bogle Park.
Arkansas hosted the event for the first time since 2010 and battled rain throughout the week. But 13 years after the last tournament in Fayetteville, the sport's growth was on display.
When the tournament came to Fayetteville in 2010, the attendance was 4,477. This year, Bogle Park set an SEC Tournament record attendance of 16,937. That number is calculated by tickets sold.
"Credit to everybody who's provided the infrastructure here," SEC Commissioner Greg Sankey told WholeHogSports. "[Arkansas athletics director] Hunter [Yurachek] and his team have done great. You know, the fans in Arkansas are awesome. You watched when Arkansas played late at night, they stayed locked in.
"And [for fans] to come out and see high-level softball on a Saturday is just a credit to that 'It just means more attitude' that I think all of our fans embrace."
Undertaking an event of this magnitude took a department-wide effort. Between the grounds crew, game operations, ticketing and a host of other units, Yurachek was proud of the way Arkansas hosted the tournament.
More from WholeHogSports: Lady Vols win SEC Tournament title at Bogle Park
"There's so many people from throughout our department of athletics that have come together and contributed to this," Yurachek said. "Let's start with the grounds crew and what [Bogle Park head groundskeeper] Austin [Freeman] and his team did, because we obviously had some weather conditions that we had to battle, and we're pulling the tarp on and off the field and had to get it ready to play. Kudos to that group.
"And then also [director of event management] Molly [Stehlik] and our event operations team and how hard they have worked. [They have] been here early morning hours to make sure that this was a special event, not just for the Razorback student-athletes, but for all student-athletes within the Southeastern Conference that play softball."
Yurachek also gave props to the Razorback Sports Network team, which worked on video production, along with media relations staff.
Freeman and his team may have been the busiest of the week. A rain-plagued Wednesday caused significant delays, and two pop-up storms caused shorter delays Thursday and Friday. Throughout the 24 press conferences held during the event, many of the league's coaches went out of their way to thank the grounds crew for its work.
"Obviously we fought Mother Nature the whole week," Freeman said. "We just tried to do what we could do in the timeframe that we could do it. I know all these teams come from other places and their grounds crews are great, too. I'm just glad that we get recognition just like [other grounds crews] deserve when it goes somewhere else for this SEC Tournament.
"It's fantastic."
Sankey credited Arkansas coach Courtney Deifel and other coaches across the conference for increasing the sport's popularity.
"If you look over time, back in the '90s we had a couple of softball teams," Sankey said, "and then it grew. Our universities invested in facilities, like you see at Bogle Park. They invested in leadership, and I'll speak specifically on what Courtney has done over time.
"I've been pretty vocal about what she took over and where they are now. And I think across the league our coaches have worked in communities [and] brought people in with their programs."
Yurachek also gave props to the eighth-year Razorbacks coach for bringing excitement to the league's marquee event. The outfield berm was packed for the championship game between Tennessee and South Carolina.
"What Courtney's done with our softball program here at the University of Arkansas I think has helped youth softball in our community of Northwest Arkansas and throughout our state explode," Yurachek said. "I mean, you look out there in the berm, you'd think that the Razorbacks were playing, and they're not. That's our fans that have come here just to watch a great SEC championship softball game.
"And that is a credit to Courtney Deifel and her staff and our student-athletes…what they've accomplished on the field, and how they have helped put a spotlight on college softball and softball for young women."
Discussion
Have a comment on this story? Join the discussion or start a new one on the Forums.