4 things to know ahead of Fayetteville Regional
By:
Ethan Westerman

Published: Sunday, May 14, 2023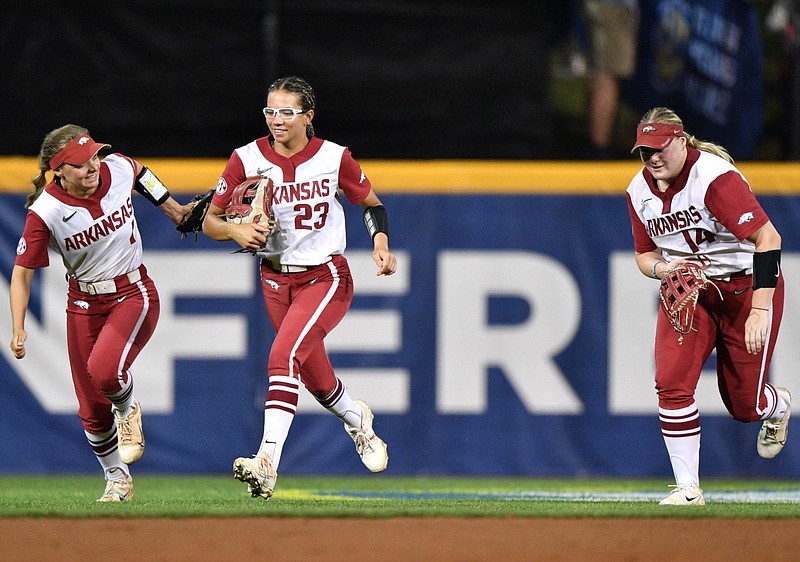 Arkansas Razorback outfielders are shown during the SEC Softball Tournament at Bogle Park in Fayetteville in this May 11, 2023 file photo. From left are Raigan Kramer, Reagan Johnson and Kacie Hoffmann. (NWA Democrat-Gazette/Andy Shupe)
FAYETTEVILLE — Arkansas was announced Sunday as the No. 11 overall seed in the 2023 NCAA Softball Tournament.
It is the third consecutive and fourth overall year that Bogle Park will be a host site. The Razorbacks have won each regional they have hosted, which have all happened since 2018.
The teams joining No. 1 Arkansas in the NCAA Fayetteville Regional are No. 2 Oregon (35-15), No. 3 Notre Dame (29-17-1) and No. 4 Harvard (29-15-1).
Here are four things to know before the regional:
New year, similar field
The Razorbacks defeated Princeton 11-0 in five innings to open regional play in 2022. One year later, Arkansas will once again begin with an Ivy League opponent.
Harvard defeated Princeton in a win-or-go-home game Saturday to clinch its eighth NCAA Tournament berth. The Tigers traveled to Fayetteville a year ago with a 27-15-2 record, and this year the Crimson enter with a similar mark.
Arkansas coach Courtney Deifel was keeping up with the Ivy League Championship this weekend due to connections with both schools.
"Knowing Harvard, I've had some good friends that have coached there," Deifel said, "and obviously getting Princeton last year and with [Coach] Lisa [Van Ackeren], I knew that had to be a really good battle between those two."
Oregon will make a trip to Bogle Park for a second consecutive season. The Ducks are also the same seed as last year. They eliminated Wichita State in 2022 before falling to Arkansas twice.
Notre Dame is the outlier from last year's field. The No. 3 seed in 2022 was Wichita State.
Players to watch
For the hosting Razorbacks, right-handed ace Chenise Delce is the team's heartbeat. Her 20 victories are tied for 22nd-most in Division I, and she earned All-SEC first-team honors last week for the second consecutive season. She was the 2022 SEC pitcher of the year.
The emergence of designated player Rylin Hedgecock, whose 20 home runs are fifth most in the nation, has been key to Arkansas' success. Center fielder Reagan Johnson sets the tone at the top of the Razorbacks' batting order, and the top-10 freshman of the year finalist is 15th in the country with 73 hits.
Oregon second baseman Allee Bunker has a .404 batting average, which is fifth in the Pac-12. There are no easy outs with Bunker, who has hit 10 home runs with 7 or less strikeouts in each of the past 3 years.
Ducks catcher Terra McGowan has a team-high 12 home runs, and she has been a force behind the dish. Her 11 base stealers thrown out are second in the Pac-12, and she has a perfect fielding percentage in 224 chances. McGowan made the All-Pac-12 defensive team.
Pitcher Morgan Scott tossed a shutout in a 3-0 victory over No. 2 seed UCLA. She was tied for the Pac-12 lead in saves (6) in the regular season, and her 1.03 walks per 7 innings was the fewest.
Notre Dame has the ACC defensive player of the year in catcher Carlli Kloss. When the award was announced May 10, she had caught every pitch this season, and in 287 chances she had a .990 fielding percentage.
Kloss had also thrown out 13 of 27 players attempting to steal a base.
Fighting Irish first baseman Karina Gaskins and third baseman Joley Mitchell each made the All-ACC first team. Gaskins has a .341 batting average, .500 on-base percentage and has hit 14 home runs. Mitchell bats .383 with 10 home runs and has stolen 15 bases in 17 tries.
Harvard pitcher Riley Flynn was awarded the Ivy League's rookie of the year award. She has an 8-1 record and 2.66 ERA over 94 2/3 innings thrown.
Four Crimson players made first team All-Ivy: first baseman Madi Mays, shortstop Trina Hoang, outfielder Megan Welsh and designated player Finley Payne. Outfielder Lauren Bobowski is 32nd in Division I with 27 stolen bases.
Snapping streaks
Arkansas (3 consecutive losses), Oregon (4) and Notre Dame (4) each enter the regional hoping to end a skid.
The Razorbacks have lost by one run in each of their last three outings. Arkansas was defeated back-to-back days in walk-off fashion by Missouri to drop its final regular-season series, and Alabama outlasted the Razorbacks in 9 innings to win 3-2 at the SEC Tournament.
Oregon was swept by Utah in its regular-season finale prior to exiting the Pac-12 Tournament with a 4-3 loss to Stanford in the quarterfinals. Before the four-game losing streak, Oregon had won 13 consecutive contests.
Notre Dame was swept by No. 3 national seed Florida State to end the regular season, then was bounced early in the ACC Tournament with an 8-1 loss to Georgia Tech. In their last three outings, the Fighting Irish have been outscored by a combined score of 31-3.
Big brands
Arkansas, Oregon and Notre Dame are among the nation's most recognizable college brands, and Harvard is among the world's most well-known institutions.
"There's some big brands coming in and have a great following," Deifel said. "I hope that there's a ton of matchups that just continue to get more interest. Not only in Bogle [Park] and in Fayetteville, but across the country, because the sport just keeps growing.
"You know, if your team is Notre Dame and you decide to watch them and you're seeing a high level of softball and a beautiful stadium, then the sport continues to grow. It's exciting."
Discussion
Have a comment on this story? Join the discussion or start a new one on the Forums.