Arkansas, No. 11 overall seed in NCAA Softball Tournament, will open with Harvard
By:
Ethan Westerman

Published: Sunday, May 14, 2023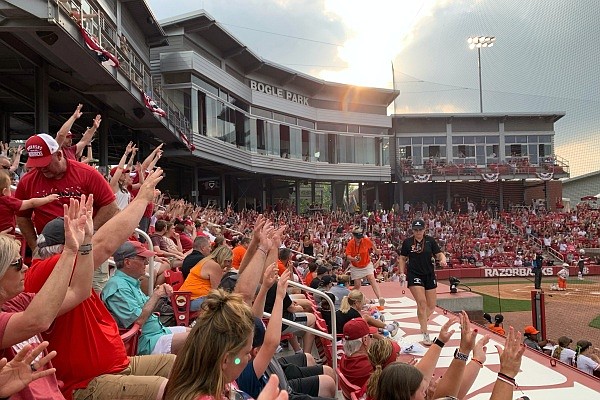 (
Andy Shupe
)
Arkansas fans call the Hogs on Friday, May 20, 2022, during the Razorbacks' 11-0 run-rule win over Princeton at Bogle Park in Fayetteville.
FAYETTEVILLE — The NCAA Softball Tournament is coming to Fayetteville for a third consecutive season.
Arkansas (38-17) was announced as the No. 11 overall seed and will host fourth-seeded Harvard on Friday at 6:30 p.m. in its opener at Bogle Park.
Others in the four-team NCAA Fayetteville Regional include No. 2 Oregon and No. 3 Notre Dame, who will play in Friday's first game at 4 p.m.
The regional's winner will be paired against the Stillwater Regional winner, which is hosted by No. 6 overall seed Oklahoma State.
"I think that all the fields at this point are hard," Arkansas coach Courtney Deifel said. "Everybody has earned this, and everybody's won….I'm just really excited for our student-athletes to stay home another weekend and get to play in Bogle and get to play in front of our fans. It's just exciting. It's always exciting to see your name on the board on Selection Sunday."
It is the Razorbacks' sixth consecutive NCAA Tournament berth under Deifel. Arkansas has been selected for the tournament 12 times.
Harvard (29-15-1) won the Ivy League Tournament to clinch its eighth NCAA Tournament appearance. It is the second consecutive season Arkansas will open against an Ivy League team. The Razorbacks defeated Princeton 11-0 in five innings in the opening round of last year's Fayetteville Regional.
The Crimson went 3-1 at the Ivy League Tournament, which is formatted like NCAA regionals. They won 3-2 in a winner-take-all game against Princeton to punch their ticket.
"They were in a battle in the Ivy Tournament," Deifel said of Harvard. "I was following it with having Princeton last year and just liking how their format is. I guess I just am so intrigued by it. And so it's a tough draw, but every draw is tough at this point."
Harvard and Arkansas have played once. The Razorbacks won 9-4 on Feb. 23, 2014, in Fort Myers, Fla.
Oregon (35-15) earned an at-large berth out of the Pac-12 and will travel to Fayetteville for a second consecutive year. The Razorbacks defeated the Ducks twice in 2022 to win the regional.
Notre Dame (29-17-1) was selected as an at-large bid out of the ACC. The Fighting Irish were a bubble team entering the day with a No. 45 ranking in the NCAA's Rating Percentage Index, better known as RPI. Notre Dame last played in Fayetteville in 2001.
Arkansas was the No. 4 overall seed last year and won the Fayetteville Regional before losing to Texas in the super regional round.
This year marks the fourth time the Razorbacks have garnered a top-16 seed that determines regional hosts. Arkansas has won its previous three home regionals — all since 2018 — before losses in the super regionals, including the last two years at Bogle Park.
The SEC led all conferences with five host teams. Arkansas was joined by No. 4 Tennessee, No. 5 Alabama, No. 10 LSU and No. 14 Georgia. Twelve teams from the league were selected in the 64-team field.
Mississippi State was the only of the SEC's 13 softball teams not included in the field. Vanderbilt does not sponsor the sport.
Oklahoma is the No. 1 overall seed and Texas is No. 13. Those teams played for the national championship last year and will join the SEC for the 2025 season.
"The depth of the league is unmatched," Deifel said. "I mean, it's so strong top to bottom, and it's just why you play in it. You play in it because you get to play the best. I mean, you get to play top competition, and so I'm excited. I think it's really cool to have that many hosting [and] I think it's pretty awesome to see how many we got in the tournament altogether."
More information about tickets and TV broadcasts will be announced in the next 24 hours, according to a team news release.
Discussion
Have a comment on this story? Join the discussion or start a new one on the Forums.