Johnson the 'spark plug' for Arkansas softball
By:
Ethan Westerman

Published: Wednesday, May 17, 2023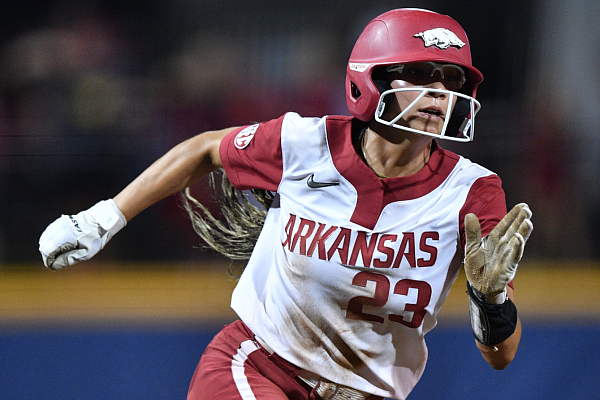 (
Andy Shupe
)
Arkansas center fielder Reagan Johnson rounds third and heads for the plate Thursday, May 11, 2023, on a single by first baseman Cylie Halvorson during the sixth inning of the Razorbacks' 3-2, 9-inning loss to Alabama in the SEC Softball Tournament in Fayetteville.
FAYETTEVILLE — Successful softball teams often have a player who can change the momentum of a game in a single play.
The term "spark plug" comes to mind when Arkansas coach Courtney Deifel talks about her player with this ability. Though just a freshman, center fielder Reagan Johnson has proven in 2023 she can ignite the Razorbacks' flame when it's needed most.
"It's not only how she plays, but just how she approaches everything," Deifel said, "and how she practices. Like, she doesn't know how to not go hard for everything. It's just really fun to see. She goes all out on everything that she does and she makes the level go to her, which is nice, especially for a freshman."
Johnson puts pressure on defenses with her ability to slap the ball through open gaps. She is tied for 15th in the nation with 73 hits entering the NCAA Fayetteville Regional, and leads Razorbacks starters with a .374 batting average.
But where Johnson tends to really create havoc is between the bases. When the ball comes off her bat, defenses are forced to make quick plays because they are facing elite speed.
During her final high school track season, Johnson set the Class 2A record in Texas with a 43.70-second run in the 300-meter hurdles. Her performance broke the previous time set nine years prior by a one-hundredth of a second.
"I didn't even know that I broke it, really," Johnson said. "I just knew that I won, and I was just so happy about that because I really wanted to win for my senior year. But then I was stepping up on the podium and they were like, 'Give it up for your new state record holder,' and I was just shocked."
More from WholeHogSports: 4 things to know ahead of Fayetteville Regional | Arkansas, No. 11 overall seed in NCAA Softball Tournament, will open with Harvard
Johnson comes from small-town Karnes City, Texas, which is 54 miles southeast of San Antonio. Founded as a railroad town to connect San Antonio and Corpus Christi, it is best known for its 128-year-old courthouse building.
To many it's one of the countless, insignificant dots sprinkled across a vast state.
But for Johnson, the seat of Karnes County is a place that molded her into being one of 10 finalists for the NFCA freshman of the year award. The town has a population of 3,111, and Johnson's graduating class at Karnes City High School was roughly 70 people.
"One of the reasons I picked Arkansas is because everyone here was able to make it feel like a small town, even though it's not," Johnson said. "They just were all super nice."
It has not taken long for her to translate the speed which took state track meets by storm into a threat on the diamond.
Johnson's electric speed and bunting savvy has forced defensive miscues throughout her rookie campaign. She has a knack for turning what would typically be a groundout into a single, and what would be a single into a double.
And when she gets on base, the headache for opposing teams has just begun. Johnson was perfect in 109 base-stealing attempts in high school, and she is yet to be caught in college in 17 attempts. Johnson has the SEC's ninth-most stolen bases and is tied for the 12th-most attempts.
"Sometimes Coach D will tell me [to steal], but a lot of the times it's just me doing it," Johnson said. "And in my head, I'm literally like, 'You know what? Screw it. Let's just go. Let's just see what happens.' I try to find good pitch counts. If I know that the hitter is seeing the ball well, then I won't go.
"But if I know that the pitcher may be struggling, throwing it off the plate or is throwing it low, I just try to find a really good count to go on and kind of pick the pitches."
Deifel joked if she could run like Johnson, she would sprint everywhere she goes. The confidence her coach has in her is something she's felt since she was being recruited.
"When I first committed, I knew that she was really sweet," Johnson said. "Like, you can try to fake that over the phone, but you can catch on. And now that I'm here, it's the exact same. I really love her as a coach."
Another place Johnson has made her impact felt during her college debut is covering center field. She has made a number of highlights in the field, including robbing home runs at Kentucky and Missouri.
Johnson was also responsible for throwing out an Alabama runner at home during the SEC Tournament. It's a position she takes pride in.
"It's fun because then I come down [from making a play] so excited," Johnson said, "and then I have [left fielder] Raigan [Kramer] right there and she's hitting me, all fired up, and everybody's cheering. It's super fun."
More from WholeHogSports: SEC Tournament was a hit at Bogle Park
Johnson had a goal entering this season of making an immediate impact for the Razorbacks, but she understood it may take time.
"I knew I was going to have to work," Johnson said. "I knew it wasn't just going to be handed to me. I didn't really think I was going to start. I was like, 'OK, there's probably someone older than me that's going to come in, but I'm still going to work my butt off and try to find that spot.'"
She not only found her place on the team but found the lineup's lead-off spot by the season opener. Johnson is one of five Razorbacks to start all 55 games.
"It's been amazing," Johnson said. "My mom texts me after I do something good, and she's like, 'Wow, you're doing so amazing,' or, 'I'm so proud of you.' And even the support from my friends, it's just been so great."
One of Johnson's favorite aspects about being an Arkansas softball player has been a strong bond built by the highly touted freshman class.
"We are all best friends," she said. "We hang out all the time. We live right down the hall from each other. We're in and out of each other's rooms. When we first committed, we had our group chat which is just called 'The Baby Hogs.'
"That's just what we decided to call ourselves in the group chat. And it's probably not going to change."
Discussion
Have a comment on this story? Join the discussion or start a new one on the Forums.