Top quotes from Fayetteville Regional media availability
By:
Ethan Westerman

Published: Friday, May 19, 2023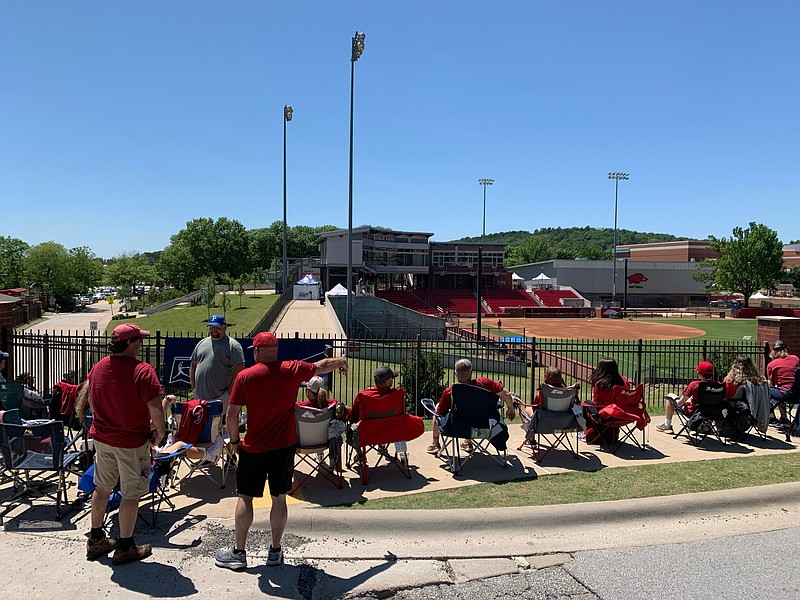 (
Andy Shupe / Andy Shupe
)
Arkansas fans line up Friday, May 27, 2022, before the start of the Razorbacks' game with Texas in the NCAA Fayetteville Super Regional at Bogle Park.
FAYETTEVILLE — Coaches and players for the four teams which make up the NCAA Fayetteville Regional field — No. 1 Arkansas (38-17), No. 2 Oregon (35-15), No. 3 Notre Dame (29-17-1) and No. 4 Harvard (29-15-1) — met with media members Thursday to preview the weekend.
Here are some quotes from the media availability:
Arkansas
Coach Courtney Deifel on Harvard coach Jenny Allard and her team:
"She's a hall of famer, she's legendary. She continually just has teams that are really well-coached, that fight, that mimic her personality, and so they are prepared…. When you watch how they play, they play the game the right way – as Jenny's teams always do.
And so what stands out? All those things. That they respect the game, they play the game really hard, they fight and they're playing their best softball coming off their tournament championship. So, it's going to be a tough challenge. They all are."
Deifel on how veterans can help younger players prepare for tournament stage:
"I think more often than not, it's not making it so much bigger than what we've done all year. We've played a very tough schedule; we play in a really tough conference that prepares you for this. And so it's coming in, and even though it may have all of this around it that makes it kind of feel bigger, it's not really bigger than the game. And so just reminding ourselves to continue to just focus on the moment that we're in and know that we are prepared for anything thrown at us."
Senior right-handed pitcher Chenise Delce on playing at home:
"It definitely gives you more of a push than when you play at other places. I would argue that we probably have the best fan base in the nation, but hey, I'm biased. Just having them out there is like the greatest thing for us as the athletes on the field."
Delce on getting a week between games:
"Our bodies got the rest, but also our mental got the rest as well. We do play a sport of failure, so I think that mental rest was, for me, it was almost bigger than the physical rest. But it also gave us an opportunity to reflect on the season. You don't want to harp on what happened in the past too much, but it was also nice to take a moment to say, 'OK, this is what we did good. This is what we did bad,' as well as looking at the teams we could potentially play going forward and then taking little notes on them as well. It was good and all the way around."
Redshirt-junior designated player Rylin Hedgecock on team's postseason experience:
"I feel like it just makes us more comfortable. Obviously it's nice that we get to play at home again for this regional. I mean, we have great fans that just give us even more energy. We got the experience last year, so I feel like that'll ease some of the nerves that we might have."
Oregon
Coach Melyssa Lombardi on Notre Dame:
"I think that they're a powerful squad. You know, they've got defense [and] they've got good pitching. I've known their coach for a long time. They do things right over there. So to me, once you get to postseason, records are out the window. It really doesn't matter if you just won your last four or lost your last four.
It's about the fact that you're in post-season. The parity that's in softball now, it's just incredible. Anybody can beat anybody on any given day. So I think for us, our biggest thing is to continue to be focused on them, but then also to really have a faceless opponent."
Lombardi on getting to play in tournament:
"It never gets old hearing your name. We're excited to hear our name and for the opportunity to compete in post-season. I think about the beginning of the year and what this team has done from the beginning of the year to now, and I really like what we've done. I love the schedule that we played, I love our fight in the Pac [12] and I think it has all prepared us for what is next in this post-season."
Redshirt-senior catcher Terra McGowan on veteran team having goals:
"I think it's nice to just have a roadmap. We've talked about that since our first year here, not really knowing how to navigate post-season, but now that we have a lot of veterans on the team, it definitely helps to have a roadmap."
Fifth-year second baseman Allee Bunker on being back in Fayetteville Regional:
"It's nice to be back here and be a little bit more comfortable with the environment. Obviously we'd never been to Arkansas before last year, so it was cool coming in to kind of get a feel for what's going on [with] the atmosphere and whatnot. We know a little bit more now coming in this year with just the crowd [and] the field in general, so it's nice to be able to be here again and have a little bit more familiarity."
Notre Dame
Coach Deanna Gumpf on Notre Dame's mindset entering tournament:
"Number one, we are super excited to be here. We are here hopefully to do some damage [and] make this place interesting. So that is our goal. That is our plan. I think we're in a really good place to just attack the game."
Gumpf on Oregon:
"I think the more I watch them, the more I realize how good they really are. Every time I watch them play, they just produce runners on base. They make things happen. They're fast and they're powerful. So I think their offense is very, very good. They kind of remind me of Virginia Tech — I'm going to tell you — like that's who I would put them up against offensively.
I think they have very similar types of hitters in the box…. They're going to come in and they're going to be swinging. And obviously on the mound they've had pitchers who they have depended on all year that kept them in all their ballgames. I mean, they've had some great wins. Talk about some great wins— they've had some great wins."
Junior first baseman Karina Gaskins on being selected for tournament:
"I was definitely holding on to one of my teammates the whole time, you know, just waiting to see if our name would be called. And it was just very exciting to be in that room with the energy that we had when our name was called. So I think we're just ready to show up here and do some damage as coach said."
Senior right-handed pitcher Payton Tidd on ACC competition preparing team for NCAA tournament:
"The last couple years the ACC has really improved a lot with the addition of Clemson [and] Duke, and then just overall the caliber of softball that has increased over the last couple years. You know, looking at that competition in our schedule this year in terms of ACC play, we played a lot of good competition and we've succeeded in that competition many, many times. So I think that type of caliber softball has really prepared us to come to Arkansas and has given us the tools that we can succeed."
Harvard
Coach Jenny Allard on the challenge of going from Ivy League competition to facing Arkansas:
"I think [there are] two things. One, we're going to see faster pitching immediately, so we got to work. When we found out where we were going, the next day we had practice, we had hitting practice just to really start on machines, cranking up the speed, getting their hands quicker.
You know, we have several kids who have really good, bat speed and they actually struggle in Ivy League play when we're facing some slower pitching. So they were refreshed to say, 'Yeah, crank up the machines coach.' So, I think that's one big part of it.
I think the second is respecting, the level that [Arkansas] plays at day-in and day-out in the SEC. Respecting their bats, respecting their stats, respecting what they do. Arkansas is so strong offensively. You know, we know that, so I think to be prepared with space. We have to make the field bigger, we've got to cover more ground, the balls are going to be hit higher, they're going to be hit deeper in our practice. That's what we covered today [at practice and] that's what we covered before as well.
I think the stadium atmosphere as well…. I told them when we ended the workout today, 'See all these stands? You're going to have 10% [rooting for Harvard and] 90% is going to be rooting for them. So right now, it's empty, it's quiet. You've got to be ready for a lot of energy, a lot of sound. You're not going to be able to hear each other. You've got to really focus on each other on the field.' So, I think those are the things that we don't play with every single weekend."
Allard on specific things Arkansas does well:
"They can swing. I heard their assistant coach Matt [Meuchel] talk at the NFCA convention and talking about stats. And, you know, he's just, like, amazing in what he does with data and what they use in terms of lineup and different things.
But, you know, obviously they've got speed at the top. We haven't seen that level of speed. In the Ivy League, we have the fastest kid in the league. So we haven't played against that. I said, 'You know, don't let the ball drop. If the ball bounces one, she's going to be safe.' So we know what we're going to face. We know the power. We know where we've got to put the ball. It's a matter of just coming out and executing at our best."
Junior right-handed pitcher Anna Reed on Bogle Park:
"It's really nice, obviously. I think we're trying not to make the moment too big, so I think we're trying to approach it as any other game, any other stadium. That's obviously going to be different tomorrow when we get out there. But I think we're all really excited just to be able to soak in the moment and be here. We missed out on the opportunity last year, so it feels right that we're back here again."
Senior right fielder Megan Welsh on what it's like playing for Allard:
"One of my favorite quotes that coach always says is, 'It's not my job to make your life easier. It's my job to make your life better.' And every day in practice, she pushes us to make our lives better. And she's taught me so much beyond the field, just as a person.
"And so playing for her has been a great opportunity. I've enjoyed it the past five years, and I'm definitely going to miss it next year, but I know the team's going to be in great hands, and I'm excited to see where the program goes."
Discussion
Have a comment on this story? Join the discussion or start a new one on the Forums.