Deja vu: Fayetteville Regional feeling similar to last year
By:
Ethan Westerman

Published: Saturday, May 20, 2023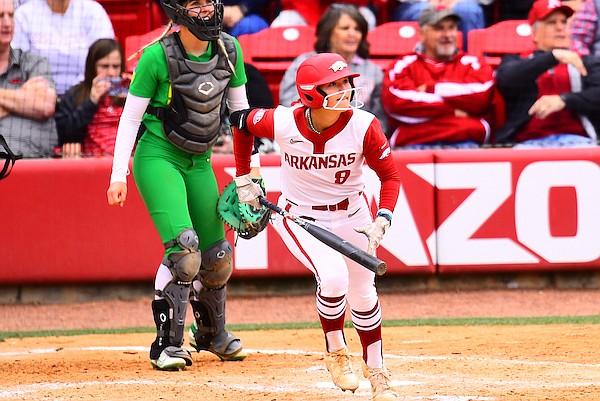 ( Gunnar Rathbun, Arkansas Athletics )
Arkansas' KB Sides hits a home run during the sixth inning of an NCAA Tournament game against Oregon on Sunday, May 22, 2022, in Fayetteville.
FAYETTEVILLE — If the NCAA Fayetteville Regional is feeling similar to last year, that's because it is.
For a second consecutive season, Arkansas will host Oregon in the winner's bracket with a spot in Sunday's regional final on the line. But that is not the only similarity to what unfolded at Bogle Park in 2022.
Last year when the Razorbacks and Ducks met, the teams withstood a weather delay that lasted 2 hours, 29 minutes. It didn't take long yesterday for Oregon to brave a similar delay — this one 2 hours, 24 minutes — when rain dumped on Bogle Park in the fourth inning of its game against Notre Dame.
When play resumed at 8 p.m. Friday, the Ducks withstood a sixth-inning rally by Notre Dame and won 5-4.
Friday's nightcap featured Arkansas doing exactly what it did last year when it opened against an Ivy League opponent. In 2022, the Razorbacks defeated Princeton 11-0 in five innings, and in 2023 they took down Harvard 11-0 in five innings.
Both games were the first time those teams had visited Fayetteville, and each ended with the exact same result.
In the 2022 rendition, Princeton shook off the loss to Arkansas and nearly shocked Wichita State. The Tigers scored two runs in the sixth inning to make the Shockers sweat but fell just short of the upset with a 5-4 defeat. Harvard will aim to do today what its Ivy League counterpart could not do last year and topple Notre Dame, which is the third-seeded team in the regional.
Arkansas followed its victory over Princeton by defeating Oregon 6-2. The game was scoreless until the Razorbacks put up a six-run sixth inning to blow the doors open. Arkansas' Chenise Delce, who will likely start today, tossed a complete game against the Ducks in 2022 with 2 runs allowed on 6 hits and with 9 strikeouts.
More from WholeHogSports: Arkansas vs. Oregon at the Fayetteville Regional: How to watch, forecast, team comparisons
The only Ducks player last year with multiple hits off Delce was Allee Bunker, who leads Oregon in 2023 with a .395 batting average (among players who have started over 20 games). The two runs surrendered last year by Delce came when pinch hitter Tehya Bird hit a two-run home run in the seventh inning. Bird hit a three-run home run yesterday against Notre Dame.
Arkansas and Oregon are scheduled to play at 2 p.m. today, while Harvard and Notre Dame will face off in an elimination game 35 minutes after. Both games will air on ESPN2.
Another elimination game is scheduled to be played at 7 p.m. A television designation for that contest has not been assigned yet.
Gammill's big game
One of Arkansas' few players with postseason experience is third baseman Hannah Gammill.
The junior from Beebe put that experience on display Friday night. She went 1 for 1 with a third inning solo home run and walked twice to finish with a perfect on-base percentage. It was her fifth homer and first since the Georgia series finale April 8.
Her performance at the plate was nearly overshadowed by her play in the field. She hauled in multiple hard-hit balls and had a team-best five assists. Gammill's play was noticed by hall of fame Harvard coach Jenny Allard.
"We had some hard shots just in the infield," Allard said. "I thought their third basement played unbelievable. She was up the line, and she snagged some key hits that we had. Everything we hit hard, we hit right at them."
Deifel added on to Allard's sentiments during Arkansas' post-game news conference.
"She's our most passionate player and she's fearless at third base," Deifel said. "You couldn't pay me to play third base. And even the way she plays it, it makes you think about the way your offense is going to run. She'll get in your face. It makes you think about whether you could put a bunt down, whether you could slap, it makes you think that you can swing away.
"But she has such quick reflexes over there. I mean, she got a hot one today and she's about halfway between third and the plate."
They call her Jimmy
When Arkansas left fielder Raigan Kramer crossed home plate after her grand slam in the fifth inning Friday night to secure the victory over Harvard, a chorus of teammates yelling "Jimmy" in the dugout rang out.
Kramer was asked postgame about the nickname's origin.
"My parents, they thought they were going to have a boy," Kramer said. "They were going to name me Jimmy. And then they had a girl, so they went with Raigan. That's it."
Chasing records
Arkansas freshman center fielder Reagan Johnson entered Friday eight hits shy of tying the season single-season record. She led off the game with a single to move into sole possession of third-most in a season, with 74. The record is 81 by Danielle Gibson.
Johnson also improved to 18 of 18 on base-stealing attempts when she swiped second base following the hit. She is tied for seventh-most stolen bases in a season.
Discussion
Have a comment on this story? Join the discussion or start a new one on the Forums.