Ducks' 8-run fifth puts Razorbacks on brink of elimination
By:
Ethan Westerman

Published: Saturday, May 20, 2023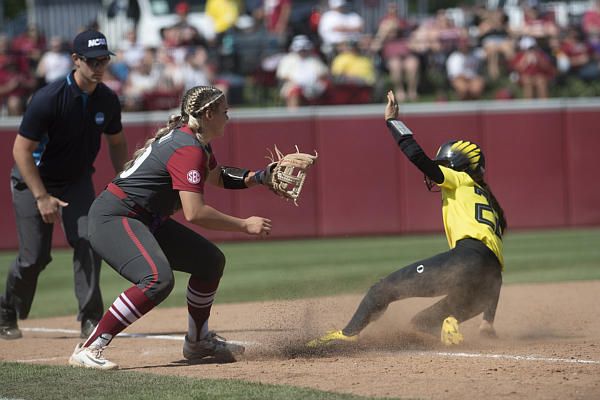 (
J.T. Wampler
)
Arkansas' Hannah Gammill catches Oregon's Kai Luschar at third base on Saturday, May 20, 2023, during the Razorbacks'10-4 loss in the NCAA Fayetteville Regional at Bogle Park.
FAYETTEVILLE — Arkansas seized momentum in the fourth inning Saturday at Bogle Park, but Oregon (37-15) responded by zapping the energy out of the Razorbacks' home stadium.
After Arkansas grabbed its only lead, the Ducks punched back with an eight-run fifth inning and defeated the Razorbacks 10-4 at the NCAA Fayetteville Regional.
The top half of the inning lasted 40 minutes, as Oregon sent 13 batters to the plate and manufactured 8 runs on 8 hits and 2 walks. The frame was highlighted by Tehya Bird's full-count grand slam, which put the Ducks ahead by six runs and blew open what had been a close game.
"I was honestly expecting [the pitch to be] inside, because I'd been getting inside my whole at-bat," Bird said. "And then she just threw me a changeup that I was able to keep my hands back on and just got through it."
Oregon's big inning came on the heels of a go-ahead home run hit by Arkansas first baseman Cylie Halvorson. Her two-run shot to left field gave the Razorbacks (39-18) their only lead of the game at 3-2, which brought the announced crowd of 2,964 to its feet.
But the Ducks answered in the fifth and put two runners in scoring position with no outs on consecutive hits by Paige Sinicki and Kai Luschar. Oregon chased Arkansas starter Chenise Delce after she issued a one-out walk to load the bases.
Arkansas freshman left-hander Hannah Camenzind entered and threw 37 pitches before exiting in the same inning. She allowed 5 runs on 3 hits and was pitching when Bird hit the grand slam. Delce took the loss as she was responsible for 4 runs — 3 earned — and 7 hits.
"I think no matter what they were doing on offense, we just wanted to trust our own process and know that we were going to be able to come back from anything," said Ariel Carson, who finished with three hits. "[We were] just trusting each other and then being able to pass the bat.
"Our team is really big at responding after somebody else scores. Our biggest thing is the first thing we're saying when we get into the dugout: 'Respond.' It's the most important thing to us."
Camenzind was replaced by Callie Turner, who finished the game. She pitched 2 1/3 innings and allowed 1 run on 3 hits against 10 batters.
"I think they just understand — we all understand — that it's postseason," Oregon coach Melyssa Lombardi said. "Like, you're going to get everybody's best. Nobody's going to show up and lay over. It's just continuing to do what we know how to do and sticking together as a group. The little things that we do go a long way, and for them just to continue that, I loved their fight."
The Razorbacks scored a final run when Kristina Foreman hit a lead-off home run to right field in the sixth inning. But it was too little, too late.
Each team scored a run in the first inning, and Oregon took a short-lived 2-1 lead in the fourth inning when Hanna Delgado hit an RBI single.
Delgado was one of four Ducks with multiple hits. Carlson led the Oregon bats with a 3-for-4 hitting day and 3 RBI. Sinicki also went 3 for 4, Delgado had 2 RBI on 2 hits, and Luschar had 2 hits.
Oregon right-hander Morgan Scott pitched a complete game and allowed 4 runs on 8 hits with 6 strikeouts. She earned her 13th victory of the season.
"I thought she threw well," Lombardi said. "I thought she had a really good command. I love how she was working ahead and changing speed."
Reagan Johnson, Raigan Kramer and Rylin Hedgecock each had two hits for the Razorbacks. The first five batters in Arkansas' lineup had eight hits, and the bottom four had none.
It is Arkansas' first loss in a regional game at Bogle Park. Prior to Saturday, the Razorbacks were 10-0 in such games.
Arkansas must win three consecutive games to escape its regional, beginning with an elimination game tonight against the winner of Notre Dame-Harvard.
Oregon advanced to Sunday's regional final and awaits the winner of Arkansas' game tonight.
Discussion
Have a comment on this story? Join the discussion or start a new one on the Forums.