'That darn drop ball': Delce deals shutout to keep Razorbacks alive in regional
By:
Ethan Westerman

Published: Saturday, May 20, 2023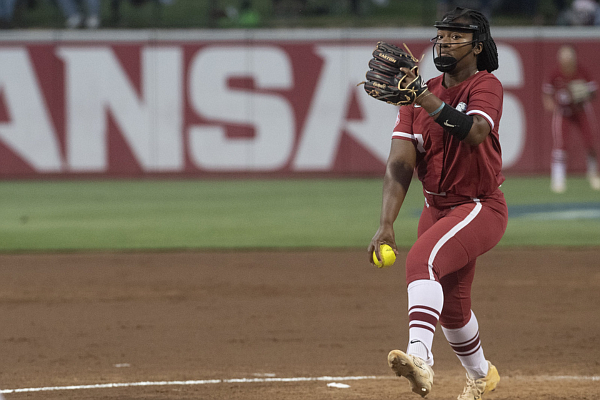 (
J.T. Wampler
)
Arkansas' Chenise Delce pitches against Notre Dame on Saturday, May 20, 2023, during the NCAA Fayetteville Regional at Bogle Park.
FAYETTEVILLE — Chenise Delce pitched a shutout and the Arkansas softball team responded from a loss earlier in the day to avoid elimination with a 5-0 victory over Notre Dame on Saturday night at Bogle Park.
The victory was the first of three needed by the Razorbacks (40-18) if they are to win the NCAA Fayetteville Regional. Arkansas lost 10-4 to Oregon on Saturday afternoon to fall into the loser's bracket.
Arkansas, which is the No. 11 national seed, must defeat Oregon twice Sunday to advance to the super regionals. The teams are scheduled to play at 1 p.m. and would play another game 35 minutes later, if necessary.
Delce allowed 3 hits and struck out 7 batters in 99 pitches. It was her 21st victory.
"It's that darn drop ball," Notre Dame coach Deanna Gumpf said of Delce. " I mean, it just moves. The girls were talking about it. It's like one of our machines that we use. That gives her a lot of credit for that movement today. I mean she was dealing, and she did a great job."
The loss ended Notre Dame's season. The Fighting Irish (30-19-1) have competed in 27 NCAA tournaments — including 24 consecutive for the nation's third-longest active streak — but have never advanced to a super regional.
After a tight six innings, Rylin Hedgecock blasted a three-run home run in the seventh to give the Razorbacks some insurance and a 5-0 lead. Her 21st homer was a deep shot against Notre Dame freshman pitcher Micaela Kastor that nearly landed in the parking lot past left field.
"It's nice whenever it comes off the bat and you kind of already know that it's out," Hedgecock said. "So, yeah, it felt good.
"I wasn't really looking for anything in particular. I feel like going in there, I knew that her outside stuff — to me at least — was way outside. And she just came more up and in. And I tend to like inside pitches more. So I just saw a screwball and hit it."
Her hit came on the heels of a big defensive stand for the Razorbacks. After the Fighting Irish got two on base with no outs in the sixth, Hannah Gammill fielded a ground ball hit to her at third, stepped on the bag and threw to first for a double play. A fly out protected Delce's shutout.
Arkansas scored a run in each of the first two innings. Gammill walked with the bases loaded in the first, and a Raigan Kramer RBI single extended the Razorbacks' lead to 2-0 in the second.
Delce didn't require much run support. Her performance was to the delight of Arkansas coach Courtney Deifel, who said her veteran pitcher responded well to the loss to Oregon.
"I'm just really proud of her," Deifel said. "The first game was very uncharacteristic. She just looked a little wonky....And so for her to respond and answer in the second game, it just showed a ton of guts and a ton of character."
For the Razorbacks to advance, it will likely take a better hitting performance from the bottom of the lineup. Arkansas' first three batters in the order combined for 11 hits during its games against Oregon and Notre Dame, while the rest of the lineup accounted for three.
"We're just going to treat it as every other game," Hedgecock said. "We're going to come out and play the best that we can and fight every single pitch until we don't have any more outs."
The Razorbacks dropped openers to Alabama and Tennessee in series this year before bouncing back with consecutive wins to claim the three-game set.
"I think we're just treating it like a series," Kramer said. "So [we need to] just come out and play to win the series, just like we did all SEC."
The victory secured Arkansas' sixth 40-win season. Four of those six seasons have come since Deifel's first season in 2016.
Discussion
Have a comment on this story? Join the discussion or start a new one on the Forums.