Ducks' grand slam abruptly ends Arkansas' season
By:
Ethan Westerman

Published: Sunday, May 21, 2023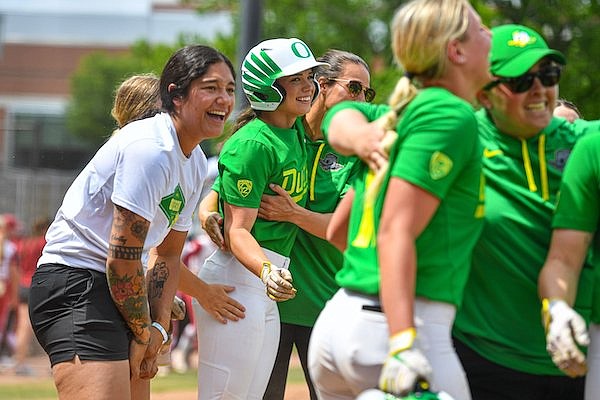 (
Hank Layton
)
Oregon right fielder Ariel Carlson (3) celebrates with teammates and coaches, Sunday, May 21, 2023, following the Ducks' 14-4 win over the Arkansas Razorbacks in the NCAA Fayetteville Regional championship at Bogle Park in Fayetteville.
FAYETTEVILLE — Big fifth innings for Oregon were Arkansas' downfall at the NCAA Fayetteville Regional at Bogle Park.
Oregon scored 10 unanswered runs — including 9 in the fifth — after Arkansas tied the game in the third inning, and the Ducks eliminated the Razorbacks with a 14-4 victory on Sunday. The game ended with a grand slam hit by Ducks right fielder Ariel Carlson to cap a five-inning run rule.
The Ducks (38-15) scored 17 total fifth-inning runs against Arkansas in two games at the regional. Oregon scored eight runs against the Razorbacks in the fifth Saturday and won 10-4.
The results flipped fortunes from a year ago when Arkansas ended Oregon's season. It was big sixth innings for the Razorbacks last year, when they scored six runs in the inning on two consecutive days.
"We've talked about responding all year," Carlson said. "That's something that we've talked about — just having a post-season mentality. And I think that's what we were able to do when they got on the board early. I thought there wasn't one person that was afraid that we weren't going to be able to come back."
The end of Arkansas' season marked the first time since 2019 the Razorbacks (40-19) did not advance to a super regional.
"This team was fun," Arkansas coach Courtney Deifel said. "We had our tough days. But it was just such a fun dynamic of returner and newbie, and different energy. And this group was so connected and so accepting and welcoming of all kinds. And they take care of each other, and they trust each other and they accept each other. It's a group that I'm just really proud of."
Oregon will play the NCAA Stillwater Regional winner in its first super regional appearance since 2018.
Arkansas redshirt senior Chenise Delce was given her third start of the regional, which came after throwing 156 pitches Saturday in games against Oregon and Notre Dame. Delce shut out Notre Dame in an elimination game Saturday night.
"I tell her all the time, I'm like, 'I don't know what I'm going to do without you,'" Deifel said. "Because she was just a joy every day. She came to work [and] she was willing to do anything.
"She is so selfless and so consistent. If you could make a pitcher, she's exactly who you'd want to make."
The Razorbacks batted as the visiting team and took an early 1-0 lead when Rylin Hedgecock hit a sacrifice fly to score Reagan Johnson.
Oregon capitalized on a pair of free passes by Delce in the first inning. After the Ducks drew two walks, Carlson singled to score one run and KK Humphreys followed with a three-run home run that snuck over the wall in center field to put Oregon ahead 4-1.
Arkansas' Hannah Gammill launched a three-run shot into the berm over the wall in right-center field to tie the game 4-4 in the third inning.
The Ducks chased Delce in the fourth inning after they got two runners on with no outs. She was replaced by Callie Turner, who kept the damage minimal.
Oregon went ahead 5-4 when Kai Luschar hit a single off Turner. The run was charged to Delce.
Delce ended with 5 runs allowed on 5 hits and 3 walks. She threw 60 pitches to total 216 pitches during the regional. Sunday's game marked the end of Delce's career at Arkansas.
"It's meant everything," Delce said. "Because I went from not believing in myself and basically wanting to give up on softball to finding that love for softball again — with my coaches, and my teammates and just the whole Arkansas environment. So my whole career here has been great for me mentally and I can't thank them enough."
Oregon extended its lead to 7-4 in the fifth inning with a two-run home run by Carlson. The hit caused Arkansas to pitch freshman Robyn Herron in relief of Turner. The Ducks loaded the bases with one out, prompting another pitching change.
Freshman left-hander Hannah Camenzind entered and Oregon nine-hole hitter Paige Sinicki doubled down the left-field line to score two more runs.
A run-scoring single by Terra McGowan and Carlson's grand slam ended the game. Carlson batted 6 for 8 in the two games against Arkansas with 10 RBI.
"[I was] just keeping things simple," Carlson said. "Over the years I've gotten to really know myself as a player and I have a tendency to overthink a little bit. So [I] kind of just knowing that, and freeing myself up and going up there and taking it one pitch at a time. [It was] just see ball, hit ball. That's really all I'm thinking."
Oregon pitcher Stevie Hansen threw a complete game with 4 runs allowed on 8 hits, with 1 strikeout.
It was the first time Arkansas has hosted an NCAA regional and did not advance. Prior to this year's tournament, the Razorbacks were 9-0 in regional games played at Bogle Park.
Arkansas has an 11-6 record in regional games under its eighth-year coach Deifel and has appeared in six consecutive NCAA Tournaments.
Discussion
Have a comment on this story? Join the discussion or start a new one on the Forums.