Fires: Tales from the road with the Razorbacks
Published: Sunday, May 21, 2023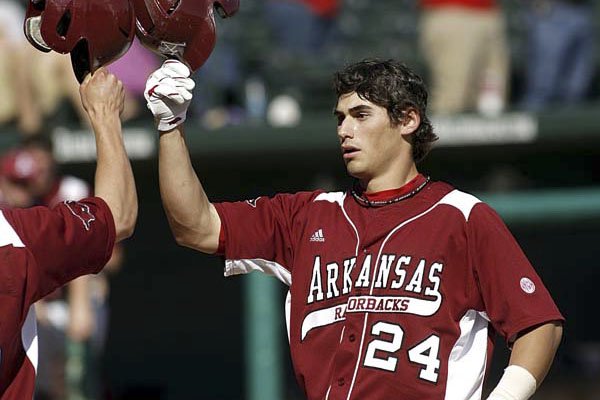 (
Jason Ivester
)
Arkansas' Brett Eibner, who hit a pair of doubles and scored a run at the plate in a 5-2 loss Tuesday at Oklahoma, celebrates with teammate Travis Sample after hitting a two-run home against Centenary earlier this season.
Would you mind terribly if I share with you some stories during my time as the Arkansas baseball beat writer for this newspaper for 15 years, beginning in 1999 when the Hogs captured their first SEC title?
I'm doing it anyway because it's all I've got after being KO'd by covid and isolated at home last week with little contact with the outside world.
There's nothing funny about covid which my wife, who caught it from me, brought to my attention after I looked lovingly toward her and said, "I wouldn't want to share this experience with anyone but you."
The look she gave me … yikes!
EXPECTATIONS
Thanks to Norm DeBriyn and Dave Van Horn, expectations for Arkansas baseball are always high but I've never agreed with the "Omaha or Bust" crowd of Razorback fans.
The realistic goal each year is to win the SEC and host an NCAA regional because I've seen too many really good teams fall short of Omaha, including Arkansas teams.
One bad pitch, one bad error, one bad call and — poof! — it's over.
Arkansas won 42 games and captured the SEC championship in 1999 when the Razorbacks' season came to a screeching halt in one day following back-to-back losses in the Fayetteville Regional. The downfall began when Matt Cepicky of Missouri State (then Southwest Missouri State) hit a two-out home run in the ninth inning of a 9-8 win in 10 innings over the Hogs. Under the rules at the time, Arkansas had to play again that day and the deflated Hogs were trounced 12-4 by Clemson.
The 1999 Razorbacks were a great team and the fact they fell just short of Omaha doesn't change it in the least.
HEAT OF THE NIGHT
We were late into the night in Arizona when I asked Van Horn why Arkansas decided to change starting pitchers following a 3-2 first-round loss to Charlotte at the Tempe (Ariz.) Regional in 2011.
Van Horn didn't like the question and he let me know it in a crowded media room where everybody could hear. But it was a legitimate question, especially when the guy who took the mound that day was not the one Van Horn said was going to start when we met with him before leaving Fayetteville.
I got a call the next morning from the host of a sports talk show in Arkansas asking if they could get me on the phone to talk about the dust-up. I said I would not.
I asked a question. Van Horn answered it. End of story.
Van Horn apologized the next day and I, of course, accepted, knowing I had only done my job.
Cheerleaders wave pom-poms for the home team. Sports reporters should not.
SEEING THE SIGHTS
One of the advantages in covering college baseball is the games don't usually start until late in the afternoon or at night, which provides an opportunity to see the sights when you're following the team on the road.
That's how I learned details about the death of Huey Long, a former senator from Louisiana who's plan to run for president in 1936 ended when he was shot at the State Capital in Baton Rogue and later died. That's how I learned about the confederate museum in Columbia, S.C., where amongst the exhibits of glory and gore, was a box with a soldier's tooth in it after it had been pulled by a dentist before battle. The purpose for the display, I guess, was to show ordinary, every day activities even in extraordinary times.
I've also enjoyed my trips to Starkville, Miss., where I learned Arkansas native Johnny Cash was arrested for public intoxication late one night in 1965 when he went to pick some flowers outside a house after playing a show at Mississippi State University. After spending the night locked up, Cash recalled the experience when he sang "The Starkville City Jail."
Starkville being Starkville, all was forgiven and city leaders put up a marker and created a Johnny Cash Day, where other country stars would stop and play. The ladies, at least, are presented with flowers.
ROAD RULES
I spent a few years driving to the site of this week's SEC Tournament in Hoover, Ala., with our own little newspaper posse that included writers Chris Cocoles and Nate Allen, and photographer Mike Woods. One of the rules of the road with this crew was to avoid the fast-food places and national chain restaurants to eat, if possible.
So, the gang was all in when we stopped at a BBQ place in Mississippi that looked condemned but with a Welcome sign on the door that assured otherwise.
It was good stuff, too, and we all made yummy noises at the table while periodically wiping BBQ sauce off our faces and brow. Our shared joy was interrupted when Woods looked down and saw an army of ants crawling up his leg.
Could have been worse, I said, at least you got them before they marched up to your arm and fingers. But, for sure, we found another place for lunch on the way home.
DEADLINES & REWRITES
The challenge for any sports writer is writing on deadline and one of the most challenging involving Arkansas baseball came at the 2009 College World Series when Brett Eibner slammed a two-out, two-run home run in the ninth inning to tie Virginia 3-3.
While Arkansas fans in the stadium cheered loudly, a buzz hovered over the press box and I began frantically deleting paragraphs knowing what I was about to send to the editor was now worthless.
Arkansas eventually won the game, 4-3 in 12 innings, in an instant classic. I was happy for the Arkansas fans and reminded that writing on deadline is the biggest test for any young person who wants to be a sports writer.
So, be prepared.
At this point, I realize my words today read more like a diary than anything of any substance. I'll do better next week after emerging from covid confinement and mingling again with the masses.
Probably. Maybe. Maybe not. We'll see.
Discussion
Have a comment on this story? Join the discussion or start a new one on the Forums.