2 former Razorbacks transferring to UALR
By:
Mitchell Gladstone

Published: Tuesday, May 30, 2023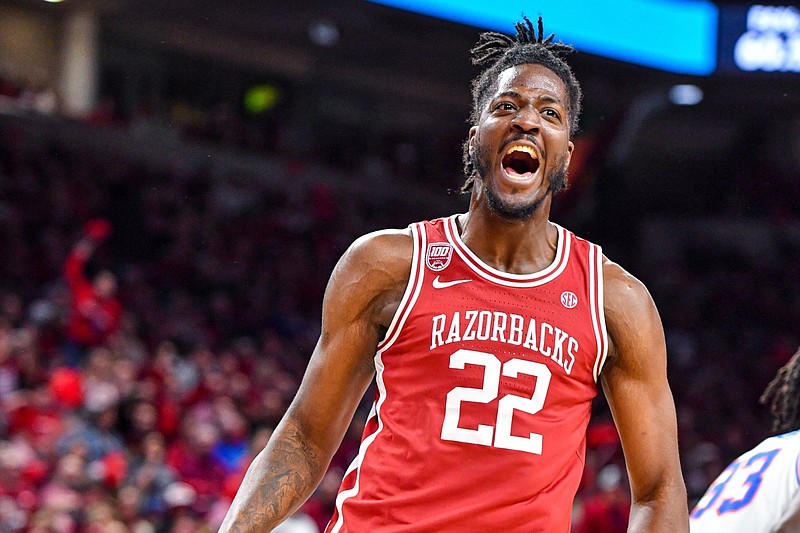 ( Hank Layton )
Arkansas forward/center Makhel Mitchell (22) reacts after this dunk, Saturday, Feb. 18, 2023, during the second half of the Razorbacks' 84-65 win over the Florida Gators at Bud Walton Arena in Fayetteville.
The University of Arkansas-Little Rock men added a couple of one-time Arkansas Razorbacks on Monday as 6-0 guard Khalen "K.K." Robinson and 6-10 forward/center Makhel Mitchell announced commitments to the Trojans.
Mitchell posted to his personal Instagram page, while multiple outlets reported Robinson's news.
Robinson, a native of Little Rock, played one season at Episcopal Collegiate and two at Bryant before transferring to Oak Hill (Va.) Academy for his senior season of high school. 247Sports' composite rankings put Robinson among the top 60 prospects in the Class of 2019 — as well as the No. 10 point guard in the nation — but he appeared in just 30 games over two seasons at Arkansas.
Robinson then transferred to Texas A&M before last season, playing 18 games, starting none and averaging fewer than six minutes per game. Robinson's best statistical season came as a freshman in Fayetteville when he averaged 2.6 points and 0.9 rebounds per game.
Mitchell, who joined the Razorbacks with his twin brother Makhi ahead of last season, appeared in 30 games and averaged 3.6 points in 12.9 minutes per game.
Although the Washington, D.C., native shot a career-best 63.5% from the field, Mitchell's scoring dropped precipitously from his two previous seasons at Rhode Island when he averaged 9.6 and 10.7 points.
Mitchell began his career, along with his brother, at Maryland in 2019-20, but played in only 10 games.
Discussion
Have a comment on this story? Join the discussion or start a new one on the Forums.