Pulaski Academy athletes sign with Razorbacks
Published: Thursday, November 9, 2023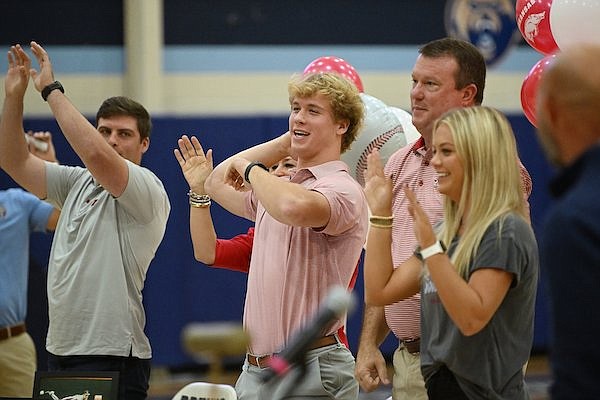 (
Staci Vandagriff
)
Kel Busby (center) calls the Hogs with his brother-in-law, Allen Anderson (left), father, Lee Busby (right) and sister, Mary Riley, after signing a letter of intent with the University of Arkansas on Wednesday at Pulaski Academy in Little Rock.
LITTLE ROCK — Two Pulaski Academy athletes signed their national letters of intent with the University of Arkansas on Wednesday — the opening day of the NCAA's early signing period for all sports but football — while surrounded by friends and family at the school's Hugg Gym in Little Rock.
Kel Busby signed with the Razorbacks' baseball team, while Anna Kate Nichols signed to play on Arkansas' women's golf team.
"It's just a really exciting day," Nichols said. "I've had so much fun getting to see all the support from the school and from friends and family. It means a lot because it's just all those hours that we've spent are finally paying off."
"It's truly a dream come true," Busby said. "I've dreamed of this day for a long time, and I'm just glad it's here. I'm glad it went well."
Busby, a right-handed pitcher, is a three-year member of the Bruins' varsity baseball program and will make that four in the spring. He also played football for Pulaski Academy until this season, which he decided to sit out after having surgery on his throwing arm over the offseason.
He missed most of his junior baseball season due to injury, but as a sophomore he started 12 games, posted a 6-2 record with a 1.55 ERA and 86 strikeouts in 58 innings. He throws a fastball clocked at 91-93 mph, a curveball and a changeup.
Busby is the nephew of former Arkansas safety Bo Busby, an All-Southwest Conference selection in 1975.
Busby led the Bruins to the Class 6A football state championship last season as the state's passing yards leader.
"Winning the state championship last year meant a lot to me and having to miss this senior season, it really stinks," Busby said. "But I truly think it's for the best for me and my future up in Fayetteville.
"Yeah, I'm going to miss football a lot. But I'm going to cherish those memories for sure."
Fully healthy, he said he's ready to join one of the premier college baseball programs in Fayetteville.
"It's second to none, really," Busby said. "The facilities up there that they got installed, it's going to be awesome. I'm so excited about the weight facilities, everything, the pitching development up there. That's why it's my second home."
Nichols is a four-time conference golf champion, a three-time Class 4A state champion and back-to-back reigning girls Overall state champion. She said she's also a lifelong Razorbacks fan.
She took her official visit to Fayetteville last September and committed on the drive home.
"It's awesome," Nichols said. "It's still kind of hard to wrap my head around it sometimes. I'm like, 'Wow, I really did that.' That's hard to fathom.
"[Arkansas] started showing some interest and I was like, 'Okay, maybe this is gonna happen.' And then I went on my official visit, and I was like, 'Yep, this is it. This is where I'm gonna be.' So I got the offer. And I was like, 'Yep, this is it.'
Discussion
Have a comment on this story? Join the discussion or start a new one on the Forums.