Friday SEC basketball roundup: Vols, Aggies win in Big Ten country
By: The Associated Press
Published: Saturday, November 11, 2023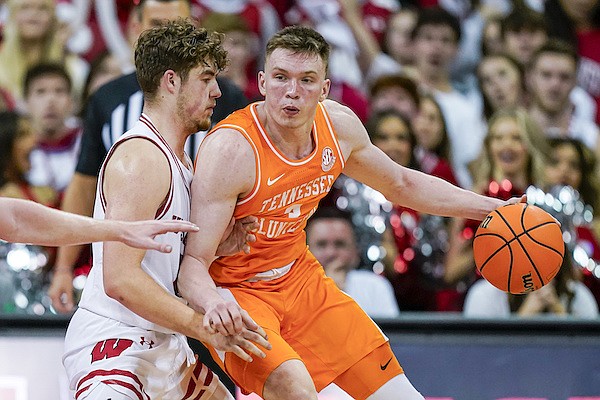 Tennessee's Dalton Knecht (3) is defended by Wisconsin's Max Klesmit, left, during the second half of an NCAA college basketball game Friday, Nov. 10, 2023, in Madison, Wis. (AP Photo/Andy Manis)
MADISON, Wis. — Dalton Knecht hasn't needed any adjustment period to make the jump from the Big Sky Conference to high-major college basketball.
The transfer from Northern Colorado scored 24 points and continued a smooth transition to his new school as No. 9 Tennessee defeated Wisconsin 80-70 on Friday night.
The 6-foot-6 Knecht shot 8 of 15 from the floor and 7 for 9 on free throws, reaching 1,000 career points in two seasons plus two games of Division I ball.
"Dalton's a bad man, a very bad man," teammate Tobe Awaka said.
Knecht led the Big Sky with 20.2 points per game last season. He averaged a team-best 16.3 points during Tennessee's three-game exhibition tour of Italy this summer and had 17 points in his Volunteers debut Monday, an 80-42 blowout of Tennessee Tech.
His new teammates said Knecht's potential was apparent as soon as he arrived on campus. Tennessee guard Josiah-Jordan James said it was obvious the first time he worked out with Knecht.
"We're comfortable every time the ball is in his hands," said James, who scored 14 points. "In the crunch time of the games — the last eight minutes — we feed off of him on the offensive end. He led us to the promised land today."
Jonas Aidoo and Jordan Gainey each added 10 points for Tennessee (2-0).
AJ Storr scored 17, Steven Crowl 14, Chucky Hepburn 13 and Tyler Wahl 10 for Wisconsin (1-1). All of Wahl's points came in the second half.
Tennessee had a 43-35 lead at the break after shooting 15 of 27 over the first 20 minutes and closing the first half on a 12-4 run. Wisconsin continually crept closer in the second half, but Tennessee answered every time.
"We kept cutting it and making it close, and then we couldn't get over that hump," Crowl said. "I think the main thing for us is our defense. We've got to tighten some things up on defense."
After Wahl scored to cut the Vols' lead to 54-53 with 11:45 left, Tennessee responded on its next possession as James scored with the shot clock about to expire. Wisconsin's Nolan Winter then missed a potential tying 3-pointer with 10:44 remaining.
Wisconsin shaved the deficit to three again on another basket by Wahl with 8:03 to go, but Knecht answered by driving the baseline, scoring and drawing a foul to convert a 3-point play. That started a 9-2 run in which Wisconsin missed three straight free throws.
Tennessee's lead didn't drop below six the rest of the way.
Aggies win at Ohio State
COLUMBUS, Ohio — Tyrece Radford and Wade Taylor IV each scored 21 points to help No. 15 Texas A&M beat Ohio State 73-66 on Friday night.
Henry Coleman III added 20 points and 11 rebounds for the Aggies (2-0) in the game that had 19 lead changes and seven ties.
"I just think later on in the game, we got more locked in with each other," Radford said. "We did a lot more talking in the second half, and I think that's what allowed us to come together and pull out the W."
Bruce Thornton led Ohio State (1-1) with 24 points.
Tied at 53 with 8:25 left, Texas A&M scored on its next three possessions to take a 59-54 lead. Thornton had a three-point play to cut it to 63-60 with 2:54 to go.
Ohio State could only muster one field goal in the final three minutes, while Texas A&M went 8-of-10 at the free throw line to ice the game.
The Buckeyes shot 5 of 18 in the final 10 minutes.
"I thought our guys did some really good things, really good things," Ohio State coach Chris Holtmann said. "We just got to do a few things a little better."
Nicholls stuns LSU
BATON ROUGE, La. — Jalen White sank a 3-pointer with 0.8 second left to rally Nicholls to a 68-66 victory over LSU on Friday night after the Colonels blew a 19-point halftime lead.
Jamal West Jr. drew the attention of three defenders at the top of the key and he found a trailing White for a wide open 3-pointer with less than a second to go.
It's the first win for first-year coach and former Colonels player Tevon Saddler, who at 28 is the youngest coach in Division I.
Nicholls (1-1) led 44-25 lead at halftime behind White's 12 points and 11 from West.
LSU (1-1) stormed back in the second half and grabbed its first lead of the game at 58-57 when Jalen Reed made the second of two free throws with 5:36 left. Daimion Collins' dunk with 1:41 remaining gave the Tigers a 66-63 lead, but Robert Brown III sank two free throws with 46 seconds to go, setting the stage for White.
Diante Smith had 18 points, six rebounds, four assists and three steals for Nicholls. White made five 3-pointers and scored 17 with six boards. West pitched in with 14 points, four assists and three steals. Brown made all six of his free throws and scored 11.
White sank three 3-pointers in the first 3:43 and Brown had a layup to cap an 11-0 run by the Colonels to open the game.
Reed totaled 14 points and eight rebounds to pace LSU. Jordan Wright scored 11 but missed all six of his 3-pointers.
Nicholls was also the last Louisiana school to beat LSU, posting a 62-53 victory on Nov. 16, 2010.
Estrada's big night powers Bama
TUSCALOOSA, Ala. — Aaron Estrada scored 27 points to lead No. 24 Alabama to a 102-80 victory over Indiana State on Friday night.
Mark Sears had a hot hand in the second half, scoring 15 of his 22 points in the final 20 minutes and finishing with four rebounds and two assists. Grant Nelson added 20 points while also leading Alabama (2-0) with eight rebounds.
"I think it's scary for the other team, honestly," Estrada said. "I started out the game hot, then they started keying on me and that allowed Mark and Grant and the other guys to get off and make everything easier."
Isaiah Swope led Indiana State (1-1) with 17 points. Ryan Conwell added 16 points, 10 rebounds and three steals, while Julian Larry scored 15 points and Jayson Kent 12.
Indiana State scored the first nine points of the game, weathered Alabama's resurgence and regained the lead with seven minutes left in the first half. Alabama then scored 13 of the next 16 points and the Sycamores never led again.
"One of the keys was our rim decisions because with (Alabama), they're so long that when you get there, if you make a bad one, that triggers their transition and they're probably the best transition offense team in the country," Indiana State coach Josh Schertz said.
The Crimson Tide did not lead Indiana State by more than 15 points until there were fewer than six minutes remaining.
"We got to continue to get better on defense," Alabama coach Nate Oats said. "We're going to keep preaching defense, defense, defense."
Estrada did much of his work early, scoring nine of Alabama's first 12 points, 14 of its first 20 and 22 of the Crimson Tide's 48 first-half points. He also contributed five rebounds, five assists and two steals.
UVA beats Florida with late free throws
CHARLOTTE, N.C. — Blake Buchanan hit 3 of 4 from the free-throw line in the final 62 seconds to lift Virginia to a 73-70 win over Florida at the Hall of Fame Series in Charlotte, North Carolina, on Friday night.
Walter Clayton Jr. scored at the basket to tie the game at 69-69 with 1:18 to play, but his free throw with 51 seconds left to pull the Gators within one, 71-70, was the last point Florida would score. Buchanan hit the first of two from the foul line with 11 seconds left that made it 72-70 and Reece Beekman hit the second of two free throws to set the final margin.
Buchanan hit 10-of-16 free-throws and finished with 18 points to lead Virginia (2-0). Beekman added 13 points, five assists and four steals and Jacob Groves scored 12 points.
Riley Kugel led four Gators (1-1) into double-figure scoring with 17 points and Will Richard added 16 points. Micah Handlogten scored 14 points and grabbed 14 rebounds and Tyrese Samuel added 10 points and 11 rebounds.
Memphis shuts down Mizzou after halftime
COLUMBIA, Mo. — Jahvon Quinerly scored 18 points, David Jones had a double-double, and Memphis dominated the second half in a 70-55 victory over Missouri on Friday night.
Missouri led 33-26 at halftime, but Memphis quickly caught up in the second half. A 10-0 run over a stretch of 4-plus minutes led to a 48-38 lead for Memphis with 12:30 remaining.
Only four players made a basket for Missouri in the second half, as the Tigers shot 5 for 26 (19.2%) from the field. Memphis shot 51.6% in the second half and outscored Missouri 44-22.
For the game, Memphis shot 43.5% and Missouri shot 32.1%.
Quinerly made 7 of 10 shots from the field and added eight rebounds, five assists and three steals. Jones had 10 points and 10 rebounds. Jaykwon Walton scored 13 points and Jordan Brown added 12 off the bench.
Sean East II led Missouri with 14 points. He played 38 minutes in the game but did not attempt a shot in the second half. Noah Carter added 10 points.
Gamecocks top Hokies with Mack's jumper
CHARLOTTE, N.C. — B.J. Mack made the go-ahead basket with 20 seconds left and South Carolina prevented Virginia Tech from getting off a shot on its next possession and the Gamecocks beat the Hokies 79-77 on Friday night.
In the first game played between the programs since 1997, Myles Stute scored 21 points shooting 7 for 11 including 5 for 6 from 3-point range, Mack scored 19 and secured six rebounds, Talon Cooper and reserve Jacobi Wright each scored 12 and Meechie Johnson scored 11 for the Gamecocks (2-0).
On his game winner, Mack methodically backed down Mylyjael Poteat on the left side, drove to the baseline and converted the reverse layup. Following a Hokies (1-1) timeout, South Carolina disrupted a dribble-handoff attempt a few feet beyond the 3-point line to force a turnover to all but end it.
Mack missed the front end of a 1-and-1 with two seconds left, and an errant heave attempt by the Hokies sealed it.
Sean Pedulla scored 26 points, Hunter Catoor 13 and Lynn Kidd 12 for Virginia Tech.
Georgia falls to Wake at home
ATHENS, Ga. — Noah Thomasson scored 21 points, including 13 in the second half, to lead five Georgia players scoring in double figures and the Bulldogs beat Wake Forest 80-77 Friday night.
Jabri Abdur-Rahim added 17 points and Russel Tchewa 11 for Georgia (1-1). RJ Melendez and Silas Demary Jr. scored 10 points apiece.
Thomasson hit 3-pointers to open and close a 20-6 run that gave the Bulldogs a 69-56 lead with 9 minutes to play. Hunter Sallis and Kevin Miller each hit a 3 before Andrew Carr converted a three-point play that capped a 12-1 spurt that cut the Demon Deacons deficit to 74-72 with 4:48 left but Thomasson answered with a jumper 19 seconds later and Wake Forest got no closer.
Miller had 22 points, seven assists, six rebounds and two steals for Wake Forest (1-1) and Carr finished with 18 points and eight rebounds. Sallis scored 13 points on 5-of-18 shooting and Cameron Hildreth added 12 points.
Other final scores
Kentucky 81, Texas A&M-Commerce 61
Vanderbilt 74, South Carolina Upstate 67
Ole Miss 75, Eastern Washington 64
Auburn 86, Southeastern Louisiana 71
Discussion
Have a comment on this story? Join the discussion or start a new one on the Forums.