ESPN's McGee talks Pittman, upbringing at Little Rock Touchdown Club
Published: Tuesday, November 14, 2023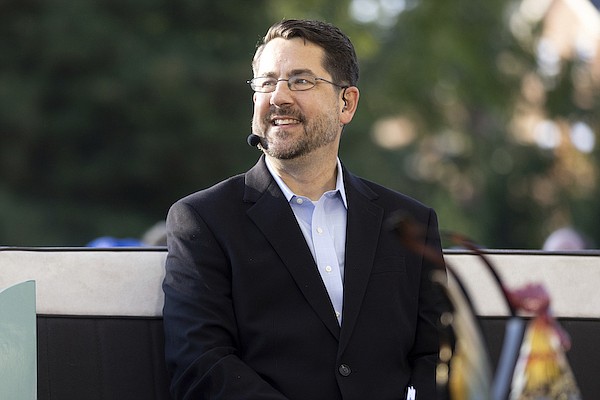 Marty & McGee host Ryan McGee talks to his co-host during the SEC Nation broadcast in Lexington, Ky., Saturday, Oct. 9, 2021. (AP Photo/Michael Clubb)
Ryan McGee appeared as the featured speaker at this week's Little Rock Touchdown Club meeting Monday at the downtown DoubleTree in Little Rock. McGee, currently a senior writer for ESPN.com, co-hosts a show on the SEC Network with Marty Smith called "Marty and McGee."
With a comedic delivery, McGee provided some much needed laughs for an Arkansas fan base that witnessed the Razorbacks get throttled by the Auburn Tigers 48-10 on Saturday afternoon in Fayetteville.
McGee discussed the Razorbacks' situation and what the future might hold for Coach Sam Pittman. McGee, true to form, delivered a brutally honest answer to the question.
"I think everyone knows where it's going and I think that Sam knows where it is going," McGee said. "I want him to get the exit he deserves. I think that everyone that supports [Arkansas] needs to appreciate what he did."
After a few minutes of Razorback talk, the conversation shifted to some lighter topics, including his journey as a sports journalist and what it's like to co-host such a uniquely southern college football show.
Like McGee, Smith is also known for keeping the fans entertained with his unique southern style and his energetic demeanor that makes people laugh. McGee touched on his relationship with Smith.
"All I'll require from another human being is to be yourself and be genuine," McGee said. "[Smith] is the genuine article. We're friends. We've been friends for 20 years. We just can't believe they pay us to do it"
McGee, who is from Rockingham, N.C., has deep ties to the sport of NASCAR. He has written several books on NASCAR as well as other sports that have sold well.
One of those books is called "Sidelines and Bloodlines: A Father, His Sons, and Our Life in College Football" that in part is based on McGee's father Dr. Jerry McGee, who was a college football referee for decades while raising his sons.
"Well you learn how to cuss when your dad is a referee," McGee said. "Because when you're sitting in the stands that's what everybody is doing the whole game. But what it gave me was a window into the world that I love so much. I love college football so much."
He also co-authored Dale Earnhardt's book called "Racing to the Finish: My Story" which became a New York Times best seller.
"Growing up in the Carolinas, There is no way you couldn't be a NASCAR fan," McGee said. "When I went to ESPN in the mid 90s, the number of people at the worldwide leader in sports who sounded like me was one. No one else had a southern accent."
His knowledge of NASCAR helped him move up the ranks at ESPN during the 90s when the sport was quickly gaining popularity. McGee would eventually become a senior writer at ESPN, a position he still holds to this day.
McGee became motivated to go into sports journalism from his time as a youth attending football games that his father was officiating. He saw media members along the sidelines and envisioned himself one day being one of those media members.
"My goal when I was 12 years old was I wanted to figure out how to get paid to go to football games," McGee said reflecting on his journey. "Don't tell anyone, but they send checks to the house and I get to go to football games."
Discussion
Have a comment on this story? Join the discussion or start a new one on the Forums.