SEC basketball roundup: Kansas rallies to beat Kentucky
By: The Associated Press
Published: Wednesday, November 15, 2023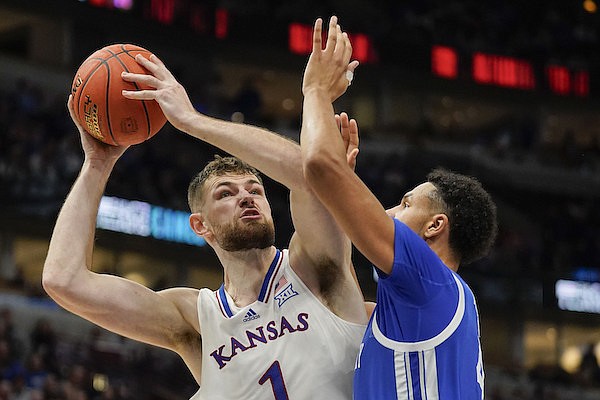 Kentucky forward Tre Mitchell, right, blocks a shot from Kansas center Hunter Dickinson during the second half of an NCAA college basketball game, Tuesday, Nov. 14, 2023, in Chicago. (AP Photo Erin Hooley)
CHICAGO — Kansas coach Bill Self delivered a relatively simple pitch to Hunter Dickinson. He told the big man he would get the ball a lot. He told him he would get to play with some great players, and have a chance to win a national championship.
"I think he's been truthful so far," Dickinson said.
So far, so good.
Dickinson had 27 points and 21 rebounds, and the top-ranked Jayhawks outlasted No. 17 Kentucky for an 89-84 victory in the Champions Classic on Tuesday night.
The 7-foot-2 Dickinson, who announced in May that he was transferring from Michigan to Kansas, went 8 for 12 from the field and 10 for 11 at the line.
The young Wildcats, playing without a pair of injured centers, fought hard inside, but Dickinson was just too much to handle.
"What he does is he takes pressure off everybody else by having everybody else focused on him," Self said. "So that's a big bonus."
Dajuan Harris Jr. scored 23 points for the Jayhawks, who trailed by as many as 14 in the second half. Kevin McCullar Jr. had 12 points, 10 rebounds and 10 assists in the third triple-double in the history of the program.
Kansas (3-0) closed the game with an 11-1 run. Harris opened the decisive stretch with a 3-pointer and two foul shots. Dickinson then put the Jayhawks in front with two free throws that made it 85-83 with 2:04 to go.
Kentucky (2-1) had a couple chances to tie the game in the final 1:02, but came up empty each time. After Reed Sheppard missed a 3 with 6 seconds left, Jamari McDowell made two foul shots to help close it out for Kansas.
Antonio Reeves scored 24 points for Kentucky, but he went 3 for 17 from 3-point range. Adou Thiero finished with 16 points and 13 boards.
"It feels good to have this type of performance, but when you don't walk away with a W it doesn't really feel the same," Thiero said.
Rob Dillingham, part of another stellar freshman class at Kentucky, scored 16 of his 18 points in the first half. He was whistled for his fourth foul midway through the second half and eventually fouled out.
"To come in this environment with this, you know, everything that goes with this, the bells and whistles, and they perform like they did, I couldn't ask for much more other than make some free throws and a shot down the stretch and win," Kentucky coach John Calipari said.
It was Kansas' first game in Chicago since it stopped in the Windy City on its way to the 2022 NCAA championship. The Jayhawks beat Miami 76-50 in the Midwest Region final at the United Center that year.
Kansas had a 25-21 lead before Dillingham began to take over. The flashy guard made 3-pointers on four straight Kentucky possessions and then dished to Reeves for another 3, giving the Wildcats a 36-30 lead with 4:37 left in the first half.
The Jayhawks were staring at a double-digit halftime deficit before Dickinson hit two foul shots and a 3, making it 48-41 at the break. Dickinson had 13 points and 10 rebounds in the first half.
Knecht leads Vols to win
KNOXVILLE, Tenn. — Dalton Knecht scored 18 points to lead No. 7 Tennessee to an 82-61 victory over Wofford on Tuesday night.
The Northern Colorado transfer scored all but four of his points in the second half, helping the Volunteers (3-0) pull away after leading by just five at halftime. Jordan Gainey scored 16 points and Santiago Vescovi added 11 for Tennessee.
The Volunteers were outrebounded by the much smaller Terriers 19-17 in the first half and finished the game with a 37-34 edge.
"(Wofford) had a good game plan," Tennessee coach Rick Barnes said. "They kept it tight and were always in good rebounding position."
"We put up shots and crashed (the boards)," said Wofford big man Kyler Flewich, who had eight rebounds. "On defense, we held our own."
Corey Tripp scored 19 points for Wofford (2-1). Chase Cormier added 15 and Jackson Sivills had 10.
"We made (the Vols) work for their shots," Wofford coach Dwight Perry said. "We couldn't stop every option. It took a lot of mental resolve to stick to our game plan."
Gainey had three 3-pointers and 11 points at the half as Tennessee led 36-31 at halftime.
"Jordan Gainey did a terrific job giving us a spark (off the bench)," Barnes said of the transfer from South Carolina Upstate.
Wofford didn't wilt under the Vols' defensive pressure. The Terriers shot 38% despite having every pass contested. Tennessee shot 46% in the first 20 minutes and finished the game with the same percentage.
Barnes, in his 37th year of coaching and ninth at Tennessee, got victory No. 782, passing Lute Olson for 15th on the all-time list in Division I.
Aggies win old SWC matchup
DALLAS — Henry Coleman III grabbed a loose ball, hit a bucket and got fouled, the show of emotion illustrating a key moment as No. 13 Texas A&M quieted an SMU crowd looking for a rally.
The Aggies soon had their lead back to double digits Tuesday night, and they finished the sweep while playing back-to-back true road games in non-conference action for the first time in 20 years.
Tyrece Radford scored 16 of his 21 points in the first half, Coleman had 13 points and 15 rebounds, and Texas A&M beat SMU 79-66 in a meeting of old Southwest Conference foes.
The Aggies (3-0) won again four nights after a 73-66 victory at Ohio State. They hadn't done this sort of road trip before conference play since splitting a pair of games against Houston and Louisiana-Monroe in 2003-04.
"We had never done this as far as out of conference," said Coleman, who tied his career high in rebounds. "It's kind of like an NBA thing, quick turnaround, so you're not going to get as many practice reps. So you have to be better mentally, and I think that's what our team has done."
Chuck Harris scored 21 points and Zhuric Phelps had 13 on just 3-of-14 shooting for the Mustangs (3-1), who hosted the Aggies at Moody Coliseum — with plenty of maroon in the crowd — for the first time since 2009.
It was the fifth meeting between the schools since the SWC's final season in 1995-96, and Texas A&M beat SMU for the second year in a row.
Wade Taylor IV, the Aggies' leading scorer, had 15 points on a rough shooting night in his hometown, going 4 of 17 and missing all seven of his 3-point shots. But he scored 11 points after the break to help keep Texas A&M in front.
Radford punctuated his big first half with a buzzer-beating 3-pointer to cap an 8-2 run for a 39-32 lead.
"It changed the game," Taylor said. "It was a momentum swing, for sure."
The Mustangs had trimmed a 12-point second-half deficit to four when Coleman grabbed a loose ball under the basket after a miss, made the putback and was fouled.
Coleman's free throw put the Aggies up 57-50 with 8 1/2 minutes to go, and Texas A&M eventually restored its double-digit lead.
Vandy beats Hogs' next foe
NASHVILLE, Tenn. — Ezra Manjon scored 14 of his 24 points in the second half and was perfect from the line to help Vanderbilt hold off UNC Greensboro 74-70 on Tuesday night.
Colin Smith added 13 points and 11 rebounds and Evan Taylor scored nine of his 12 points in the second half for the Commodores (2-1), who led 41-29 at halftime before seeing the Spartans close within two.
After Keyshaun Langley's basket cut Vanderbilt's lead to 62-60 with 2:50 remaining, Manjon and Taylor scored six points each to fend off the Spartans (1-1). Langley hit a 3-pointer with eight seconds remaining to again get UNCG within two before Manjon sealed it with two more free throws.
Manjon finished 12-of-12 at the line, including 10 in the second half. Vanderbilt was 11 of 29 on 3-point attempts but gave up 15 points off 12 turnovers. The Commodores were 17 of 18 at the line to the Spartans' 5-of-7.
Langley scored 26 points and Mikeal Brown-Jones 24 for UNCG.
In Friday games, Vanderbilt is home against Central Arkansas while the Spartans are at No. 14 Arkansas.
Ole Miss avoids upset
OXFORD, Miss. — Jaylen Murray scored 22 points and Matthew Murrell scored 17 points and Ole Miss held off upset-minded Detroit Mercy with a 70-69 win on Tuesday night.
Following a pair of Alan Flanigan foul shots that gave Ole Miss (3-0) its last lead at 70-69, the Titans put the ball in the hands of Marcus Tankersley who drove the right side, stopped, pivoted, and put up a well-challenged shot that bounced off the rim as time expired.
The Titans had their last lead of the game when Jayden Stone made 1 of 2 foul shots to make it 69-68 with 33 seconds remaining.
Stone finished with 22 points, Tankersley scored 19 and Edoardo Del Cadia scored 16 points and grabbed 10 rebounds for Detroit Mercy (0-3).
The game featured two former Bobby Knight assistants in Ole Miss head coach Chris Beard and Detroit Mercy head coach Mike Davis.
The Titans fell to 2-13 against Southeastern Conference opposition and haven't won a game against an SEC school since 1968.
Other Tuesday scores
Florida 89, Florida A&M 68
Mississippi State 81, North Alabama 54
Alabama 102, South Alabama 46
Monday scores
Arkansas 86, Old Dominion 77
South Carolina 74, VMI 64
Missouri 68, SIU-Edwardsville 50
Discussion
Have a comment on this story? Join the discussion or start a new one on the Forums.