SEC football roundup: New Mexico State throttles Auburn, Mizzou survives
By: The Associated Press
Published: Saturday, November 18, 2023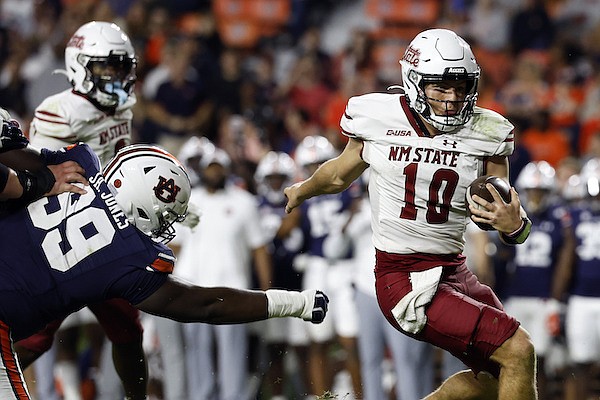 New Mexico State quarterback Diego Pavia (10) gets around Auburn defensive lineman Jayson Jones (99) as he carries the ball during the second half of an NCAA college football game Saturday, Nov. 18, 2023, in Auburn, Ala. (AP Photo/Butch Dill)
AUBURN, Ala. — Diego Pavia passed for 201 yards and 3 touchdowns and New Mexico State upset Auburn 31-10 on Saturday for the Aggies' first win over a Southeastern Conference team.
New Mexico State (9-3) outscored the Tigers 21-3 in the second half after coming in as 23-1/2-point underdogs. The Aggies, who have already clinched a spot in the Conference USA championship game against No. 25 Liberty, had lost their first 27 meetings against SEC teams.
"You don't get many opportunities like this," New Mexico State coach Jerry Kill said. "We're playing a Southeastern Conference football team and we really dominated the football game most of the time."
The former Minnesota coach called it "one of the biggest wins New Mexico State's had in a long time" and "one of the greatest wins I've ever been part of."
Kill's team put this one away with two successful gambles in the fourth quarter. New Mexico State converted a fake punt from its own territory on the opening play of the fourth quarter.
Then Pavia hit Eli Stowers for a 2-yard touchdown on another fourth-down gamble to make it 24-7. That ended a 16-play, 83-yard drive that worked 9:58 off the clock and left Auburn's struggling offense little chance to get back in it.
Auburn (6-5) was coming off a 48-10 win over Arkansas in its most complete performance under first-year coach Hugh Freeze.
"It was the exact opposite today," Freeze said. "It's very disappointing. Our university deserves a better effort than that."
Asked if his team had prepared for fake punts, Freeze only nodded and said, "Yep."
Pavia completed 19 of 28 passes and also ran 8 times for 35 yards. Stowers lined up at both quarterback and tight end and ran for 19 yards while catching 4 passes for 48 yards.
Payton Thorne completed 15 of 19 passes for 148 yards and 1 touchdown for Auburn while gaining 38 yards on 17 runs.
The Aggies quieted the Jordan-Hare Stadium with an opening drive capped by Pavia's 9-yard touchdown pass to Kordell David in a drive helped out by a pair of pass interference penalties. Auburn fans didn't have a whole lot to cheer about the rest of the way.
New Mexico State got a whopping payday for the game — and a big win.
"How about that, $1.7 million and we won the game," Kill said, smiling.
Mevis saves Mizzou
COLUMBIA, Mo. — Harrison Mevis kicked a 30-yard field goal with 5 seconds remaining, and Brady Cook completed 20 of 34 passes for 326 yards and a touchdown to help No. 9 Missouri rally past Florida 33-31 on Saturday night.
"It's what they brought me here to do," Mevis said. "I'm an operation kicker. I'm supposed to go in and make those kicks for the team and help us win. It's a testament to the offense for putting me in position to go do that."
Cody Schrader carried the ball 23 times for 148 yards and 1 touchdown, Luther Burden III caught 9 passes for 158 yards, and Mevis converted all 4 of his field goal attempts as Missouri (9-2, 5-2 SEC) narrowly avoided losing to an unranked opponent for the first time this season.
Montrell Johnson Jr. had 12 carries for 85 yards and Trevor Etienne ran 15 times for 82 yards and 1 touchdown as Florida (5-6, 3-5) gained 261 yards on 40 carries in its fourth straight loss.
Gators quarterback Graham Mertz completed 14 of 21 passes for 183 yards and 2 touchdowns with an interception before exiting with 2:09 remaining in the third quarter with a non-displaced collarbone fracture.
Mertz left the field holding his collarbone after handing off to Johnson. Mertz appeared to hurt himself initiating contact with Missouri defenders Tre'Vez Johnson and Ennis Rakestraw Jr. on the previous play.
"He'll be out for a little bit," Florida coach Billy Napier said. "We'll have more information whether it's surgical or not. I think right now the belief is it may not be, but we'll need to get more images before we make that decision."
Redshirt freshman Max Brown completed 4 of 5 passes for 56 yards in relief of Mertz and gained 42 yards on 7 carries.
"Give Max some credit," Napier said. "Max settled in there a little bit and made a few plays. Obviously, he's a good athlete and we were able to use his legs a little bit and the read game. He made some throws as well."
Cook connected with Burden on a 27-yard reception with Missouri facing fourth-and-17 from its own 33-yard line with 38 seconds remaining to help put the Tigers in field-goal range for Mevis.
"It's Luther," Cook said. "He's getting healthier and you can see that on the field. He's confident. He's back on the field making plays."
Trey Smack kicked a 35-yard field goal with 1:35 remaining to give Florida a 31-30 lead.
Etienne scored his second touchdown of the game on a 9-yard run with 7:49 left to cut Missouri's lead to 30-28.
Missouri went up 30-21 with 13:14 to go when Theo Wease Jr. hauled in a 77-yard touchdown pass from Cook two plays after Kristian Williams recovered a fumble by Brown as he attempted to hand off to Montrell Johnson Jr. at the Missouri 19-yard line.
"I thought it was really big, the takeaway in the red zone and then to score to go up nine,″ Missouri coach Eli Drinkwitz said. "I really felt like that might have been the dagger that put them away. Defensively we were just not consistent tonight. We had them behind the chains, we let the quarterback scramble and they were able to get the fourth down. We were just really leaky in our run fits and we've got a lot of work to do this week to get that stuff fixed."
Burden hauled in a 48-yard reception from Cook with a roughing-the-passer penalty tacked on, but Florida's defense held in the red zone for the third time as Mevis kicked a 25-yard field goal to give Missouri a 23-21 lead with 3:53 remaining in the third quarter.
Florida pulled ahead 21-20 when Ricky Piersall scored on an end around from 38 yards out.
Cook scored from inside Florida's 1-yard line with 8:53 remaining in the third quarter to put Missouri back on top 20-14.
Etienne pulled in a 37-yard touchdown reception with 11:54 to play in the third to push Florida ahead 14-13.
Mevis connected on a 38-yard field goal with 1:49 left in the first half to expand Missouri's lead to 13-10.
Missouri pulled ahead 10-7 after Schrader ran unimpeded for 43 yards into the end zone on the Tigers' second play of the second quarter.
Mertz connected with Eugene Wilson III on a 9-yard touchdown pass to put Florida up 7-3 with 7:49 remaining in the first quarter.
Top Dogs roll on Rocky Top
KNOXVILLE, Tenn. — Top-ranked Georgia made a little bit of SEC history in beating Tennessee.
Carson Beck threw for 298 yards and 3 touchdowns to lead the Bulldogs to a 38-10 win over the 21st-ranked Volunteers on Saturday.
With the win, Georgia became the first team to go unbeaten in the SEC three years in a row since the league went to an eight-game schedule in 1992. Georgia also has tied Alabama (twice) for the longest winning streak in SEC history at 28 games.
"What [Georgia has] done in the past couple years is special," Tennessee coach Josh Heupel said. "Today was not our best football."
Dillon Bell caught 5 passes for 90 yards and 1 touchdown, and also threw an 18-yard TD pass to Marcus Rosemy-Jacksaint for the Bulldogs (10-0, 8-0 SEC).
"[Bell's] a great competitor," Georgia coach Kirby Smart said. "When his number is called, he's ready. He made plays on back-shoulder 50-50 balls."
Bell boasted — just a bit — about his ability.
"I feel like I got a pretty decent arm," Bell said. "I feel like I can throw the ball a little bit."
Rosemy-Jacksaint caught 7 passes for 91 yards and 2 touchdowns for the Bulldogs.
Jaylen Wright broke through the middle of the line and went 75 yards for a touchdown on the Volunteers' (7-4, 3-4) first snap of the game. He finished with 90 yards rushing.
"I knew that was going to be the first call," Wright said. "[Georgia was] really good up front. We needed to do a better job sustaining blocks [the rest of the game]."
Georgia was impressive on third down, converting on 9 of 13 tries, Meanwhile, Tennessee struggled, going 2 for 11.
"Third downs have been the difference for us ... this year," Smart said. "We cannot continue to lose first downs and play third-and-longs, but we overcame a lot of those."
"Early in the game, third downs were a big part of it," Heupel said. "They were able to convert and we couldn't."
Beck said the most important part of third-down success is preparation.
"We watch so much film and our Wednesday practices are geared toward red zone and third down," Beck said. "A lot of that was the passing game — one-on-one situations. They made plays in man-to-man situations."
Beck was efficient in the first half. He completed 17 of 20 passes for 210 yards and 2 touchdowns, leading the Bulldogs to a 24-10 lead.
Tennessee gained 75 rushing yards on the first snap and had 37 the rest of the half.
Gamecocks keep bowl hopes alive
COLUMBIA, S.C. — Spencer Rattler completed 19 of 27 passes for 207 yards and 2 touchdowns and Xavier Legette caught 9 of those passes for 94 yards as South Carolina beat Kentucky 17-14 on Saturday night.
The Gamecocks (5-6, 3-5 SEC) started November in a big hole, but three straight wins have left them on the cusp of a bowl bid if they can beat bitter rival Clemson next week.
The Wildcats (6-5, 3-5) have lost 5 of 6 since starting the season 5-0.
South Carolina took a 10-0 lead, but went stagnant, gaining just 25 yards on its next 6 drives.
Facing a third-and-15 at their own 21-yard line with another drive about to go down the tubes, Rattler found Legette over the middle for 28 yards and South Carolina was finally shocked out of its offensive doldrums.
Seven plays later, Rattler found Legette again for a 17-yard touchdown that gave South Carolina a 17-14 lead.
Ray Davis, the SEC's second leading rusher, ran 12 times for 61 yards for Kentucky. Devin Leary was 17-of-34 passing for 171 yards with 1 touchdown and 1 interception.
The Wildcats turned the ball over three times, including an interception in the end zone and a strip by Jordan Strachan of Leary that Tonka Hemingway grabbed at midfield with 1:59 left.
Down to just two running backs, South Carolina rushed for just 50 yards. Rattler was the team's second leading rusher.
South Carolina invited Finnish techno star Dardue as its guest of honor. His "Sandstorm" became an unofficial anthem for Gamecocks athletics 15 years ago and he held a pregame concert and enthusiastically pumped the crowd up during the game.
Rusty QB leads Mississippi State
STARKVILLE, Miss. — Following the firing of head coach Zach Arnett on Monday, Mississippi State had plenty of distractions heading into Saturday afternoon's showdown with Southern Miss.
The loss of a coach, the upcoming Battle of the Golden Egg against rival Ole Miss and a rusty quarterback in Will Rogers made for an upset alert for the Bulldogs.
But State found a way through it using a couple of late touchdowns in a 41-20 win over the Golden Eagles.
Interim head coach Greg Knox was promoted to his post on Monday afternoon after serving as an offensive analyst earlier this year. The former MSU running backs coach from 2009-17 also took over when Dan Mullen left Starkville for Florida in 2017 and helped the Bulldogs to a TaxSlayer Bowl win over Louisville.
"They took the team that we went over every day in the meetings and bought into it. They had a really productive week of practice and I was very pleased with their attitude and effort," Knox said after the game.
Freshman kicker Kyle Ferrie proved invaluable early when he got MSU points when the team's offense was stagnant.
Southern Miss gave the Bulldogs all they could handle five days after Arnett's firing. He was relieved on Monday morning by Athletics Director Zac Selmon following the Bulldogs' 51-10 loss to Texas A&M, which also fired head coach Jimbo Fisher after the game.
Jakarius Caston single-handedly kept the Golden Eagles in the game after scoring a 44-yard touchdown reception in the fourth quarter and then returned a kickoff 98 yards with a little more than 8 minutes left to reduce the deficit to 26-20.
The Bulldogs (5-6, 1-6 SEC) countered with a 59-yard run to extend the lead with 7:14 remaining. Jett Johnson then sealed it with an interception that he flipped to safety Marcus Banks who took it 70 yards for a score.
"Hindsight is 20-20, and it was kind of a dumb play honestly," Johnson joked. "I told Marcus Banks, 'Thank you for catching that ball.' I was trying to get that guy off of me because I knew he was there. He made a guy miss and he took it to the house."
MSU had 382 yards of offense with 238 on the ground. Rogers returned to the lineup for the first time since injuring his shoulder against Western Michigan on Oct. 7. Rogers was rusty but threw for 2 touchdowns on 12-of-27 passing.
Jeffery Pittman had 10 carries for 98 yards and 1 touchdown, Zavion Thomas had 3 catches for 66 yards and Tulu Griffin caught 4 passes for 32 yards and a score.
The SEC's top two tacklers, Bookie Watson and Jett Johnson had 39 combined. Watson had 21 and Johnson 18.
"It doesn't surprise me," Knox said of their production of his linebackers. "All week long, those two have been the two up front leading this team. They came to work every day and brought others with them. When you work like that, good things happen."
USM had 246 yards of offense with running back Frank Gore gaining 66 yards on 22 carries and 5 receptions for 29 yards. Caston had 2 catches for 88 yards and a score receiving as well as the 98-yard kick return.
Other final scores
Arkansas 44, Florida International 20
Alabama 66, Tennessee-Chattanooga 10
Ole Miss 35, Louisiana-Monroe 3
Texas A&M 38, Abilene Christian 10
LSU 56, Georgia State 14
Discussion
Have a comment on this story? Join the discussion or start a new one on the Forums.