SEC Week 2 results: Texas tops Tide, Aggies lose at Miami, Auburn survives Cal
By: The Associated Press
Published: Saturday, September 9, 2023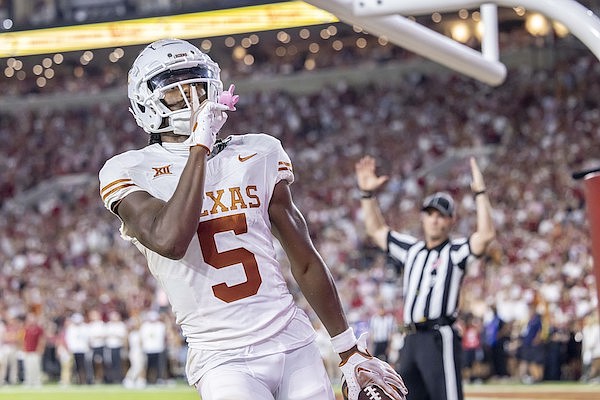 Texas wide receiver Adonai Mitchell (5) gestures to the crowd after a touchdown against Alabama during the second half of an NCAA college football game Saturday, Sept. 9, 2023, in Tuscaloosa, Ala. (AP Photo/Vasha Hunt)
TUSCALOOSA, Ala. — Quinn Ewers and the Texas Longhorns gave themselves an early welcome to the Southeastern Conference. And perhaps a welcome back to national title contention.
Ewers finished what he started last season, passing for 349 yards and three touchdowns to lead No. 11 Texas to a 34-24 victory over third-ranked Alabama on Saturday night in a huge win for a program trying to climb back to its old level of prominence nationally.
The Longhorns (2-0) delivered the biggest victory under Steve Sarkisian in a game that slipped away last season after a red-hot Ewers exited because of a first-quarter shoulder injury. He was back and with another big weapon in Adonai Mitchell. Texas is set to join Alabama & Co. in the SEC next season.
"Even when it got dicey ... I love the response and the grit and perseverance our guys showed," said Sarkisian, a former Alabama offensive coordinator who parlayed that stint into the Texas job.
It didn't come without a fight from the Crimson Tide (1-1), which has now seen three games slip away late in the past two seasons. Alabama had its 21-game home winning streak snapped along with a 57-game regular-season binge against nonconference teams dating to Nick Saban's debut season, 2007.
"This was a test for us," Saban said. "I told the players early in the week that this was going to be a test, that we were playing a really good team and that we would find out where we were as a team. It was a test for everybody. It was a test for the coaches, it was a test for me, it was a test for all the players.
"And we obviously didn't do very well. But it's the mid-term, it's not the final."
Mitchell delivered big against 'Bama — again. The Georgia transfer caught touchdown passes of 7 and 39 yards in the fourth quarter. As a freshman Mitchell's 40-yard touchdown in the fourth quarter of the national championship game against the Tide gave Georgia the lead and the first of back-to-back titles.
He caught the winner against Ohio State in the semifinal as well. Then Mitchell headed to Texas and another showdown with Alabama.
Sarkisian came into the game 14-12 at Texas and with just two wins in nine tries against ranked teams. He left with a doozie of a win over his former boss. Texas fans lingered, sometimes breaking into chants of "SEC."
Sarkisian reiterated that this game wouldn't make or break the Longhorns season, but added it's a solid "benchmark" for where they stand.
"We have a ton of respect for Alabama, and I know how well they're coached. I know how hard they play," he said. "I think it just shows a lot about what we're capable of. Like I said coming into this game, this game isn't going to define our season. We have 10 regular-season games left."
Ewers was 24-of-38 passing and tight end Ja'Tavion Sanders had five catches for 114 yards.
Alabama's Jalen Milroe delivered big plays passing and running, but also was picked off twice on bad decisions. He was 14 of 27 for 255 yards with a pair of touchdowns.
Alabama didn't grab its first lead until Milroe found Jermaine Burton — also a transfer from two-time defending national champion Georgia — in the left corner of the end zone for a 49-yard touchdown with 14 seconds left in the third quarter. That came after a fourth-down stop when Ewers couldn't control the snap under center.
That lead became a double-digit deficit again in a whirlwind 84-second span.
Ewers answered right back with a 50-yard pass and run to Sanders. Then he promptly hit Mitchell for his 7-yarder.
Jerrin Thompson stepped in front of Milroe's pass and raced 32 yards to set up Jonathon Brooks' 5-yard run. Suddenly it was Texas 27, Alabama 16.
Milroe and 'Bama weren't done. Milroe recovered a dropped snap and hit tight end Amari Niblack, who rambled for a 39-yard touchdown.
Milroe's two-point pass made it 27-24 with 11:08 left before Mitchell's long score put it away.
Ewers refused to wonder publicly what might have been if he hadn't been hurt last season after passing for 134 yards on the first two drives. A year later, he got to savor the victory with his parents.
"It's definitely going to be a moment I remember forever," he said.
Miami QB throws 5 TDs in win over Aggies
MIAMI GARDENS, Fla. — This season for the Miami Hurricanes was about re-instituting a winning culture led by the players and shown through energetic plays on the field.
The Hurricanes are already getting what they worked for.
Tyler Van Dyke threw a career-high five touchdown passes Saturday, Brashard Smith returned a kickoff 98 yards for a score and Miami overcame a slow start to defeat No. 23 Texas A&M 48-33.
Smith caught a kick near Miami's end zone and burst forward, untouched, for the Hurricanes' longest score of the young year. He celebrated only briefly on the sideline, then scampered back onto the field for kickoff coverage.
The play gave the Hurricanes an eight-point lead in the third quarter, and they built on that. It was a stark turnaround after Texas A&M jumped out to a 10-point first-quarter lead.
"Players are stepping up," said receiver Xavier Restrepo, who had six catches for 126 yards. "Last year, it felt like the coaches had more energy than the players. This year, we all sat down the first day of spring training camp and were like, 'This is our team, not the coaches' team.'"
Van Dyke had two touchdown passes of 3 yards, as well as 52-, 11- and 64-yard scores. He finished with 374 yards passing to bring his season total to 575 — an impressive start after he struggled last year.
"I feel accuracy-wise, I'm the best I've ever been," said Van Dyke, who was 21 of 30 with no interceptions. "Seeing the defense, I'm the best I've ever been. I'm seeing really well right now, and the confidence is a big thing there."
Aggies quarterback Conner Weigman had 336 yards passing, including a 9-yard TD pass on fourth down to Noah Thomas that brought the Aggies within eight points with five minutes. On the next drive, Miami's Jacolby George caught a 64-yard touchdown pass — his third score of the day.
Weigman threw his first collegiate interception when safety Kamren Kinchens caught a pass intended for Ainias Smith in the third.
Kinchens was later carted off the field and taken to the hospital after a scary hit. Miami coach Mario Cristobal said he thinks Kinchens will be OK.
The Hurricanes lost to Texas A&M 17-9 a year ago in a down 5-7 season.
In Cristobal's second year, Miami (2-0) now has new offensive and defensive coordinators and a revamped offensive line after that unit was among their biggest weaknesses last season. The result has been a 250-yard rushing performance in a commanding 38-3 win over Miami (Ohio) in its opener and an impressive comeback win in the first real test of 2023.
"I felt like I could've went to sleep and woke up and still run my route with the O-line," Restrepo said.
Miami ran into a massive wall in the Aggies defensive line, which features multiple five-star recruits. Texas A&M (1-1) limited Miami to 77 yards rushing and 3.2 yards per rush. The Hurricanes made up for it in the passing game, as their receivers broke free for 241 yards after the catch.
The 6-foot-5, 215-pound Colbie Young hauled in six passes for 75 yards and a touchdown.
The Aggies, led by sixth-year head coach Jimbo Fisher and new offensive coordinator and play-caller Bobby Petrino totaled 433 yards, but gave up 451.
"We made plays in all three phases," Fisher said. "But we gave plays up in all three phases."
Special teams jumpstarted the Aggies' offense early.
Texas A&M's first drive of the game started at Miami's 15 after a blocked punt, and Weigman strutted into the endzone from the 1 to cap a three-play, 57-second drive that gave the Aggies a 7-0 lead.
In the second quarter, the Aggies recovered a muffed punt by George, which led to a 9-yard rushing touchdown by Amari Daniels, making it 17-7.
George made up for it when he caught the go-ahead touchdown that made it 21-17 just before halftime.
Aggies receiver Evan Stewart had 11 catches for 142 yards.
Lightning in the area delayed the start of the game by about 30 minutes.
Auburn wins with Cal mistakes
BERKELEY, Calif. — Payton Thorne threw a 5-yard touchdown pass to Rovaldo Fairweather following California's third missed field goal of the game and Tigers rallied for a 14-10 victory on Saturday night.
"I don't think we could have played any uglier or sloppier on offense. I'm really proud of our defense," coach Hugh Freeze said. "All the credit goes to to to that side of the ball tonight. There's going to be nights where we can score 50 and we might have to to win. And there's going to be times where they got to hold them to 10 and we got to score 11. This is one of those nights with how poorly we played on our offense."
Auburn (2-0) had been stagnant most of the night offensively, generating only six first downs in the first three quarters before putting together a 69-yard drive midway through the fourth quarter to take the lead.
The key play on the drive was a 28-yard pass from Thorne to Fairweather to convert a third-and-17.
The Golden Bears (1-1) had a chance to come back after Jarquez Hunter lost a fumble for at Auburn at the Tigers 41 with 4:00 left. Cal drove down to the 15 but got backed up by a holding penalty and then Sam Jackson V threw an interception in the end zone on fourth and 13 with 1:44 to play.
Auburn ran out the clock from there, winning the game despite four turnovers and only 230 yards of offense.
"We found a way to win and we can grow from that," Freeze said. "I think that's what this season's really about, is us finding a way to grow and and get better each week. We got better defensively tonight. We took a step back offensively. It's very uncharacteristic. We really take pride everywhere we've been in not having many penalties and not turning the ball over and boy tonight was not that."
The Bears were also done in by the special teams mishaps with Michael Luckhurst missing two field goals from 42 yards and another from 44 to give him five missed field goals in two games this season. He also had a 51-yarder taken off the board by a holding penalty late in the first half.
"We had a great opportunity that we let slip through our hands," Cal coach Justin Wilcox said. "It's very frustrating, extremely frustrating. ... Nobody is going to feel sorry for us. I don't feel sorry for us. We have to do better. We have the guys to do it. Unfortunately, we had so many chances but couldn't do it."
This game was a complete reversal from the style both teams played in lopsided openers against overmatched teams. Cal and Auburn combined for 117 points last week in wins over North Texas and Massachusetts, respectively, but came nowhere close to matching that output in their first meeting ever.
Auburn got off to a rough start with Thorne losing a fumble on the first drive of the game. The Tigers had three turnovers and four first downs for the entire first half but only trailed 10-7.
Cal missed a 41-yard field goal, had a 51-yarder negated by a holding penalty and lost a fumble at its own 17 to set up Auburn's only TD of the half on Thorne's 13-yard pass to Jay Fair.
The Bears got their only TD of the half on Jaydn Ott's 14-yard run after Damari Alston lost a fumble for Auburn.
Rebels pull away at Tulane
NEW ORLEANS — Ole Miss quarterback Jaxson Dart exhibited steadiness and late-game poise in his first game since coach Lane Kiffin named him the Rebels' full-time starter.
Tulane quarterback Michael Pratt couldn't get on the field for the biggest game on the Green Wave's schedule after taking a heavy hit in the final minutes of a 20-point victory the previous weekend.
The result was predictable, but the Top 25 match-up was hardly devoid of drama.
Dart accounted for 308 yards and passed for two touchdowns and No. 20 Mississippi pulled away late to beat 24th-ranked Tulane 37-20 on Saturday.
Caden Davis kicked a career-long 56-yard field goal to give Ole Miss (2-0) a 10-point lead with 1:53 left, and defensive end Jared Ivey picked up a fumble caused by Khari Coleman's sack and returned it 26 yards for a touchdown.
"We didn't flinch. We didn't hesitate. We knew that we were going to figure it out," Dart said. "Obviously, we expected to win. Morale moving forward is definitely high because we know if we have a bad quarter or a bad drive, we're going to be able to rebound."
Dart passed for passed for 267 yards, despite being without top receiver Tre Harris for three quarters. He rushed for 41 yards, including a 20-yard scramble to set up a go-ahead field goal.
"He really battled," Ole Miss coach Lane Kiffin said. "He didn't play perfect by any means but he played really tough."
After Tulane coach Willie Fritz said Tuesday that Pratt was "fine," the coach started Kai Horton. Pratt, who'd come up limping after a scramble in the final minutes of a 37-17 victory over South Alabama, was wearing shorts with a protective sleeve on his left knee.
"It looked promising early in the week, but it didn't continue that way," Fritz said about Pratt's condition. "I'm not going to play anybody if I think they can hurt themselves further. He just isn't quite ready. He wanted to play. That was my decision."
Still, Tulane (1-1) took a 10-point lead in the first half. And after falling behind early in the fourth, the Green Wave was in tying field goal range. But Fritz chose to run an offensive play on fourth and 2 from the 31 and Horton was forced out of bounds just short.
On the next play, Dart found Dayton Wade for a 43-yard catch as the receiver twisted in the air, corralled the ball with one hand and landed hard on his back. Soon after, Dart evaded a blitzing linebacker, rolled right and hit Michael Trigg for a 21-yard, fourth-down scoring pass to make it 27-17 with 4:28 left.
Horton, who'd come off the bench to lead an overtime victory at Houston last season, looked ready early. On Tulane's first possession, Horton hit Lawrence Keys for a 57-yard gain that set up Makhi Hughes' short TD run to tie the game.
Horton's 41-yard touchdown pass to Jha'Quan Jackson gave the Wave a 17-7 lead.
Mississippi's staff had assumed Pratt would play "until we got here and saw them warming up," Kiffin said. "We didn't really play much different — maybe a little more aggressive with more pressure on an inexperienced guy. But he made a couple plays early and got himself some confidence."
Ole Miss rallied to score the next 20 points.
The Rebels parlayed a fourth-down stop on their own 35 into a 65-yard touchdown drive, capped by Quinshon Judkins' 9-yard run, tying it at 17 with 6:11 left in the third quarter.
After the teams traded interceptions by Tulane's Lance Robinson and Mississippi's Deantre Prince late in the third quarter, the Rebels drove for Davis' 27-yard field goal and a 20-17 lead.
Mississippi State wins in OT
STARKVILLE, Miss. — Arizona quarterback Jayden de Laura scramble on 4th and 10 and an official review confirmed him just inches short of a first down in overtime and Mississippi State held on for a 31-24 overtime win over the Wildcats on Saturday night.
The Bulldogs had taken the lead in the first possession of the overtime on a 29-yard screen pass from Will Rogers to Jeffery Pittman.
"Winning (isn't) easy. Half of the teams in the country lost today so we're going to celebrate this one," Bulldogs coach Zach Arnett said. "I could not be more proud of the way that we attacked from the opening kick. Frankly, I didn't have good enough plans as a coach. There was every opportunity to quit and throw in the towel and players overcame me as a coach. I'm incredibly proud of the resiliency of this team."
The Bulldogs gave up several big plays on the defensive side of the ball, but their own big plays gave the State offense more than enough opportunities to capitalize.
Interceptions from Bookie Watson, Jett Johnson and Shawn Preston started the first three possessions with the Bulldogs scoring two touchdowns off of those. Another turnover came inside the redzone for Arizona as Preston knocked a ball loose and Hunter Washington scooped it up. Johnson got another interception in the fourth quarter.
Despite that dominance on the defensive side of the ball, the Bulldogs never fully secured the game until late. The Wildcats trailed just 14-7 at the half after scoring on a 1-yard plunge with 2 seconds left in the second quarter. Arizona tied the game at 21 in the fourth quarter with an 11-yard touchdown from Jayden de Laura to Tetairoa McMillan.
Arizona was able to hit a 36-yard field goal by Tyler Loop to send the game to overtime.
The Bulldogs (2-0) were out-gained 431-307 in the win. Rogers was 13-of-17 for 162 yards and three touchdowns and the offense ran for 145 yards on 39 carries. Woody Marks finished with 24 carries for 123 yards and a touchdown, his second-straight 100-yard game after failing to record such a game his previous three years.
de Laura overcame those four interceptions to keep the Arizona in the game. The senior was 32-of-46 for 342 yards and two scores and rushed eight times for 44 yards.
"He's extremely mobile. He's really good at buying time," Arnett said of de Laura. "We've got to go back and evaluate as coaches and figure out where the breakdowns were. I'm really proud of the defense because they had every opportunity to throw in the towel or not chase the ball hard."
State had a disciplined first game of the season in a win over Southeastern Louisiana, but this was not that. The Bulldogs finished with nine penalties for 90 yards after committing just one penalty in game one. There were no turnovers for the Bulldogs, however.
MSU's secondary blew coverages and gave up some big plays but the linebackers and defensive backs also came through with big plays. Johnson, last year's leading tackler in the SEC, had 11 stops with two interceptions, 2.0 tackles for loss and 1.0 sack. The second-leading tackler in the SEC was Watson last season and he had another big game with 10 tackles, an interception, pass breakup and 0.5 sack.
The Mississippi State defense finished with nine tackles for loss to go with four interceptions and eight pass breakups.
"It's hard to emulate game experience. Being in the fire and having a lot of vet guys that have been in it, you can't emulate it," Johnson said of the defensive experience. "It's nice to have."
Other Scores
(1) Georgia 45, Ball State 3
(9) Tennessee 30, Austin Peay 13
(14) LSU 72, Grambling State 10
Wake Forest 36, Vanderbilt 20
Kentucky 28, Eastern Kentucky 17
Missouri 23, Middle Tennessee 19
Florida 49, McNeese State 7
South Carolina 47, Furman 21
Discussion
Have a comment on this story? Join the discussion or start a new one on the Forums.