SEC roundup: Missouri wins with 61-yard FG, Vols fall in Swamp
By: The Associated Press
Published: Saturday, September 16, 2023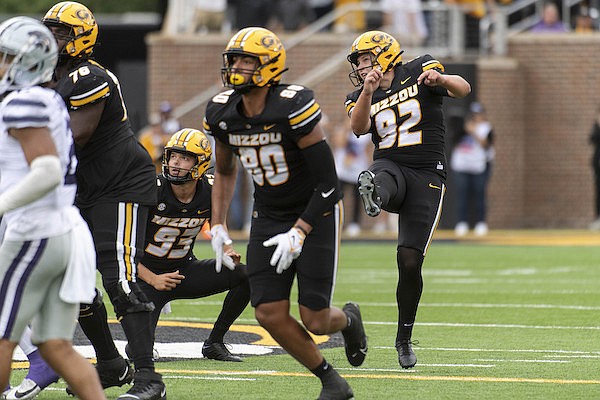 Missouri kicker Harrison Mevis kicks the game-winning field goal during the fourth quarter of an NCAA college football game against Kansas State Saturday, Sept. 16, 2023, in Columbia, Mo. Missouri won 30-27. (AP Photo/L.G. Patterson)
COLUMBIA, Mo. — Eli Drinkwitz and the Missouri coaching staff decided in the closing seconds of a back-and-forth affair with Kansas State on Saturday that if the Tigers crossed midfield and reached the 40-yard line, they would give Harrison Mevis a chance to kick the winning field goal.
Missouri made it to the Kansas State 38 and quarterback Brady Cook spiked the ball to stop the clock.
Then that same coaching staff inexplicably lost track of time on the sideline, and the delay-of-game penalty pushed the field-goal attempt back 5 yards. What would have been a 56-yarder became a 61-yard long shot from the wrong side of midfield.
It didn't matter.
After Cook threw incomplete trying to recoup the yardage, Mevis trotted onto the field anyway. And with the final few seconds ticking away, he boomed the SEC-record 61-yarder over the crossbar, sending the Tigers to a field-storming, come-from-behind 30-27 victory over the No. 15 Wildcats in a showdown of former Big 12 rivals.
"We took the penalty to make it more dramatic," Drinkwitz said afterward. "This is all for TV anyway. This was in the script."
Quite the fairytale ending.
"I told him right before the kick: 'Listen, you've been doing this your whole life. This is your opportunity,'" Cook said. "I was just on a knee, watching. I just could not believe it. I could not believe it."
The beleaguered Cook, who was booed by some home fans during introductions, finished with 356 yards passing and two touchdowns, despite hobbling around the second half on a sprained knee. Luther Burden III had both of the scoring grabs for the Tigers (3-0), finishing with seven catches for 114 yards in another star-making performance.
"Redemption is a beautiful thing," Drinkwitz said. "That pissed me off when we booed our starting quarterback to start the game — that pissed me off. And he went out there and played his butt off for the team."
Will Howard, who was likewise left hobbling after the brutally physical game, had 270 yards passing and three scores. But the senior also threw a costly pick, and the Wildcats (2-1) blew too many chances on third down to put the game away.
"We had plenty of opportunities in all three phases," K-State coach Chris Klieman said. "This is what Big 12 football is going to be like starting next week. You'd better get used to tight ballgames that are hard to win."
The Wildcats started off like they finished a year ago, when they rolled to a rain-soaked 40-12 victory in the first meeting since Missouri left the Big 12 for the SEC. Howard hit four different receivers while swiftly marching Kansas State down field, and his third-and-goal throw tipped by the Tigers' JC Carlies landed in the hands of Phillip Brooks for the score.
Rather than begin a blowout, the touchdown launched a thriller.
Cook answered with a 47-yard touchdown heave to Burden, who spent most of the game making a mockery of the Kansas State secondary. And after Howard threw a pick in tight coverage, Mevis' added his first field goal to give Missouri the lead.
When the Wildcats responded with a swift touchdown drive, the Tigers needed two big plays and about 2 1/2 minutes to score again. This time, Cook finished the drive with a short run to send them into halftime with a 17-14 lead.
That's about when Cook hurt his leg, and for a while, the Missouri offense became stagnant. The Tigers punted twice to start the second half, and Kansas State turned them into a field goal and Howard's second TD pass to Ben Sinnott for a 24-17 lead.
It was still 24-20 when the Wildcats squandered two chances to put the game away, failing twice on short third downs. And when Missouri took over after Howard's third-and-1 pass fell incomplete, it took two plays — Cody Schrader's 26-yard run and a personal foul penalty, and Cook's 26-yard TD pass to Burden — to cover 77 yards and give Missouri a 27-24 lead.
The Wildcats had a chance to regain the lead with 5 1/2 minutes to go. But with third-and-goal at the Missouri 3, Howard lost track of time and was called for a delay of game. Kansas State settled for a tying field goal — and a costly one at that.
Mevis made sure of that with his kick — the one that bailed out his coaches — on the game's final play.
"I would have preferred it from 56," he said, "but you know, it really doesn't matter. It's going to be the same kick."
Vols' misery in Swamp continues
GAINESVILLE, Fla. — Billy Napier navigated a sea of family, friends and fans waiting to congratulate him on his most significant victory as Florida's head coach. He shook hands, doled out hugs and even posed for pictures.
He was in no hurry to get through the adulation, either.
"We'll celebrate tonight, I promise you," Napier said.
Trevor Etienne ran for a career-high 172 yards and a touchdown, Montrell Johnson scored twice and Florida upset No. 11 Tennessee 29-16 on Saturday night to extend the Volunteers' losing streak in Gainesville to 10.
The victory was the first in a rivalry for Napier, who last year became the first coach in school history to lose to Tennessee, LSU, Georgia and Florida State in the same season. Getting that initial one under his belt should quell outside noise about Napier's long-term viability with the Gators (2-1, 1-0 Southeastern Conference).
"It validates your plan, what you're selling to a degree," Napier said. "That's what you want as a leader. ... That's a lot more fun."
For the Volunteers, the 550-mile trip from Knoxville ended much like all the others over the last two decades: in heartache. Tennessee last won at the Swamp in 2003. The skid started with Phillip Fulmer and spans the Tennessee coaching tenures of Lane Kiffin, Derek Dooley, Butch Jones, Jeremy Pruitt and now Josh Heupel.
Tennessee (2-1, 0-1) looked like it had as good a chance as any to end its road drought in the series — the Vols were 6 1/2-point favorites, according to FanDuel Sportsbook — but quarterback Joe Milton and his offensive line seemed lost at times just trying to get plays started.
The Vols, who now have dropped 17 of 19 in the series, were flagged for five false starts and had to burn two timeouts early in the second half to avoid delay-of-game penalties.
"The pre-snap penalties killed us," Heupel said.
The crowd noise may have even affected the refs, who seemingly erred by allowing Florida to substitute before Tennessee's fourth-and-1 play in the third quarter. Scooby Williams stuffed Jaylen Wright in the backfield to cause a turnover on downs.
"The official kicked or moved the ball and re-spotted it," Heupel said. "They allowed the substitution. Been a long time since I've seen an official kick a ball."
The Vols failed again on fourth down on their next drive, with Milton throwing incomplete to end that drive. Tennessee ended the night 0 for 3 on fourth down.
Graham Mertz and Florida were much more comfortable in front of 90,751, the 12th-largest crowd at Florida Field.
"Man, it got loud," Mertz said. "I was on the sideline and I couldn't hear my coach (standing) in front of me. It got rocking. ... They truly affected the game."
Mertz completed 19 of 24 passes for 166 yards and a touchdown. He also juked a defender on a third-down play and later ran for a score. Etienne broke a 62-yard TD scamper in the first quarter. Johnson had a short scoring run and an 18-yard TD reception that made it 26-7 in the second.
A key error down the stretch for Tennessee was another penalty. Leading 29-16, Florida lined up to go for it on fourth and 1 at their own 34. But Kurott Garland jumped offsides, handing the Gators a first down and prompting Napier to raise both arms in celebration.
Two things went wrong for Florida: freshman receiver Tre Wilson, who caught Mertz's first six passes, bruised his collarbone and was on the sideline in sling in the second half, and kicker Adam Mihalek was way short on a 46-yard field goal early and had an extra point blocked.
Napier benched Mihalek in favor or Trey Smack, who hit both extra points and drilled a 26-yard field goal to give Florida a little cushion.
The game ended with a scuffle and penalty flags on both teams. Mertz took a knee and then took exception to defensive lineman Omari Thomas running into him.
Benches cleared, and Tennessee defensive back Kamal Hadden and Florida guard Micah Mazzccua squared off like boxers. Mazzccua clearly threw a punch. Florida right tackle Damieon George was initially flagged for unsportsmanlike conduct, and Thomas for targeting, but neither flag was enforced.
"That was just the weirdest ending to a game I've ever had," Mertz said. "I guess that's Florida-Tennessee."
Heupel and Napier had an icy handshake at midfield before the teams had to return to the field for one final play.
Georgia survives home scare
ATHENS, Ga. — No. 1 Georgia trotted off the field to a smattering of boos from the home crowd and facing its biggest halftime deficit in nearly three years.
When the Bulldogs returned for the second half, they suddenly played like champs.
Carson Beck passed for 269 yards, Daijun Edwards, Dillon Bell and Cash Jones ran for touchdowns, and No. 1 Georgia rallied to beat South Carolina 24-14 on Saturday.
"I was pretty excited at halftime," coach Kirby Smart said. "I knew we would find out what kind of team we have."
He sure liked what he saw over the final two quarters as the two-time reigning national champion Bulldogs won their 20th consecutive game, wiping out a 14-3 deficit.
Georgia (3-0, 1-0 Southeastern Conference) totally shut down Spencer Rattler and the Gamecocks (1-2, 0-1), who managed just 129 yards over the final two quarters.
After the break, Rattler completed just 6 of 24 passing for 104 yards with two interceptions on a soggy day that turned increasingly gloomy for South Carolina.
"It was just self-inflected stuff," Rattler said. "If we clean that up, the outcome is probably a little different."
With Beck completing 27 of 35 passes, the Georgia offense scored touchdowns on three of its first four possessions in the second half — the only blip being a drive that ended with a missed field goal.
Edwards, who missed the first two games with a lingering knee injury, rushed for 118 yards on 20 carries.
"We came out with energy," said Beck, in his first year as Georgia's starting quarterback. "We were composed, we were poised, and we started making plays."
The Bulldogs took the second-half kickoff and quickly drove 75 yards in six plays, scoring their first TD of the day on Edwards' 7-yard touchdown.
After the Gamecocks went three-and-out, Georgia ripped off a 49-yard drive that ended with Bell, a receiver who has been getting extended time at running back, taking it in from the 3 to give Georgia its first lead of the game before the third quarter was halfway done.
Finally, Georgia finished off the Gamecocks when Cash sauntered in from 13 yards out with just over 9 minutes remaining.
"The biggest thing is figuring out ways to win," center Sedrick Van Pran said.
The first half was a stunner, as Rattler carved up the Bulldogs by competing 16 of 18 passes for 152 yards, including a 17-yard touchdown to Antwane "Juice" Wells Jr. on a third-and-16 screen.
It was the first time Georgia has trailed since last year's playoff semifinal victory over Ohio State in the Peach Bowl. Unfortunately for the Gamecocks, Wells sustained a foot injury on the scoring play and didn't return.
The Bulldogs answered with Peyton Woodring's 31-yard field goal, but the Gamecocks tacked on another TD with just a minute left in the half after Woodring missed a chip shot from 28 yards.
Rattler guided South Carolina on a five-play, 80-yard drive that was capped by Dakereon Joyner powering in from the 2 off a direct snap to push the margin to double-digits.
Rattler completed two passes for 53 yards and scrambled twice for 20 yards on the lightning-quick possession, which was helped along by a 15-yard facemask penalty on Georgia's Warren Brinson.
The final play of the half summed it up for the Bulldogs: Beck was sacked near midfield as the clock ran out with Georgia facing its largest halftime deficit since the Bulldogs trailed Florida 38-21 in the Cocktail Party rivalry on Nov. 7, 2020."
"We just went toe-to-toe with the No. 1 team in the country and back-to-back defending national champions," coach Shane Beamer said. "We just weren't able to get it done."
Alabama shrugs off slow start against USF
TAMPA, Fla. — Ty Simpson helped No. 10 Alabama shrug off a slow start and beat South Florida. What wasn't certain Saturday was whether the third-stringer played well enough to become the Crimson Tide's starting quarterback.
Simpson came off the bench and led two long touchdown drives, while Roydell Williams paced a productive rushing attack with 129 yards and a TD.
As a result, the Crimson Tide (2-1) rebounded from a 10-point loss to Texas and improved to 14-1 in games following a regular-season loss since 2008.
To do it, though, Alabama had to overcome inconsistent quarterback play and several costly mistakes that kept USF (1-2) in the game. The Bulls led 3-0 when lightning delayed play for 55 minutes in the second quarter, and it was 3-3 at halftime.
"I know you're going to ask about the quarterbacks, but we're going to evaluate (them) on how they played today and evaluate Jalen Milroe on how he played (in two starts)," Crimson Tide coach Nick Saban said. "We'll decide this week who gives us the best opportunity to be successful as an offensive team, and that's the way we'll go."
Notre Dame transfer Tyler Buchner started at quarterback for Alabama in place of Milroe, a duel-threat redshirt sophomore who lost his grip on the No. 1 job after the offense sputtered in the previous week's 34-24 loss.
Buchner wasn't any more effective, completing just five of 14 passes for 34 yards before Saban turned to Simpson when linebacker Dallas Turner forced a USF fumble to set up Alabama at the Bulls 25 after the weather delay.
Simpson turned the turnover into Will Reichard's 30-yard field goal that made it 3-3. He finally got the Crimson Tide in the end zone, using a 45-yard completion to C.J. Dippre to fuel a six-play, 84-yard drive that Roydell Williams finished with a 1-yard TD run for a 10-3 lead with 4:35 remaining in the third quarter.
"I know we struggled a little bit on offense," Saban said. "We ran the ball fairly well, better in the second half than we did in the first. I'm really proud of our players for the way they competed. I need to do a better job of getting them ready to play in games like this. We were a little flat in the beginning, but after the rain delay I thought we competed better."
Alabama hurt itself early, with Kool-Aid McKinstry's losing a fumble on a first-quarter punt return to set up John Cannon's 44-yard field goal for USF and Jeremiah Alexander's holding penalty that wiped out what would have been Terrion Arnold's 100-yard return for a TD on the ensuing kickoff.
Simpson finished 5 of 9 passing for 73 yards without an interception. He capped the victory by ending an an 11-play, 80-yard drive in the closing minutes with a 1-yard TD run. Alabama amassed 203 yards on the ground, with Jase McClellan gaining 70 of his 74 yards in the first half.
"I know we've got the SEC (conference play) coming up next week and obviously we've got a lot of things to fix and we'll work on it," Saban said. "We've had four touchdowns this season negated by penalties. A kickoff return today, a touchdown run today and two last week. We need to fix all those things."
Byrum Brown completed 14 of 28 passes for 87 yards and one interception for USF. He also ran for a team-leading 97 yards on 23 attempts as the Bulls gained 177 on the ground.
USF's lone scoring drive covered four yards.
"There are no moral victories. Valiant efforts are for losers. Moral victories are for losers," USF coach Alex Golesh said.
"That's what losers say: `Winners win,'" Golesh added. "So, there are no moral victories, there are no valiant efforts, there are no anything, We played winning football on defense, we played well enough (defensively) to win that football game."
Other final scores
Texas A&M 47, Louisiana-Monroe 3
Auburn 45, Samford 13
Ole Miss 48, Georgia Tech 23
UNLV 40, Vanderbilt 37
Kentucky 35, Akron 3
Discussion
Have a comment on this story? Join the discussion or start a new one on the Forums.