LSU safety Greg Brooks, a former Razorback, out indefinitely with 'medical emergency'
By: Brett Martel, The Associated Press
Published: Monday, September 18, 2023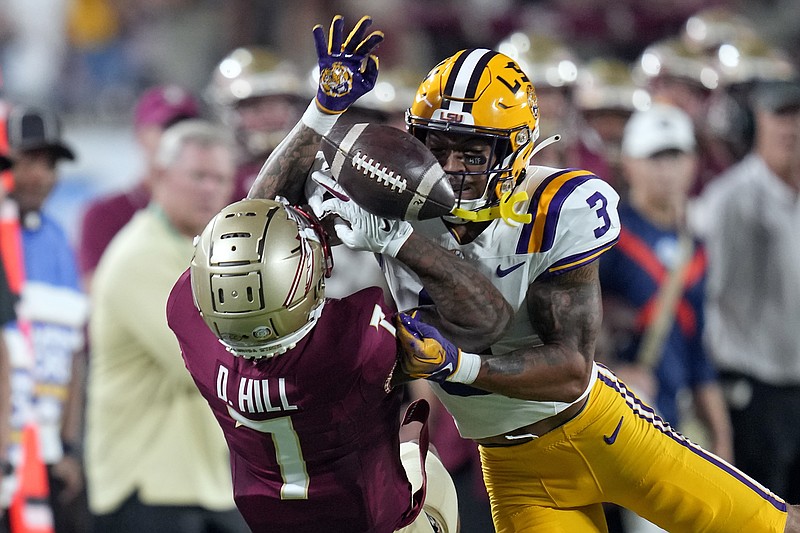 LSU safety Greg Brooks Jr. (3) breaks up a pass intended for Florida State wide receiver Destyn Hill, left, during the first half of an NCAA college football game Sunday, Sept. 3, 2023, in Orlando, Fla. (AP Photo/John Raoux)
LSU starting safety Greg Brooks is out indefinitely with what coach Brian Kelly described on Monday as a "medical emergency."
Kelly said he could not go into detail about Brooks' condition out of respect for his family's privacy. It also is potentially a violation of federal law for LSU to disclose certain medical information about players without their consent.
"I don't have a lot that I can report on Greg," Kelly said. "I don't want to speak on the family's behalf."
Kelly initially announced that Brooks, who was scratched from last weekend's game at Mississippi State, would be out for 12th-ranked LSU's next game at home against Arkansas on Saturday. Kelly said he did not have an estimated timeline for Brooks' return.
Brooks is from the New Orleans area and played three seasons at Arkansas before transferring to LSU in 2022. He started 13 games for the Tigers last season, when he intercepted 2 passes to go with 1 sack, 1 forced fumble, 3 tackles for losses, 5 passes defended and 66 solo or assisted tackles.
Brooks has played twice this season and was in on eight tackles before leaving the team late last week.
"Greg was a wonderful kid when he was here and did a great job for us," said Arkansas coach Sam Pittman, who coached Brooks for two seasons. "Whatever it may be, I want him and his family and LSU to know that we're concerned and we're praying for him. We hope he has...a speedy recovery."
LSU regularly played a three-safety lineup when Brooks was on the field. Last weekend, the Tigers started three linebackers instead. Freshman safety Ryan Yiates saw more snaps in Brooks' absence when LSU went to a formation with five defensive backs.
After LSU defeated Mississippi State 41-14 on Saturday, Kelly honored Brooks with a game ball.
Meanwhile, Kelly said three other players who missed last weekend's game with "lower body" injuries — linebacker Omar Speights, defensive end Ovie Oghoufo and tight end Mason Taylor — are all probable for this week.
Discussion
Have a comment on this story? Join the discussion or start a new one on the Forums.