RAZORBACK INTERNET TALE: Truth-seeking or fan interference?
A new breed of Razorback fan has gone from mere spectator to actively investigating coaches
Published: Tuesday, April 17, 2007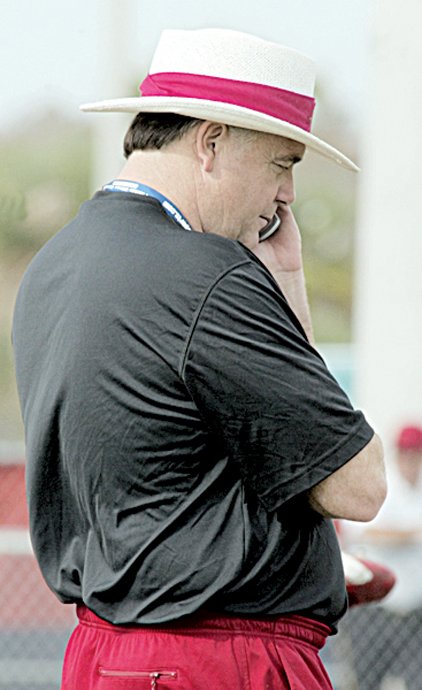 (
Rick McFarland
)
University of Arkansas head football coach Houston Nutt talks on a cell phone during practice Dec. 29 in Orlando, Fla
LITTLE ROCK — Nineteen minutes before kickoff at the Capital One Bowl, Houston Nutt dug out his cell phone and punched in a text message to Donna Bragg, a television news anchor in Fort Smith.
The message - one of 1,063 text messages that Nutt and Bragg exchanged between Nov. 30 and Jan. 11 - surfaced in a batch of records obtained by fans who used the Arkansas Freedomof Information Act to analyze Nutt's use of his university-issued cell phone. The two also exchanged 25 phone calls during that time.
One fan took his concerns to the University of Arkansas board of trustees.
Download the documents
Horrified by the Internet chatter that erupted over the records, Bragg, who works for KHBS/KHOG 40/29 in Fort Smith and Fayetteville, said last week that nothing wrong has happened.
"We have not had an inappropriate relationship," Bragg told the Arkansas Democrat-Gazette last week. "We are friends. I am also friends with Diana Nutt. Clearly, my communication with Houston is being used as a weapon by people who want him to be fired. The lies regarding our contact are vast, slanderous and painful.
"Houston Nutt and I are friends. Period."
Nutt, the head football coach, has not commented, on the advice of his attorney. His wife, Diana, posted an open letter last week saying they are the victims of lies spread by "haters."
The coach's personal lawyer has warned the fan who took his findings to the trustees.
Welcome to the intersection of Razorback athletics and the Internet. Plugged into message boards and armed with Freedom of Information Act requests, a new breed of Razorback fan has gone from mere spectator to actively investigating coaches and posting the results online. Zinging e-mails, document dumps, blog updates - it's all part of a full-bloom melodrama.
The fan FOI'ers are arising at a time when the Razorback fan base is deeply split over Nutt. The polarization pits Nutt "huggers" against the "dark-siders," as a moderator of the popular Hogville.net message board put it last week.
On the Web, where pointing fingers and airing revelations are easy and anonymous, it can be impossible to tell what's real, what's credible, or even where it's coming from.
What about the Diana Nutt letter that recently appeared on blogs, lashing out at the "armies" she says are out to ruin her husband?
That one's authentic.
"But that's all I'll say about it," the coach's wife said Friday.
Real or not, credible or not, the Internet takes it worldwide in a flash.
Discussions of Nutt, Bragg and the phone logs can be found on sites such as CBS Sportsline and AOL Sports Blog and on blogs devoted to Baylor, Louisiana State University and Alabama athletics, among others.
Some people are taking it all very seriously.
Thomas McAfee, the 28-yearold Searcy man who obtained the phone records and took his findings to the board of trustees, says he has received a death threat at his home, according to his attorney. He worries about his job.
In Fort Smith, Bragg's ex-husband requested extra police patrols in her neighborhood after people followed her home and a man drove by her house repeatedly with a video camera. Callers keep ringing her cell phone and hanging up, Russell Bragg said. Sgt. Jarrard Copeland of the Fort Smith Police Department confirmed the patrols.
Bragg, an evening anchor who holds down a day job as director of Fort Smith's Bost Foundation, which raises money to help people with disabilities, said she can't discuss details of the situation because her contract with the station limits her public statements.
Russell Bragg said the 41-year-old broadcaster's friendship with Nutt grew out of their common experiences as public personalities handling adversities such as the deaths of relatives while in the public glare. Bragg and Nutt have even discussed writing a book together about their experiences as public figures.
Divorced since 1998, the Braggs remain on good terms. "We've been talking to each other all the way through this," Russell Bragg said. "She's expressed her concern that she hasn't done anything wrong. She's entitled to have these friends."
Russell Bragg said it's easy to generate a huge volume of text messages - the messages, by nature, are short, and each one shows up on phone logs.
Curious himself, he asked his ex-wife about the Capital One Bowl message.
She explained that, weeks before, she had shared with Nutt a motivational story that had helped her after her divorce. It was about how warriors channel their fears to make themselves stronger.
The word-for-word text of the message Nutt sent Bragg before the kickoff remains private. But it was along the lines of: "Watch our warriors play with all their heart and spirit and win," Russell Bragg said.
Donna Bragg, at home at the time, thought perhaps it meant that Nutt had drawn on her motivational story to fire up the team.
It wasn't Nutt's last phone message before the bowl game. Nutt's phone records, which the Democrat-Gazette obtained from the university through a Freedom of Information Act request, show that one minute after his 11:41 a.m. message to Bragg, he sent a text message to his wife's cell phone.
'QUESTIONS UNANSWERED'
McAfee said his pursuit of the phone records started after he read a Feb. 15 news story in the Democrat-Gazette that detailed a pair of lurid e-mails thatmay have hastened the departure of prize quarterback Mitch Mustain.
Teresa Prewett, a Little Rock booster and friend of the Nutt family, sent a pair of e-mails on Dec. 6 and 7 that were harshly critical of the heralded freshman. Prewett sent the Dec. 6 e-mail, which contained disparaging passages not only about Mustain but also about former offensive coordinator Gus Malzahn, to Diana Nutt's e-mail account, among others. The coach's wife forwarded it to a Springdale business, remarking that some of the bits were "quite funny."
Prewett followed up the next day with the now legendary email that began, "Hello, Mr. Interception King," and ripped into Mustain. Prewett, who has since apologized, was reprimanded by Houston Nutt and banned from the sidelines at games.
When the Democrat-Gazette story came out detailing the imbroglio, McAfee, an avid fan who said he doesn't have the money for season tickets but follows the Razorbacks closely, pored over every detail.
He thought he spotted an important gap in the story: Running backs coach Danny Nutt, Houston's brother, was among those who had received "Mr. Interception King."
Yet, while Houston Nutt was quoted denying knowledge of the e-mail until weeks later, so far as McAfee could tell, no one had asked Danny Nutt about it.
"In the story, to me, there were a lot of questions unanswered," McAfee said.
He was also dissatisfied with subsequent interviews that Nutt gave to Stephens Media and radio shows such as Drive Time Sports.
McAfee thought the questions soft and the explanations incomplete.
He said he wondered whether the coaches knew more about the e-mails than they had admitted and had failed to act in defense of Mustain and Malzahn, both of whom arrived at the UA from Springdale High School with enormous expectations - only to leave the Razorbacks a year later.
McAfee said he wasn't the only one dissatisfied by the public explanations.
"People would call in to Drive Time and ask questions. Like, Danny got the e-mail. People would ask, did he get it? Did he read it?"
To McAfee, phone records showing whether the Nutts had talked to Prewett immediately before and after the e-mails went out would shed light on what the Nutts knew and when they knew it.
He decided to get the records.
"I wanted to know what the truth was," he said in an interview last week.
McAfee, whose job at Little Rock's Alltel Corp. involves computer security, had never written a Freedom of Information Act request before. He said he knew the law could be used to obtain public records but hadbeen under the impression that it was only for the news media.
"Someone mentioned it to me, that it was for anyone," he said. Unsure how to go about it, he called the Democrat-Gazette and inquired about the process.
He talked to a woman at the newspaper - he didn't remember her name - who told him about the "Arkansas Freedom of Information Handbook," printed by the Arkansas Press Association, with legal research by the attorney general's office.
Then McAfee wrote and sent a Freedom of Information Act request to the university.
It sought copies of "any correspondence that Arkansas head football coach Houston Nutt and running-backs coach Danny Nutt have had with booster Teresa Prewett" between Nov. 1 and Feb. 28, the date of his letter. "This correspondence between the Nutts and Prewett would include e-mails, letters, records of phone calls, text messages, and what dates they were made,"McAfee wrote in his letter.
He got more than he asked for.
Instead of tediously culling the coaches' phone records for calls and text messages to Prewett, the university mailed McAfee all the coaches' phone records for the requested dates.
McAfee said his request never turned up a single e-mail. But the phone records were a trove of data: 564 pages logging thousands of phone calls and text messages.
When he began plowing through it, McAfee said, he was looking for communications between the Nutts and Prewett just before or after the Dec. 6 and 7 e-mails. He did discover that Houston and Danny Nutt exchanged several calls and text messages with Prewett on those dates.
While he was at it, McAfee said, he noticed that another telephone number turned up over and over in Houston Nutt's records. McAfee didn't know whose number it was.
He called the number. Voice mail said it was Donna Bragg's phone, McAfee said.
LETTER TO UA TRUSTEES
"I was concerned about what I found," McAfee said in last week's interview at the office of his attorney, Nate Coulter.
Recalling just what had troubled him about the records, McAfee focused in the interviewon the flurry of calls that Danny Nutt made to Prewett on Dec. 6 and 7.
"I know they're friends," he said. "They talked. Why would he ignore an e-mail from her?" Prewett was Danny Nutt's therapist after his brain surgery.
McAfee also flagged several cell-phone calls that Houston Nutt placed to Prewett on Dec. 6 and 7.
But the Prewett contacts were not the only ones that McAfee cited in the "To Whom it May Concern" letter he e-mailed to UA trustees, Chancellor John White and UA System President Alan Sugg on March 15.
"A couple weeks ago, I sent in an FOIA request to the University of Arkansas requesting both HDN and Danny Nutt's," McAfee began, failing to finish the first sentence.
"The request was fulfilled," he wrote. "I found some disturbing things regarding these phone records." McAfee, who identified Houston Nutt only by his initials, informed the trustees that he had looked up a number that "HDN" called and text-messaged frequently.
"The number in question is for a lady named Donna Bragg," he wrote, directing the trustees to one series of December calls in particular.
"I know that in itself does not prove that anything wrong happened.
"I know this [that] HDN's personal life is personal, and none of our concern. But when it starts to detract from the U of A, then it becomes a larger problem."
Four days later, McAfee sent a follow-up e-mail to the trustees, White and Sugg.
He said he had forgotten to mention another "disturbing fact" from HDN's phone records. He listed the contacts he had discovered among Prewett, Danny and Houston Nutt on Dec. 7, the day of the "Mr. Interception King" e-mail.
"Yeah - Houston didn't know anything about it," McAfee concluded with evident sarcasm.
INFORMATION REQUESTS
Any Arkansas citizen can use the Freedom of Information Act to get public documents. And McAfee's request is one of several that have landed at the UA lately from people who don't work in the news media - but who are seeking athletic department records.
The request letters themselves are public documents subject to disclosure. So the Democrat-Gazette made a request to the university last week requesting disclosure of all the FOI requests filed since Nov. 1. Several of them didn't come from media companies.
Angling for Houston Nutt's phone or credit-card records, those requests were made by a handful of individuals following the Razorback football action off the field.
Mitch Mustain, for one.
In his March 14 FOI request, Mustain asked for all cell-phone and office-phone records for Houston Nutt and his secretary-assistant and the same set of records for Danny Nutt, Athletic Director Frank Broyles andBroyles' secretary-assistant.
Mustain's letter includes this sentence: "I hereby authorize the University of Arkansas to release the requested information to Beckwith M. Campbell." Campbell is Mustain's mother.
"Our request for information was confined to specific records and documents related to our personal experiences with the football program," Campbell said in an e-mail Monday.
"We have not been, and will not be a party to or participate in the dissemination or disclosure of any unrelated information."
Dustin Sahlmann of Little Rock requested all records of contact between Houston Nutt and Broyles from Nov. 16 to Jan. 30 and any contact between Nutt and White during that time.
On March 5, he sent another FOI letter, this one seeking "all incoming and outgoing university in-house calls as well as university cell phone calls for Houston Nutt from Dec. 7 to Dec. 11."
Others focusing on the same general period - last fall through the present - have requested copies of e-mails between Danny Nutt and Houston Nutt; e-mails and deleted e-mails between Houston Nutt and Donna Bragg; Malzahn's cell-phone records; e-mails between Malzahn and Chancellor White; between Malzahn and Houston Nutt;
between Malzahn and trustees Jim Lindsey, John Tyson, Gary George or Broyles; recruiting expense reports; Malzahn's creditcard records; and hotel and motel invoices related to the athleticdepartment.
Sahlmann, 33, a manager at Bennett's Military Supplies in Little Rock who is active on the Razorbacktalk.com message board, explained last week what he was looking for.
"What I really wanted to get my hands on was, hopefully, emails to show that Houston and Danny had their hands in the Teresa Prewett e-mail," he said.
The data discovered in the phone logs soon made its way to the Internet.
The 48-page report, easily available on the Web, is at the center of the debate, but its author or authors remain a mystery. The report does not come with a byline. Though it can be found on sites such as "Journalism is for Rockstars," its availability doesn't explain its origin.
McAfee said he didn't write it and doesn't know who did.
He said he did hand the Nutts' phone records off to "friends" whom he declined to name. "They're the ones who looked into this further," he said. Hesaid he believed the writing was a collaborative effort.
Sahlmann acknowledged that he contributed information for parts of the report, but wouldn't say just who he gave his bits to.
"There was a select few who had the final say about what went in," Sahlmann said. "They wanted some information from me, so I sent it to them."
MYSTERY REPORT
The mystery report weaves information from the phone records with information from previously released media accounts, including stories from the Democrat-Gazette.
It reports findings in three principal areas: the calls and messages between Houston Nutt and Bragg; the calls and messages to Prewett; and calls that Nutt made to officials and boosters at North Carolina State and Miami after coaching jobs opened there.
The report singles out textmessages that Bragg and Nutt exchanged on Christmas Eve, Christmas Day and other occasions, and notes the volume of calls.
When jobs opened after Miami fired Larry Coker and N.C. State fired Chuck Amato, Nutt placed calls to Raleigh, N.C., and Miami, the report said.
On Dec. 3, he called a number in Garner, N.C., a suburb of Raleigh, and two days later, made three calls to Raleigh, the report says.
It doesn't identify whose numbers they are.
On Dec. 7, Nutt had a 30-minute call with prominent Miami booster Nevin Shapiro. When he hung up, Nutt called his agent, Jimmy Sexton of Memphis, and then called Shapiro back.
Nutt also called Miami senior athletic director Tony Hernandez four times that day.
The report tabulates many of the exchanges, detailing who contacted whom and at just what times.
But it says nothing at all about what was said in the calls or text messages.
N.C. CALLS
The numbers in Raleigh and Garner belong to Joe Pate, a former Razorbacks assistant coach who is now an assistant athletic director at N.C. State. Pate confirmed he talked to Nutt in December. He said it had nothing to do with the coaching job.
"No, no, no. Nothing like that," Pate said.
"There was nothing about any job investigation. In fact, about that period of time, I think they played Wisconsin in the bowl. I wished him good luck.
"He has never called me once about a job or anything,and that's the truth."
At Miami, Hernandez deferred comment to assistant athletic director Mark Pray. "Tony never talked to him," Pray said. "Nor did anyone else in the athletic department."
Nevin Shapiro, who was never on Miami's official search committee but whose $250,000 gift to the school put his name on its athletic lounge, acknowledged talking to Nutt.
"Somehow, some way that information ended up in front of me that he would be a viable candidate for the job," Shapiro said. "There was no real meat to it."
For her part, Prewett said last week that none of the calls or texts referenced in the report were related to the harsh e-mails she sent.
"Houston and Danny Nutt had nothing to do with me writing that e-mail - zero," she said.
"I've been text-messaging and talking to the Nutts for nine years, 10 years. They didn't ask me to do anything. They didn't have a clue I was writing it."
DISSATISFIED WITH MEDIA
Sahlmann and McAfee both said they were driven to uncover their own truths in large part by dissatisfaction with traditional media that they find too timid.
"The media coverage is a joke," said Sahlmann. "I think they have been browbeaten so hard by the administration in theathletic department that they are actually afraid to come out and tell the truth because they're afraid they're going to lose their ties to the program."
Jason Kincy of Bentonville, Michael Geater of Stuttgart, and Ryan Jones of Springdale also submitted FOI requests.
"I am a lifelong Razorback fan who supports Houston Nutt, the coaching staff and all of the Razorback players," Kincy said Saturday, distancing himself from "dark-siders."
He asked for phone and credit-card records of Malzahn because he's no longer a university employee and so "could not be affected by the results."
"I view the accounts of the FOI records released on the Internet relating to Coach Nutt as suspicious and unreliable and do not support them in any way," he added. Kincy said he hasn't yet received any records.
Geater, another self-described Razorback football fan, made three FOI requests for phone records and e-mails of Houston Nutt and Danny Nutt. He said he didn't realize that his FOI requests could themselves be requested under the FOI, and declined further comment.
Credit-card records of Houston and Danny Nutt were requested by Jones, who said he'd seen "a lot of rumors online." He hasn't received any records yet, he said, wasn't sure what he would do with any records, and added that he had "no ulteriormotive."
Nutt's personal attorney, Byron Freeland of Little Rock, questioned the motives and the perspective of those who are digging into his client's private life.
"Most people have something to do for a living rather than pore through 500 pages," Freeland said.
"This is not life or death. It's football.
"If people took as much interest in their government, we'd be a lot better off."
McAfee's attorney, Coulter, said McAfee was motivated to go to the trustees because he believed what he saw in the phone records warranted investigation.He wanted the board of trustees to demand accountability in the athletic department.
Despite rampant speculation surrounding the April 7 board of trustees meeting in Marianna, the board adjourned without publicly addressing Nutt or the football program.
It's unclear exactly what the trustees or administration have done with McAfee's inquiry, beyond the March 16 note of acknowledgment sent by trustee Jane Rogers: "I appreciate you taking time to send this information. Thanks so much." Board Chairman Stanley Reed of Marianna didn't return a phone call.
Chancellor White considers it an athletic department matter and has no comment, a spokesman said.
Athletic department spokesman Kevin Trainor said only that the department gets all kinds of letters and gives each "appropriate consideration."
McAfee's getting unsolicited letters these days, too - one or two pieces of what he describes as hate mail a day over the last week.
One letter said: "If I ever find out what you look like I'm going to beat you up," he said.
On Friday, somebody came to McAfee's house and left a note with a death threat, Coulter said.
DIANA NUTT LETTER
Diana Nutt last week dispatched her own letter into cyberspace, to rebut the gossip and accusations simmering on the Internet. Her letter, posted on several sites, beseeched "friends and loyal fans" not to believe the "crazy things" that she attributed to armies of 'haters' North of us."
"I know that anyone with any intelligence can see through all of this every time a new story rolls around," she wrote. "And NO, Houston has not had an affair with Donna Bragg!
"I think it is pathetic that I am even having to address issues like this. The perspective of these people is so distorted and ridiculous."
Meanwhile, rumblings of a lawsuit continue. Freeland has written McAfee claiming he intentionally defamed Nutt and tried to illegally interfere with Nutt's contract with the university.
Through his attorney, Nutt has asked for a face-to-face meeting with McAfee.
Coulter said he is trying to arrange the meeting. But he said McAfee has done nothing to defame Nutt. Coulter said McAfee obtained public documents through a law that gives every Arkansan that power, and then wrote a letter to a public board detailing conclusions that are fair to draw from the phone records.
Nutt is a public figure, he said, and the little guy has a right to question those in power.
"They don't like that he said the emperor has no clothes," Coulter said. "You're not supposed to say a word about the Razorback coach. You're supposed to genuflect."
On Thursday, Freeland wrote Coulter saying again that McAfee has defamed Nutt and putting McAfee on notice not to destroy any e-mails or records of any conversations that mention Nutt.
Freeland said he wants to get and review any Internet postings McAfee has made about Nutt. He said that McAfee made "erroneous assumptions" about Houston and Danny Nutt's knowledge of Prewett's e-mail, but is not challenging that, only statements regarding Nutt's personal life.
Friday, Coulter responded to Freeland, asking him to put Nutt on notice not to delete any data from his cell phone, which may still contain the actual words of the messages.
Coulter challenged Nutt to exonerate himself with the trustees by compiling those messages and handing them over.
McAfee has written a third letter to the trustees.
"I was curious as to why Houston Nutt is threatening legal action against me," he wrote. "Hopefully, this was just a misunderstanding. I don't harbor any ill feelings toward Houston, I honestly thought I was looking out for the best interests of the University of Arkansas."
In the interview at his lawyer's office, he said, "I didn't think I did anything wrong, and I still don't."
At one point, he became emotional.
"I'd really like this to go away," McAfee said.
He wasn't apologizing. He said he still believes his concerns to be legitimate, and said that the facts he uncovered from the phone records do raise real issues.
He conceded one thing:
"I don't know the truth, still."
List of FOI requests
Dec. 11, 2006
Robert J. Rischitelli, Hudson, Ohio: Salary and income records for baseball coaches
Jan. 22, 2007
Alex Abrams, Morning News, Springdale: Football coaches' contracts, Houston Nutt e-mails
Jan. 24, 2007
Bob Holt, Democrat-Gazette: Houston and Danny Nutt correspondence
Jan. 24, 2007
Bob Holt: Lance Brauman andTyson Gay correspondence
Jan. 24, 2007
Bob Holt: Facilities management form for demonstration
Feb. 9, 2007
Bob Holt: Houston Nutt contract
Feb. 16, 2007
Carolyne Park, Democrat-Gazette: Broyles-administration correspondence
Feb. 23, 2007
K. Vaughn Knight, Fayetteville: Names, addresses of season ticket holders
Feb. 28, 2007
Thomas McAfee, Searcy: Houston and Danny Nutt correspondence
March 1, 2007
Dustin Sahlmann, Little Rock: Broyles, H. Nutt, John White correspondence, phone records
March 5, 2007
Dustin Sahlmann: Houston Nutt phone records
March 4, 2007
Michael Geater, Stuttgart: H. Nutt, D. Nutt e-mails
March 4, 2007
Michael Geater: H. Nutt, D. Nutt phone records
March 4, 2007
Michael Geater: H. Nutt, D. Nutt text messages, e-mails
March 6, 2007
Jessica A. Middleton, Little Rock: FOI requests for H. Nutt, D. Nutt records
March 12, 2007
Jessica A. Middleton: Documents provided via FOI requests by Holt, McAfee, and Sahlmann.
March 14, 2007
Joshua K. Fendley: Recruiting expenses, Gus Malzahn phone records, e-mails
March 14, 2007
Mitch Mustain: H. Nutt, D. Nutt, Broyles phone records
March 20, 2007
Scott Pickey, KNWA-TV: Coaches' contracts, phone records
March 20, 2007
Bob Holt: H. Nutt compensation documents
March 21, 2007
Alex Abrams: H. Nutt phone records, ADG FOI requests
March 26, 2007
Scott Cain, Democrat-Gazette: Stan Heath employee file
March 26, 2007
Alan Faulkner, KATV-TV: H. Nutt phone records
April 3, 2007
Scott Cain: Dana Altman compensation documents
April 3, 2007
Scott Cain: Athlete drug testing documents
April 4, 2007
Tammy Varner, KFSM-TV: Athlete drug testing documents
April 4, 2007
Alex Abrams: Contract with executive search firm
April 4, 2007
Ryan Malashock, Morning-News: Chancellor, basketball coaches e-mails
April 10, 2007
Bob Holt: H. Nutt phone records
April 13, 2007
Ryan Jones, Springdale: H. Nutt, D. Nutt credit-card records
Undated
Jason W. Kincy: Malzahn phone, credit-card records
Arkansas Democrat-Gazette
Front Section, Pages 1, 6, 7 on 04/17/2007