Petrino: Fallout from Gators hat comment was never his intention
Published: Wednesday, August 18, 2010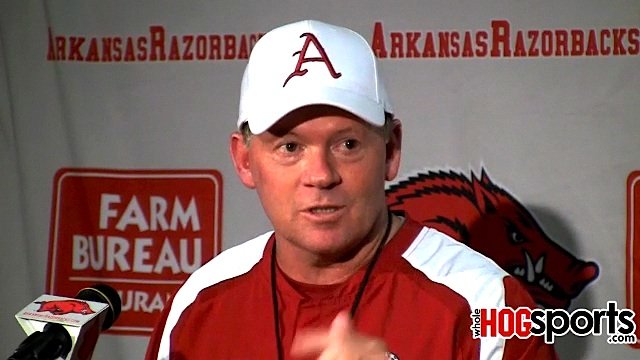 (
Brandon Marcello
)
Arkansas Coach Bobby Petrino reacts to KAKS radio personality Renee Gork after answering a question during a news conference Saturday. Video of the entire press conference can be viewed on WholeHogSports.com.
FAYETTEVILLE — Arkansas Coach Bobby Petrino says it was never his intention to see Renee Gork be fired after he made a remark about the radio personality's decision to wear a Florida Gators hat to a news conference Saturday.
Petrino, in an unscheduled news conference Wednesday, addressed Saturday's incident and Gork's subsequent firing on Monday, which has since gained national attention.
Petrino addresses "Hatgate"
Watch Video
"I don't know much about the intention from the national media," Petrino said. "When the incident happened here, there was never an intention to see it escalate the way that it did. But that kind of got out of our control."
Gork was fired by management at KAKS based in Springdale on Monday. Petrino called her out during a news conference Saturday, when he answered a question posed by Gork, a University of Florida graduate, concerning a Razorbacks scrimmage. He answered the question like any other posed by a reporter, but added a caveat: "And that will be the last question I answer with that hat on."
VIDEO: Bobby Petrino addresses fallout, firing of radio personality Renee Gork
Many Arkansas fans viewed the video clip online, prompting heated discussions concerning Gork's fashion choice. Some fans called for Gork's job and e-mailed the station, which is called Hog Sports Radio. Other fans were simply not happy with her choice of school colors. Fans also scoured the Internet for more information and discovered Gork's Facebook page, which revealed messages that she was a fan of the Florida athletics program.
Get the latest Razorback news and views from Brandon Marcello on The Slophouse blog
.
Less than two hours before Gork was scheduled to appear Monday on her daily show on KAKS, she tweeted that she had been fired.
Arkansas officials recommended to Gork that she not attend practice Monday "to allow additional time to pass" after the incident, according to a statement released Tuesday by Arkansas.
"The university wishes to be very clear that it did not request any employment action with regard to the reporter," the statement read.
The exchange between Petrino and Gork made national headlines this week. Gork appeared on national radio shows Tuesday, offering apologies to Petrino and the university. Gork said she was not attempting to garner attention by wearing the hat, which she grabbed as she walked out of her home Saturday on her way to cover the Arkansas scrimmage.
KAKS general manager Dan Storrs would not elaborate on the decision to fire Gork, but said during several radio and television appearances Tuesday that there was more behind his decision than just the fashion faux pas.
"This radio station is Hog Sports Radio," Storrs told The Associated Press on Monday. "We are very biased. We support the Razorbacks 100 percent."
Gork said Monday that she wrote a letter of apology addressed to Petrino.
"I am truly sorry for disrespecting him and his team," she tweeted.
Discussion
Have a comment on this story? Join the discussion or start a new one on the Forums.